Advancing Leadership | Summer 2019
Cover Story: A tough act well followed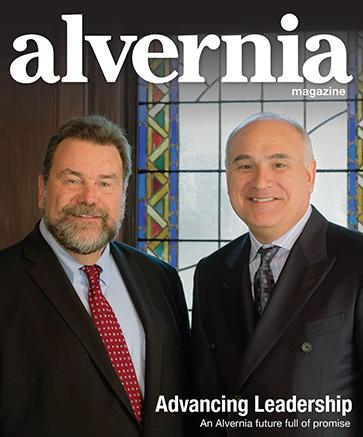 President's Column: Flynn Farewell
Answering the call for treatment
Leading the Pack: The Brand for Alvernia University
The good doctor: Honoring the life and legacy of Dr. Frank Franco
Alvernia board chair helps establish kitchen to feed hungry Israelis
---
A Legacy of Leadership | Winter 2019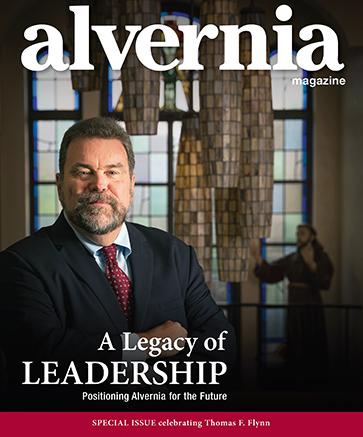 President's Column: Reflections and a future full of promise
Reflections: "What a long, strange trip it's been!"
Reflections: Building relationships, a common theme in Flynn's journey
Reflections: Developing the board as a national model of governance
Bernardine Franciscan Sisters and Flynn enjoy close relationship
Alumni share impact of Flynn engagement
Student leaders remember most memorable Flynn moments
Fostering intellectual growth and academic success
Creating an inclusive, diverse interfaith community
Food & Family: a recipe for success
A journey toward the good life
 
---
Looking Toward a New Horizon | Summer 2018

Cover Story: Moving from Access to Success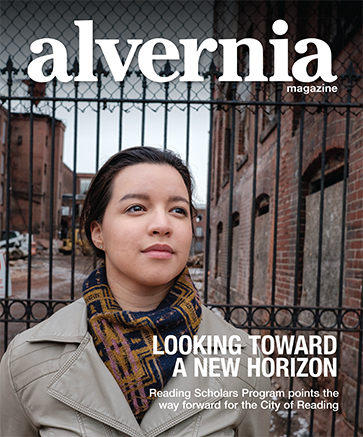 President's Column: Dissolving Barriers Leads to Success
Developing Leaders in State Government
(Sin) Taxing the Human Soul: Corey Harris
Joining Knowledge, Love and ESL
Striking the Right Chord: Ephraim Njuguna
My Avocation and Vocation: Marybeth DeMeo
The Quest to Build a Better Game
---
Making of a Mascot | Winter 2018

Cover Story: The Making of a Mascot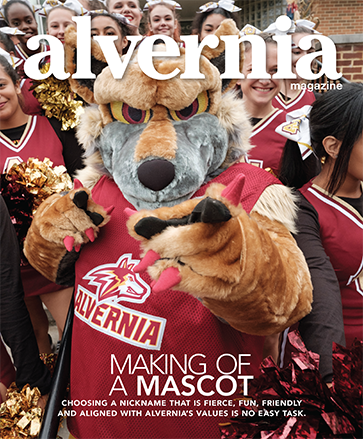 President's Column: What it means to be Franciscan
Building Lives After Addiction
A Force of Reckoning: Carl Anderson
42 Years at Alvernia with Pietro DiStravolo
Measuring Success on the Spectrum with Amy Thomas
Reflection: Raising Awareness to New Heights with Camille Otruba '09
A Different Kind of 'Senior' Living
Sustaining the Great Outdoors with Bethan Ayers-Fisher '18
 
---
Portrait of a Hidden Figure | Spring 2017

Cover Story: Portrait of a Hidden Figure - Katherine Johnson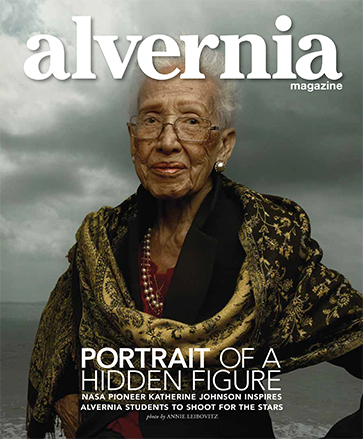 President's Column: Free speech and inclusivity
Forward March - with Eric Saar, Ph.D., '17
Color her fully alive - with Nelly Toll
Crunch Time - with Calvin Martin '03
'It's our ordinary' - with Tim '09 and Monica (Fritz) Chrusch '10
Solar Plexus - with Greg Header '97
Sweet Talkin' - Daniel Martin '17
40 years of nursing - Karen Thacker, Ph.D., RN, CNE
---
Trevor's Travels | Winter 2017

Cover Story: Trevor's Travels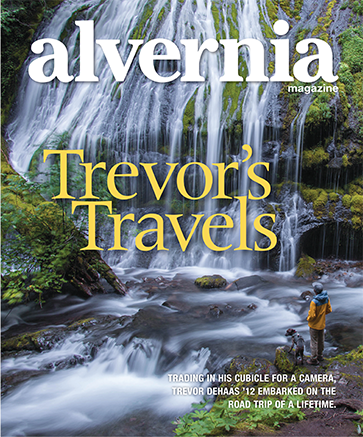 President's Column: Humility — the ultimate leadership trait?
Unmitigated, fully litigated, jet-setting pro: Donna Miller '85
Searching for Optimization: David McDowell '16
Surprising, amazing China - Sam Bradley, DBA
Turning loss into gain - Krystal Finch '16
Entrepreneur at Heart - Shannon Homa '16
---
American Tragedy | Summer 2016

Cover Story: American Tragedy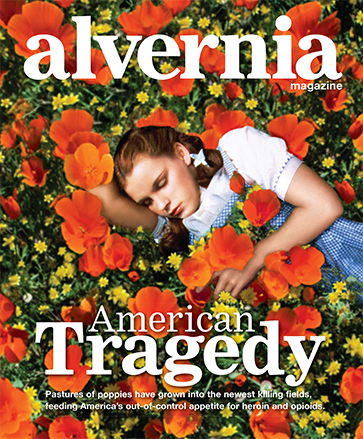 Living Proof: Sr. Florence Kruczek
Plight of the Navigator: Maria Jiménez '15
Making it in Manhattan: Gabriella Valenti '15
Thriving: Andi Funk, Cambridge-Lee
Technology Runs My Life - Justin Padinske '15
Patience for Patients - Dylan James '16
Addiction: Moving Beyond Drug Abuse - Jennifer Kaucher '13
Social Media: Fear Not? - Ryan Lange, Ph.D.
---

DECADE 2005-2015 | Winter 2016
Letter from President Flynn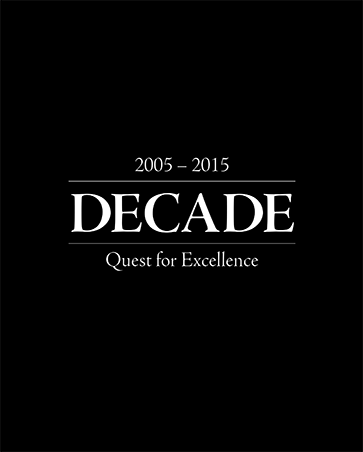 Seeing Life Differently - Carlos Canela Cuevas '16
Community that Counts - Carolyn & Jerry Holleran
A Dream Unfolding - Sr. Marilisa Helena da Silva, OSF
Getting Engaged - Ondra M. Kielbasa, Ph.D.
Badge of Courage - Francisco Contreras '13
Matter of Degrees - Eric Turman '97, M'03
Confessions of a Serial Scholar - Spence Stober, Ed.D.
Follow My Leadership - Gabriella Messina '16
Starting Small, Ending Big - Rachel A. Maher '94, DMD
---
Angels All Around Us | Summer 2015

You Will Believe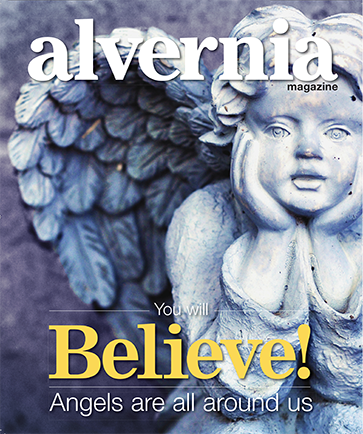 Unthinkable
Diamonds are Forever: Kevin Sklenarik '96
Authentic Calling: Lori Hagy '95
Ratings Game: Emily Rabadi '12
No More Risky Business: Kyle Covington '15
Living a New Normal: Ryan Weber
Teaching with a Farmer's Touch: Leon Neiman
Following the Evidence: Freddie Haumesser '09
Sweet Feet: Heather Wanner '18
 
---
Growing Up Updike | Winter 2014-15
---
Forgive Me, Forgive Me Not | Summer 2014
---
Climate in Crisis | Winter 2013-14
---
Beast or Brother? | Summer 2013
---
Against All Odds | Winter 2012-13
---
Eye On Our Future | Summer 2012
---
Evolution | Winter 2011-12
---
Fighting Chance | Summer 2011
---
DNA & Divine | Winter 2010-11
---
Who's Next? | Summer 2011