Thank you for visiting our residence hall pages. We are currently in the process of updating our information, and as a result, some of our building descriptions may not be accurate any longer. We thank you for your patience. If you have questions about a specific building, please email our office: ResLife@alvernia.edu.
The Residences at 401 Penn Street
Built in 2021, The Residence at CollegeTowne is an apartment style residence hall located within Alvernia University's brand new CollegeTowne location found in downtown Reading, PA.
The residential area known as the Residence at 401 Penn houses approximately 60 Alvernia students. The Residence at 401 is single sex based on apartment. The Residence at 401 Penn is a two-level residential area within CollegeTowne with multiple elevators, study box on each floor, classrooms and Alvernia's new eSports arena located downstairs, and a brand-new Starbucks location on the 1st floor of our CollegeTowne building.

Apartments typically have double and single bedrooms, a living room, a kitchen area (with refrigerator, oven, and microwave), and bathroom. Also, in-unit laundry machines are provided.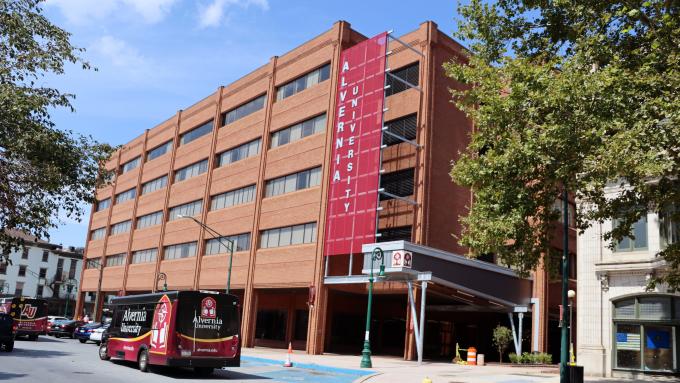 The Residences at 401 Penn Street offers:
Access to all of the shops and restaurants located on Penn Ave in Downtown Reading
Convenient Alvernia bus schedule from CollegeTowne to Alvernia's original campus
Beverage and snack machines 
In-unit laundry (free for students via SpeedQueen app)
Study box on each floor
Elevator access from ground floor
Building Information for the Residences at 401 Penn Street
Class Level: Junior, Senior, Graduate Students typically housed in 401 Penn
Types of Apartments: Residence at 401 Penn has six 7-person apartments (4 bedrooms), two 6-person apartments (3 bedrooms), and two 2-person efficiencies (1 bedroom).
Air Conditioning: Residence at 401 Penn is air-conditioned and has a thermostat to control the temperature in the living unit.
Sheets: Mattresses are Twin-XL.
Appliances: One internet jack is available per resident.  Each bedroom is allowed one microwave, one small refrigerator, and one coffee pot with automatic shut-off.
Bathroom: Each apartment has a toilet, shower, and sink/vanity.
Furniture: Each resident will have one adjustable bed and closet. In the common space, there are soft couches provided, a dining room table with chairs.
Bed: 30" maximum height of adjustable bed
Elevator: Buildings is equipped with multiple elevators.
Laundry: Washes and driers are located in each apartment. Laundry on campus is free for students using the SpeedQueen app on mobile devices.
The Residences at 401 Penn Street Professional Staff
Area Coordinator: Gabriel Fernandez (Gabriel.Fernandez@alvernia.edu)