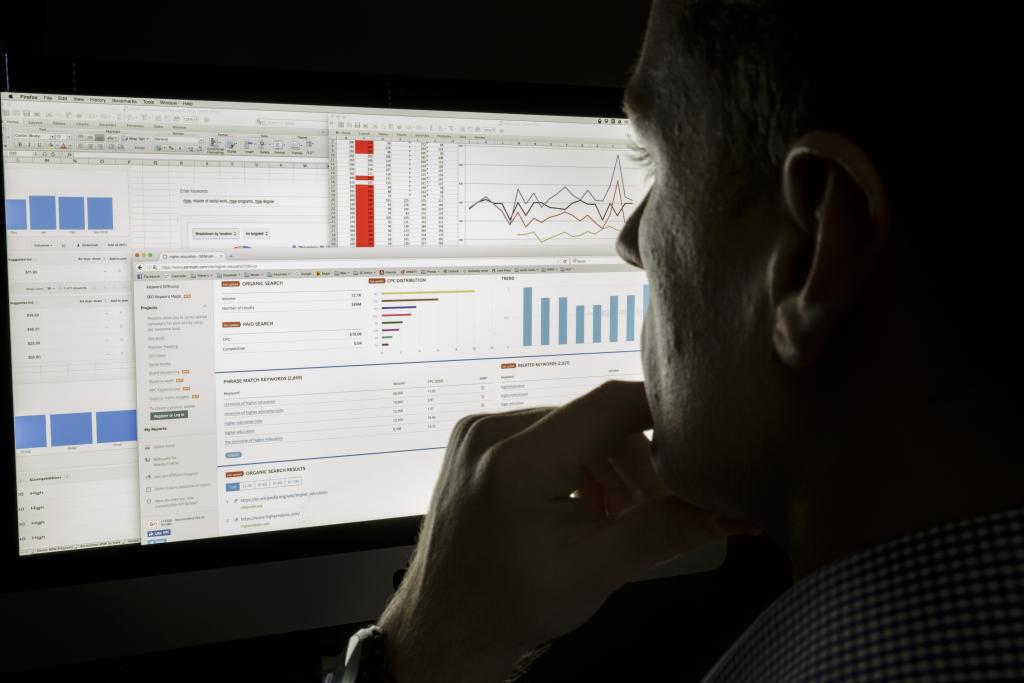 B.A. in Digital Media Marketing Overview
Fusing business, communication and graphic design allows future marketers to think visually and strategically to reach potential customers through the digital environment. Alvernia's Digital Media Marketing major combines these three areas to give graduates triple advantages in the job market. 
Digital Media Marketing graduates have the skillset to produce marketing campaigns from strategic planning stages to design and distribution through digital channels. Combining these skills with Alvernia's commitment to service and real-world learning gives graduates a special edge in the job market. 
Careers in Digital Media Marketing
Employers are looking for individuals skilled in digital marketing, digital advertising, SEO, social media, and content creation. According to Burning Glass Technologies, an analytics software company that provides real-time data on job demand and labor market trends, four in 10 marketing job openings now call for digital marketing skills, and the number of postings calling for digital skills has nearly doubled in the last five years.
Potential careers include:
Digital Marketing Manager 
Social Media Manager 
Content Creator 
Multimedia Specialist 
Multimedia Planner 
Video Producer 
Digital Account Manager 
Digital Strategist 
Copywriter 
Analytics Manager 
CRM and Email marketing Manager 
Web Manager 
---
Curriculum

Alvernia students must successfully complete a minimum of 123 semester credit hours to receive a Bachelor of Arts degree. Between 31 and 55 of those credits will be applied to the Liberal Arts Core. 

In addition, Digital Media Marketing majors will construct a curriculum built around a dynamic mix of art, business and communication courses. 

Required Courses (54 Credits) 

ART 103 – Color and Design
ART 124 – Digital Drawing
ART 222 – Basic Digital Photography
ART 251 – Basic 3-D Design
ART 319 – Digital Photography 

BUS 101 – Financial Accounting
BUS 206 – Management Principles
BUS 207 – Marketing Principles
BUS 208 – Introduction to Sales
BUS 309 – Advertising and Promotion OR COM 340 Advertising Workshop
BUS 342 – Business Law

COM 260 – Digital Storytelling
COM 332 – Multimedia Creation - Publications
COM 342 – Social Media Marketing
COM 362 – Multimedia Creation - Videos
COM 420 – Law and Ethics of Mass Communication
COM 481 – Internship (3-12 credits)

Choose one related requirement:
COM 131 – Writing for the Media
COM 223 – Speech for Virtual Communities
COM 240 – Public Relations
ART 235 – Design with Type
ART 281 – Graphic Design and Illustration
BUS 315 – Data Analytics & Information Systems

Experiential Learning 

Through internships, students have opportunities to apply theories and knowledge learned in the classroom in a variety of professional settings. In addition to providing exposure to the activities and expectations of a real-world workplace, internship experiences help students develop their network of professional contacts.

Tuition

To determine the cost of this program, please visit our Tuition page.  For a personalized estimate, please contact an admissions counselor at 610-790-8269 or at admissions@alvernia.edu.

Financial Aid

Alvernia offers loan, grants, scholarships, and payment plans. Our admissions counselors can help you identify the aid that is available to you and for your program. For more information, visit our Financial Aid page.

Accreditation

All programs offered by Alvernia University are approved by the Department of Education of the Commonwealth of Pennsylvania and accredited by the Middle States Association of Colleges and Secondary Schools.
---
Learn More
For more information about Alvernia's Digital Media Marketing Program,please  contact the Admissions Office at 1-888-ALVERNIA or 610-796-8269 or admissions@alvernia.edu, or reach out directly to:
Caroline Fitzpatrick, M.S. Ed., PhD
Associate Professor of Communication
Communications Department Chair
carrie.fitzpatrick@alvernia.edu