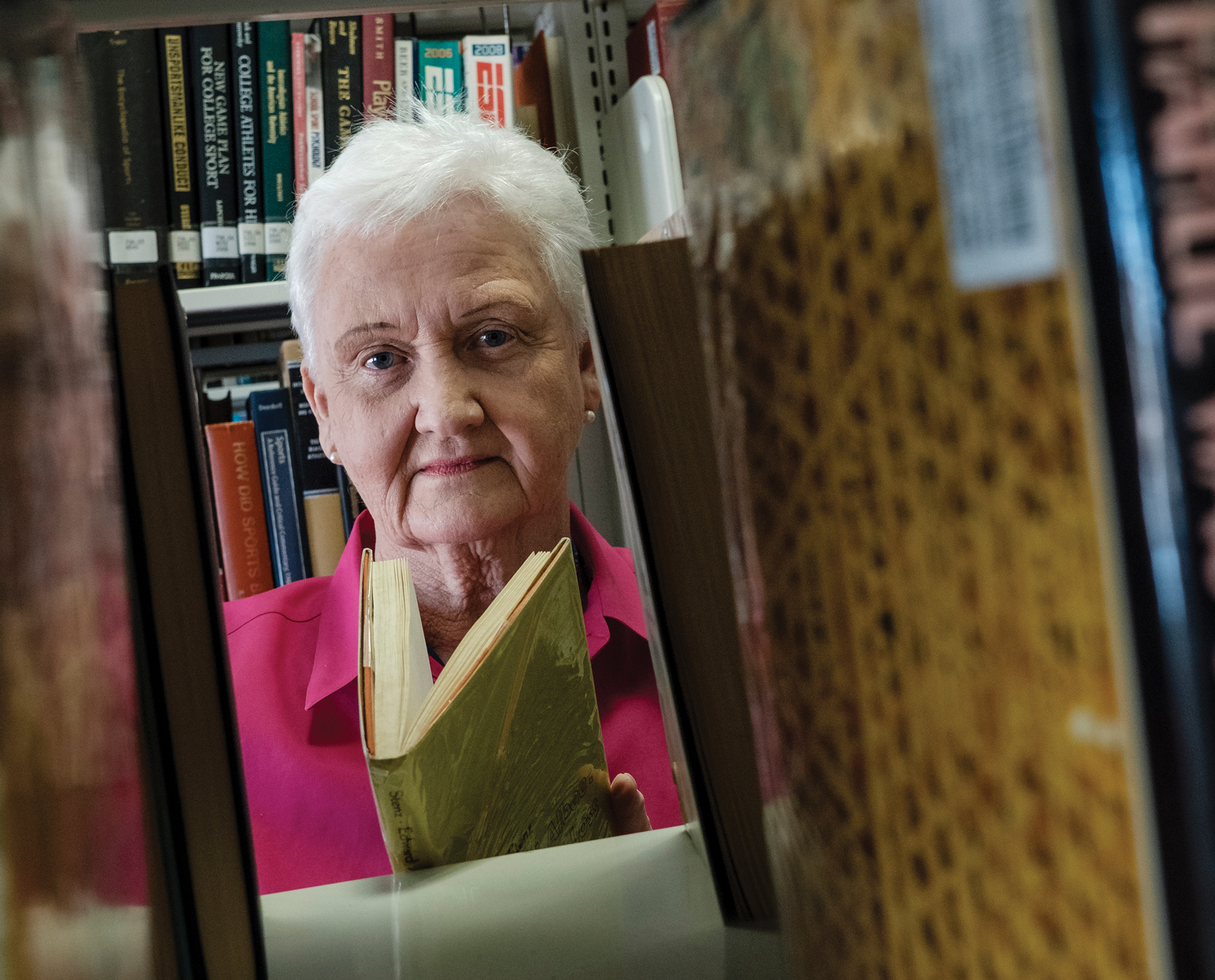 University and family of longtime English professor Marybeth DeMeo establish memorial scholarship
Alvernia University and the family of longtime English professor Marybeth DeMeo provide tuition support for an Alvernia English or communication student by establishing the Marybeth DeMeo Memorial Award Fund. DeMeo passed in August 2020 after serving nearly 40 years as a champion of the liberal arts and member of the English and Communication Department.
Following her passing, an outpouring of support followed, and messages from colleagues, students, alumni and friends filled the university-established Tribute Board. Those interested in funding and sustaining DeMeo's legacy can make a gift to the Marybeth DeMeo Memorial Award Fund.
DeMeo was part of a core group of strong women who defined what Alvernia is today and why it is different from other universities. She didn't coddle her students but challenged them in positive ways to work harder. Her zeal for the English language, love of higher education, passion for teaching, and ability to inspire students, be they English majors or those who have never turned a phrase, brought the joy of writing to all. To her students, she was more than just their English professor, she was a life-long mentor. For many alumni, she wrote recommendation letters for graduate school and various teaching positions.
"I could never thank you enough for all you have taught me these last three years," said Briana Natal '21. "I have so much gratitude and appreciation for you and what you have done for me. You believed in my leadership abilities when I didn't and pushed me to be the best person in everything I did. You shed light on a path that was once so confusing for me. I could not have asked for a better professor, adviser, and mentor." 
The Marybeth DeMeo Memorial Award will be presented each year to a student who majors in English or Communication, demonstrates academic aptitude, and is recommended by a faculty member. In addition, students pursuing the award must write a brief statement describing their commitment to what Beth embodied as a teacher and mentor: Love of poetry and literature, thoughtful compassion, and high standards for self and others. The student will major in English or Communication, meet the English and Communication Department criteria and agreed upon by the DeMeo family.
DeMeo volunteered to teach Alvernia Seniors College courses since the organization was founded in 1998 and in the spring of 2018, DeMeo was presented with the Saint Bonaventure Award in Teaching for her long-standing Seniors College commitment.
During her speech, she reflected on her career and time at Alvernia "I have been blessed. What I love to do (my avocation) is what I do for my living (my vocation)."
A lengthened version of her Spring 2018 remarks are available here.
DeMeo received her bachelor's degree from Syracuse University and her master's degree from the University of Notre Dame. In addition to teaching a variety of courses in poetry, American literature, and Shakespeare, she oversaw the Research Seminars in Communication and English, and supervised the internship program for department majors and minors.
In addition to the Saint Bonaventure Award in Teaching, she has received the Elizabeth Susman Faculty Award for Excellence in Teaching, the Sister Donatilla Award for Distinguished Service, and the Lindback Award for Distinguished Teaching.
She also co-advised the Kappa Pi Chapter of the international English Honor Society, Sigma Tau Delta. Founded in 1924, with over 880 chapters in the U.S. and abroad, Sigma Tau Delta is the second largest undergraduate honor society. Prof. DeMeo served on the international Board of Directors as Eastern Regent and as national President. She was named Elaine Hughes Outstanding Eastern Faculty Sponsor in 2008, and she received the Society's highest honor, the Delta Award, in 2010.