Holleran Center names Chown and Nevel as Co-Directors of Real World Learning
Alvernia University's Holleran Center for Community and Global Engagement expands service-learning offerings by naming Dr. Greg Chown and Dr. Kathy Nevel as Co-Directors of Real-World Learning.
"The university's expansion and reorganization of academic offerings aligns perfectly with our student-centric approach which makes the enhancement of our service-learning programs a top priority," said Alvernia Vice President of Community Engagement Rudy Ruth. "We are eternally grateful for the wonderful foundation of service-learning laid by our former Director of Real World Learning, Dr. Jodi Radosh. Greg and Kathy are well suited for their new roles with strong networks of community partners positioned to supply many additional service-learning opportunities for our students."
Chown, an associate professor of occupational therapy, will develop opportunities for students majoring in the university's various health science and related programs. Nevel will work with all other areas of study at the university. Both Chown and Nevel have several years of leading service-learning courses at the university.
---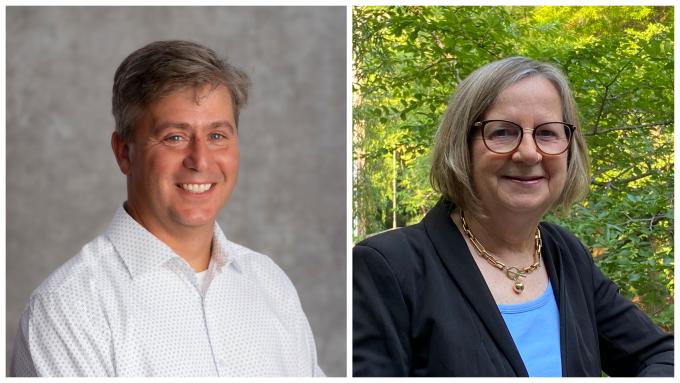 ---
"I am excited about this new role since I believe service to others enriches everyone's perspectives, knowledge, and overall lives," said Chown. "I look forward to learning about new ideas from others and how to develop and promote them, making an Alvernia difference locally, nationally and internationally."
With over 30 years of management experience in manufacturing and maintenance operations, business planning, logistics, and IT, Nevel also serves Alvernia as an adjunct professor of business.
"I'm excited for my new role with the Holleran Center," said Nevel. "I hope to continue and broaden the real-world learning experience for more students and faculty at Alvernia."
For Alvernia students, service-learning promotes the application of intentional learning, provides experiential knowledge, and fulfills community-defined needs through informed scholarship, reflective thought, and action-based civic responsibility.
During the 2020-21 academic year, 24 classes engaged in service-learning with local community partners, including the Reading Housing Authority, Tower Health, Easter Seals, Olivet Boys and Girls Club and the City of Reading's 18th Ward.
Service-learning is housed under the Holleran Center for Community Engagement. To explore opportunities for partnership or for more information about Alvernia's service-learning coursework and experiences, please contact Brittany Pettis (610.790.1925/brittany.pettis@alvernia.edu).