This letter originally appeared in the Winter 2021 issue of Alvernia Magazine. You can read the full magazine here.
Throughout my career, I have led measured change to ensure long-term success. If living through COVID-19 has taught us anything as people, it is how to change and adapt. We've been forced to embrace new ways to educate ourselves and others, utilize new forms of communication and create innovative ways of doing business. Many of us have come to realize that time spent together, even if through a screen, is crucial to a happy and healthy life.
We, as an institution, are also changing. Thanks to a new, innovative and engaging student recruitment process, we welcomed our largest incoming freshman class this fall, including a record number of international students, for an on-campus experience that, while feeling different, still had all the hallmarks of the Alvernia experience. Classes were held socially distanced and outdoors in tents, our tradition of service continued through the Holleran Center and plenty of new student activities went outdoor and virtual. Through it all, the Alvernia University community adapted to this new environment and completed a highly successful in-person semester.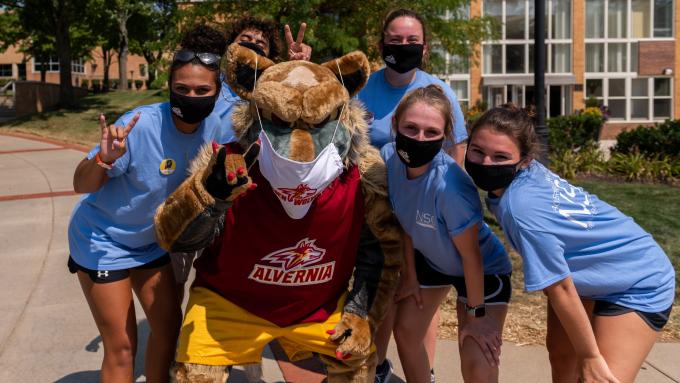 Midsize colleges and universities across the nation continue to face unprecedented challenges in a changing higher education landscape. Many of these challenges preceded the pandemic and have forced institutions to accelerate implementing new plans and strategies.
Alvernia has answered the call and was well ahead of that curve. Precise change has enabled us to continue our movement toward redefining Alvernia as a modern comprehensive regional university. With our new Alvernia Advantage strategic plan, which aligns university resources and student needs to drive institutional goals, we're not only addressing the needs of modernizing the institution but overcoming the numerous challenges COVID-19 has presented. Excellent work by so many from the university community and our trusted partners sets Alvernia on a path of prosperity unprecedented in our history. This will afford many more students from all backgrounds the opportunity to experience the Alvernia Advantage and the experiential education that is at the center of our student-centric strategic plan.
In late December, we received the exciting news that Alvernia and our strategic enabler, the Reading CollegeTowne project, were awarded a $4 million Pennsylvania Redevelopment Assistance Capital Program grant, the largest grant or gift in the university's history. This capped a six-month drive that allowed us to raise $6 million in grants and corporate sponsorships to get the project moving. We celebrated this historical gift and thanked the numerous legislators who made it possible with a "wall breaking" ceremony at 401 Penn St. Beginning the $20 million renovation project cements Alvernia's footprint in downtown Reading for generations to come. Scheduled to open in August, CollegeTowne will be the home of several academic programs, including the three new engineering programs; an arena for the new e-sports program; housing for students looking for an urban experience; the student-powered business incubator; a Starbucks and much more. CollegeTowne has become a strategic enabler that will shape the future of our university, downtown Reading, Berks County and all of Southeastern Pennsylvania for decades to come.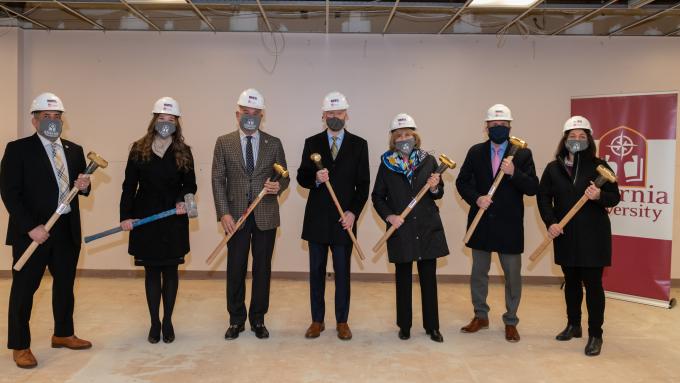 The Reading CollegeTowne initiative is just one of the bold and innovative initiatives aimed to modernize the university and improve and expand the student experience. We are working with faculty in developing a new college structure for our academic programs, exploring new academic programs that fill employment gaps in the region, launching a Justice, Equity and Inclusion Council, hiring coaches and recruiting student-athletes for three new varsity sports. We are also exploring markets for new satellite campuses; reimagining the Seniors College to more fully integrate its members into the life of the university; and, as you'll read through the stories of Andrea Potylycki '21, Luke Fagley '22 and Dr. Kimberly Stoudt, we continue to support our students, faculty and staff as they engineer change in their communities.
In short, COVID-19 has not deterred us from finding new and innovative ways to serve the underserved in our communities. We continue to leverage our precious resources to move our institution forward and protect the educational mission entrusted to us by our beloved Bernardine Franciscan Sisters. We invite, and quite frankly need, our entire Alumni family to join us in this journey.
Since our university has such a rich tradition of educating high-quality health care professionals, I'd be remiss if I didn't end my message by thanking our alumni working on the front lines during this pandemic. You make us so very proud in your tireless efforts, and you embody all of the core values we hold so dear here at Alvernia.
God bless and stay safe,
John R. Loyack
President