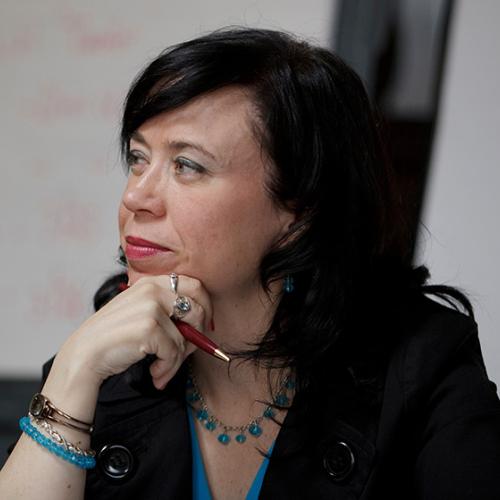 Professor of Communication
Biography
Dr. Caroline (Carrie) Fitzpatrick's passport is well worn and her field journal is full of stories. Whether it is traveling to foreign locales or editing the pages of a professional work, she advocates positive creative expression and transformative education. She maintains a weekly blog to support liberal arts education and free speech, and she engages in philanthropic work with a literacy outreach.
Fitzpatrick holds a Ph.D. in Rhetoric and Linguistics, an M.A. in Communication Studies, an M.S. in Educational Technology, and a B.S. in Secondary English & Speech Education. She is an Associate Professor of Communications & English at Alvernia University where she facilitates curriculum design that includes new courses, service-learning projects, and new media integration. She teaches undergraduate and graduate students, and she has been recognized with a number of awards including Innovation Grants for Curriculum Design (2015, 2012), a Faculty Excellence Grant (2014), an English Honor Society Sponsor Award for 15yrs of Faculty Service (2014), the Christian R. & Mary F. Lindback Foundation Award for Teaching Excellence (2008), Sr. Mary Donatilla Legacy Award for Outstanding Faculty Service (2007), an IUP Doctoral Fellowship for Academic Excellence (2003), an Innovative Teaching Grant for Technology Integration (2001), and the St. Bernardine Award for Excellence in Teaching (2000). She has been inducted into the following honor societies: Phi Kappa Phi National Honor Society of Humanities & Social Sciences, Sigma Tau Delta International English Honor Society, and Alpha Sigma Lambda Honor Society for Adult Students.
As a scholar, Fitzpatrick presents and publishes both nationally and internationally, and periodically, she serves on editorial boards for academic and creative journals. Traveling throughout the United States, Europe, Asia, and the Caribbean, her specialties include media advocacy, digital rhetoric and composition, communication law, qualitative research, and cultural studies. Over the years, she has shared her expertise by mentoring more than 100 college students in professional conference presentations and publications at the regional and national level. She is a strong believer in taking classroom projects and revising them with students into professional works for career and resume development.
Currently (2018-2020), she serves as the Immediate Past President of the International English Honor Society (Sigma Tau Delta), the second largest honor society with over 870 chapters located in the United States and abroad, with approximately 9,000 members inducted annually. Each year, Sigma Tau Delta provides more than $100,000 in scholarships, grants, internships, and awards to high-achieving undergraduate and graduate students.
As a communications and research consultant, Fitzpatrick engages in qualitative data collection and analysis, and carries out interviews, focus groups, narrative/oral histories, digital photography, and documentary shorts. She is also trained in technical and grant writing and has assisted nonprofits and individuals in securing more than $600,000 in grants and federal appropriations within the last ten years.
As an advocate for experiential learning, she has coordinated overseas travel and short-term study abroad to Europe and the Caribbean to include cultural readings, historical sites, and community-based research. From 2010-2015, she facilitated action research and service learning with students in the Santo Domingo, DR, that included proposal writing, feasibility studies, fundraising, English as a second language (ESL) tutoring, website and public service announcements. Currently, she serves as the faculty coordinator for the Minor in Cultural Studies, which "advances the critical study and discussion of diverse cultures through art and music, history and politics, religion, languages and literature, texts and traditions; develops global awareness and sustainability of varied cultural identities and intellectual traditions; and encourages collaboration within an increasingly complex global community."
Fitzpatrick is active in adult and graduate education as a member of the research faculty; mentors student research; judges academic competitions, and holds a position on the University's Institutional Review Board (IRB). In addition to her teaching and scholarship, she has served Alvernia University in administrative positions as the Founding Coordinator of the Schuylkill Center Site; Director of Instructional Standards; Director of the Master of Arts in Liberal Studies for Community Leadership; and as the first Director of Distance Education (DE), during which online offerings increased threefold within two years. Presently, she is exploring projects that tap into her values connecting creative expression, community sustainability, and worldwide literacy. She recently published a textbook, Public Speaking for Leadership and Advocacy, distributed by Kendall-Hunt Publishing. She is currently researching and writing an anthology focused on leadership communication.