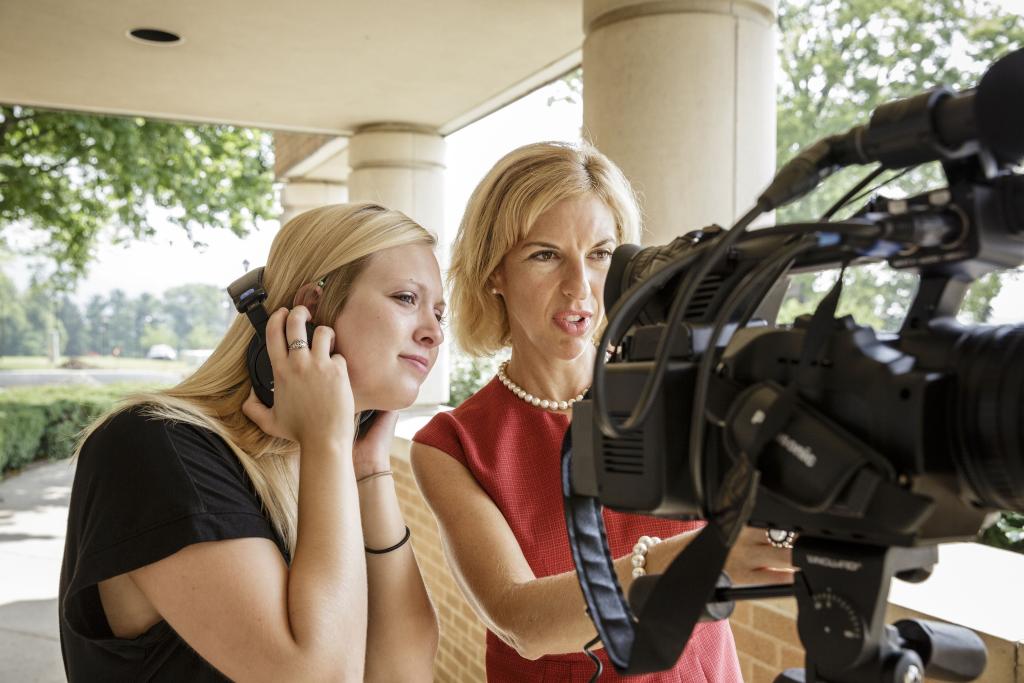 B.A. in Communication Overview
Communication is at the heart of our human interaction, and a necessity in an increasingly networked world. The speed at which we connect and the sheer volume of communication made possible every day through advancing technology and innovation is nothing short of revolutionary.
Alvernia's Communication program is located within CollegeTowne in the heart of downtown Reading. This will allow for expansion of its real-world experience offerings, including a variety of service-learning classes, internships locally and in Washington D.C., as well as study-abroad. The facilities at CollegeTowne will allow Alvernia communication students to expand multimedia content creation, including YouTube videos and podcasts. New studio and lab spaces enable student to learn how to use the latest technologies to prepare for the needs of the 21st-century marketplace.
Communication is an excellent choice for students skilled at writing, public speaking, performing and fine arts, graphic design, marketing and social media, and offers career possibilities in virtually every industry. The move to downtown Reading will allow the program to expand its outreach to community partners, giving students the platform to implement acquired skills. Partnerships with non-profit organizations including Opportunity House, 18th Ward Business Alliance, Safe Berks, and the United Way, as well as newly developed partnerships with both non-profit and for-profit organizations will be available for student participation.
Alvernia University's Communication program positions students on the leading edge of theory and practice in this continually evolving field to prepare them to enter tomorrow's workforce. Students may choose one of six tracks to focus their studies to best match their interests.
Film, Culture and the Creative Arts
Journalism
Media Design and Production
Public Relations and Advertising
Strategic Communications
Sports Media
 
Impact
Learning to think critically, write unambiguously and persuade convincingly prepares students to leverage the potential of human interaction in an increasingly interconnected world.

Exploring broad-spectrum concepts related to communication provides flexibility in pursuing professional careers in an exceptionally wide range of fields and disciplines.

Developing practical experience through internships introduces students to industries and careers with opportunities to engage their communication skills.

Applying Franciscan values of justice and ethical service helps develop communication practitioners who champion honesty, fairness and human dignity.
 
Diverse Options & Steady Job Growth
According to the Bureau of Labor Statistics, careers in Communication are expected to grow steadily, increasing 4 percent by 2028. It's a promising outlook for those preparing for future careers in this exciting field, such as:
Television, Radio and Online Media
News Networks, Newspapers and Magazines
Social Media
Sports and Entertainment
Film and Theater
Public Relations
Marketing and Advertising
Speech writing
Law, Government and Politics
Business and Trade Organizations
Nonprofit and Social Services Organizations
 
Internships and Jobs
Our interns and graduates are in high demand and are making an impact at globally recognized brands including:
ESPN
The Rachael Ray television show, NYC
The Golf Channel
United Nations Department of Global Communication
Fox News
Santander Bank
Bank of America
Penske Transportation Solutions
Johnson Controls
The Hess Corporation
Children's Hospital of Pennsylvania
Toll Brothers Inc.
Cognizant Co.
Onmichannel
Direct Energy
Superior Plastic Products
Inside Higher Ed
Haydenfilms Institute
Warfel Construction
Pranzel Education
Little Leaves Behavioral Services
Accelerated Instructional Media
United States Cold Storage
Satisfi Labs
WebFX
High Construction Company
University of Delaware
WFMZ-TV
Palladium
House Majority PAC in DC
Raffetto Herman Strategic Communications
Greater Reading Chamber of Commerce
Archbishop Wood HS
Reese Advertising
Berks County Living magazine
Albright College
Sorrelli Jewelry
Body Zone
DaBrian Marketing Group
MailShark
Washington Center
United Way of Greater Philadelphia and Southern New Jersey
Council on Chemical Abuse
Glen-Gery Corporation
Cozen O'Connor Law Firm
BCTV
Wiley Education
Greater Valley Forge Management Association
University of Delaware
Propel Health
Assembly Global NYC
Stackpole and French
Curriculum

To earn the Bachelor of Arts in Communication, students must successfully complete a minimum of 123 semester credits, including 48 credits in the major. 

Required Courses

COM 103 - Fundamentals of Speech -or- COM 223 Speech for Virtual Communities
COM 112 - MS Excel (1 cr.)
COM 122 - Mass Media Theory and Application
COM 131 - Writing for the Media
COM 260 - Digital Storytelling
COM 420 - Law and Ethics of Mass Communication
COM 481 - Internship

In addition to required courses, Communication majors must complete 9 credits of English electives, 6 credits of Communication electives, and one of six tracks:

Film, Culture and the Creative Arts

COM 250 - Interpretation of Film
COM 351 - Scriptwriting/Playwriting
COM 353 - Film Studies
COM 360 - Writers Workshop
Related Electives - Any two 3-credit ART, MUS or THR courses

Journalism

COM 213 - Interpersonal Communication
COM 234 - Intercultural Communication
COM 330 - News and Feature Writing
COM 432* - Newspaper Production
Related Electives - Any two 3-credit HIS or POS courses

Media Design and Production

COM 332 - Multimedia Creation - Publications
COM 342 - Social Media Marketing
COM 362 - Multimedia Creation - Videos
COM 432* - Newspaper Production
Related Electives - Any two 3-credit ART courses

Public Relations and Advertising

COM 213 - Interpersonal Communications
COM 220 - Event Planning
COM 240 - Public Relations
COM 340 - Advertising Workshop
COM 342 - Multimedia Design and Editing
PSY 101 - Introductory Psychology

Sports Media

COM 220 - Event Planning
COM 232 - Athletic Communications (1 cr. repeatable)
COM 240 - Public Relations
COM 251 - Broadcasting & Electronic Media
COM 332 - Multimedia Creation - Publications
COM 362 - Multimedia Creation - Videos
Related Electives - Choose two of the following:

BUS 207 - Marketing Principles
BUS 309 - Advertising and Promotion
SM XXX - Any Sport Management course

Strategic Communications

COM 213 - Interpersonal Communication
COM 234 - Intercultural Communication
COM 344 - Writing for the Workplace
COM 422 - Social Impact of Mass Media
Related Electives - Any two 3-credit BUS or PSY courses

*course may be counted only once as fulfilling track requirement.


All Alvernia students must also complete the liberal arts core and community service hours to qualify for graduation.

Special Responsibilities
Communication majors must achieve a 2.5 GPA in all major requirements, successfully complete a Microsoft Excel course (CIS 105 or CIS 115), and contribute to one of the university publications for one or more semesters.

Communication Minors
To minor in Communication, students must complete 18 credits in Communication and/or a maximum of 8 credits in English.

Experiential Learning

Through internships, students have opportunities to apply theories and knowledge learned in the classroom in a variety of professional settings. In addition to providing exposure to the activities and expectations of a real-world workplace, internship experiences help students develop their network of professional contacts.

Our students have worked with many different organizations including:

Opportunity House
18th Ward Business Alliance
Safe Berks
United Way
Berks County Living Magazine
Reading Magazine
Reading Eagle Newspaper
BCTV.org
WEEU-AM
PBS 39 News 

 

In addition, students regularly visit local media outlets, public relations, and advertising agencies. The department also has taken students to Washington DC to visit Congress, Newseum, Supreme Court, and a taping of a CNN show. 

Graduates have also benefitted from internships with places such as ESPN, The Rachel Ray television show, QVC, The Berks County Bar Association, Longwood Gardens, Lamar Advertising, Channel 10 News program, BBC broadcasting, The Discovery Channel, Disney World, Universal Studios, The White House, Berks County Television and more. 

Tuition

To determine the cost of this program, please visit our Tuition page.  For a personalized estimate, please contact an admissions counselor at 610-790-8269 or at admissions@alvernia.edu.

Financial Aid

100% of Alvernia students receive some form of scholarship and/or aid. Our admissions counselors can help you identify the aid that is available to you and for your program. For more information, visit our Financial Aid page.

Accreditation

All programs offered by Alvernia University are approved by the Department of Education of the Commonwealth of Pennsylvania and accredited by the Middle States Association of Colleges and Secondary Schools.
---
Reading CollegeTowne featuring an Enhanced Communication Program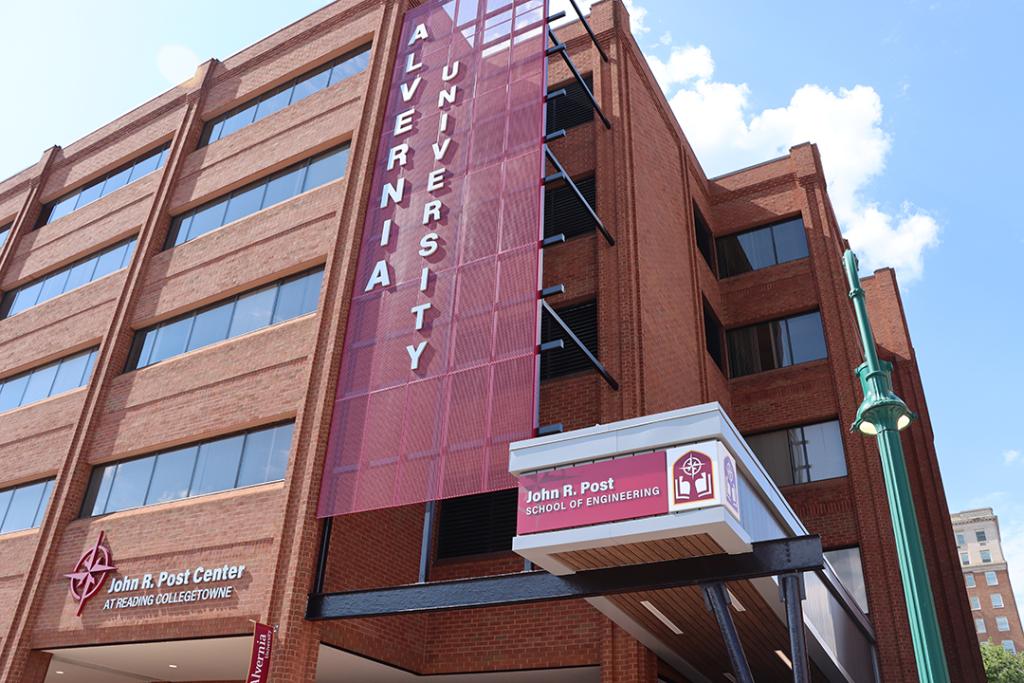 With the launching of Alvernia's CollegeTowne initiative and new state-of-the-art John R. Post Center at Reading CollegeTowne at 401 Penn Street in downtown Reading, the university's Communication Program takes experiential learning to new heights. With world-class facilities and increased community engagement, our real-world learning opportunities will be further expanded to fully prepare students for success upon graduation.
Specifically, the Communication Department's position in Downtown, Reading will enable us to strengthen our community partnerships as well as create new ones. With a highly developed digital production studio, our faculty is excited to expand their course capabilities by using new technology. This allows the department to take advantage of their new home to enhance student skills and take on a new interdisciplinary major, Social Media Marketing.
In addition to Alvernia's expansion, the Communication Department is able to collaborate with our community partners to train students to jump into entry-level positions immediately after graduation. Students have also partnered with a variety of non-profit organizations including Opportunity House, 18th Ward Business Alliance, Safe Berks, and the United Way. 
The Alvernia Communication Department also has relationships with professionals in the field. This new space will allow the department to offer additional opportunities for guest speakers, including the department's Executive and an Expert in Residence Program where Philadelphia news anchor Tracy Davidson and PBS 39 news anchor Brittany Sweeney can offer students valuable hands-on opportunities in the television news industry.  It will also provide a space for alumni to come back to campus and share their experiences with current students. Alvernia is extremely excited to begin this new concession, as it will benefit all current students, faculty, and alumni.
---
Learn More
For more information about Alvernia's Communication Program contact the Admissions Office at 1-888-ALVERNIA or 610-796-8269 or admissions@alvernia.edu, or reach out directly to:
Caroline Fitzpatrick, M.S. Ed., PhD
Associate Professor of Communication
Communications Department Chair
carrie.fitzpatrick@alvernia.edu
Major in Communication
Professor teaches student to use video equipment


A student shoots video on campus.

Student uses Bernardine Hall lounge to study


Professor teaches students to use video cameras.


Communication major Jarred Merriweather