By Susan Shelly

Yupha Muzyka '21, MBA '22, a 39-year-old wife and mother of two teenage daughters, grew up in Thailand, moving to Reading when she was 19 after meeting husband Steve during a visit with her sister, who lived in Singapore.

She planned to begin college shortly after getting married and settling in America, but after enrolling in community college, she discovered her English wasn't able to support her efforts in the classroom. Not one to give up, Muzyka enrolled in English classes at the Literacy Council of Reading-Berks, where she now volunteers to help others. She also began playing golf with her husband, and turned out to be a natural.

"It became our thing to do on the weekends, and I started to love the game," she said.

She even joined some leagues and started winning tournaments, including four county championship titles.

After Muzyka continued to improve both her golf and her English as her daughters got older, Muzyka finally felt confident enough to enroll at Alvernia in 2018. The university, with its low teacher-to-student ratio and close-knit community, was a good fit for an ESL student, said Muzyka.

"I felt right at home there," she said. "The campus was beautiful, and everyone was warm and welcoming."

Despite indicating on her Alvernia application that she was not interested in participating in sports, Tom O'Connell, head coach of the women's golf team who had been alerted to Muzyka's successes, urged her to join the team.

"I never thought that was going to happen because of my age. I was speechless when Coach called 30 minutes after I left campus... I agreed, and it turned out to be a wonderful experience," she said.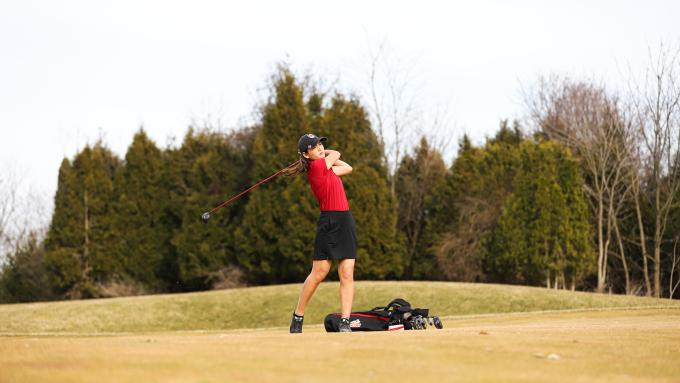 Muzyka was a standout four-year member of Alvernia's women's golf team, earning distinctions including the Middle Atlantic Conference Senior Scholar Athlete in 2021 and a nomination for the Division III Commissioner's Association Student-Athlete of the Year award in 2022. She also excelled academically as she earned degrees in business management and accounting, graduating in 2021.

"It's been a very busy time," Muzyka said as she reflected on the past five years. "I didn't expect to go to grad school right away, but I was accepted for a graduate assistant position and didn't want to turn down such a great opportunity."

While working toward her MBA degree, she was employed as a graduate assistant in Alvernia's downtown campus business trading lab. She helped facilitate the Bloomberg Terminal, a service employed by leading business and financial professionals worldwide.

She largely attributes her success to the support she received from the business faculty and to the unwavering support of her husband and daughters Alexis, 16, and Allison, 13.

"My family was a constant support," Muzyka said. "I've had to work hard for what I achieved, and they were always there for me."

She graduated with her MBA in December of 2022 and began working as an audit associate for RKL LLP – CPA Accounting & Business Consulting Firm in January. Muzyka hopes her achievements will inspire others – particularly her daughters – to pursue their dreams.

"I would tell others just to work hard and believe in yourself," she said. "There will always be hardship in life, but if you don't give up and keep pushing yourself, you'll be able to succeed. There are always opportunities to learn and improve yourself."