Your Home Away From Home
Alvernia University believes that the residential experience can be an integral part of your college education. As part of the total college experience, residential living fosters and supports a student's personal, social, spiritual, and academic development.

Through the residential experience, students are exposed to educational and social programs and activities that familiarize the residents with the diversity of lifestyles, backgrounds, and personalities of their peers. The residence halls provide students with value-based life skills that are transferable to the workforce and to life in general.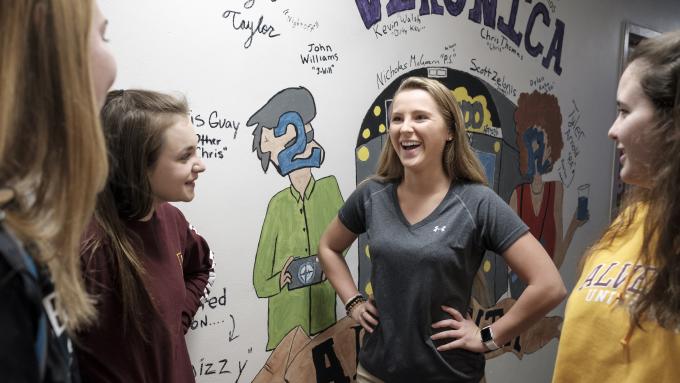 The halls also provide opportunities for group interaction and development of leadership skills through the Residence Halls Association, National Residence Hall Honorary, Residence Life Student Staff positions, themed and affinity communities, and hall/floor programs. It has been demonstrated that the intentional group living experience contributes to the development of the student's maturity and overall success.

Located in Veronica Hall, the Office of Residence Life is staffed by six full-time professional staff members, and Resident Assistants. Residence Life also has an information desk, open weekdays during the academic year to respond to general questions and concerns. The desk is staffed by a combination of Resident Assistants and work-study desk attendants.

Alvernia University maintains ten distinctive kinds of residential living-learning environments. The University offers housing to full-time matriculated single students only.
 
Questions? 
Contact the Residence Life Office at (610) 796-8320 or reslife@alvernia.edu.