Golden Wolves past, present and future brave the rain for an event-packed weekend 
Every year, Homecoming and Family Weekend at Alvernia precipitates multiple days of reunions, recreation and revelry. Unfortunately, this year's slate of Saturday activities also featured a drenching dose of precipitation.

But that didn't deter Golden Wolves past, present and future from attending the festivities.
 
"We had another memorable Homecoming and Family Weekend, celebrated by our Alvernia alumni, students, faculty and staff," said Dan Hartzman, director of external engagement. "Not even a steady rain kept the Alvernia community away."

Activities kicked off online on Thursday night. Well over 100 players from more than 10 states — a mix of alumni, students and parents — participated in Virtual Bingo, which featured as its grand prize a $300 Amazon card. With the aid of perfect October weather, things continued Friday evening, with a Young Alumni and Student Happy Hour drawing dozens to the Holleran Patio, followed by Glow in the Dark Mini Golf and Campfire Karaoke next door on the Quad.

Despite not-so-perfect October weather, Saturday morning's tailgating in the parking lot behind the Bornemann Building included more than a dozen tents keeping revelers dry, with the smells of alumni-owned Nonno Alby's pizza, and grilled bacon, burgers and hash browns wafting through the raindrops. There was even an Alvernia alumni marriage proposal.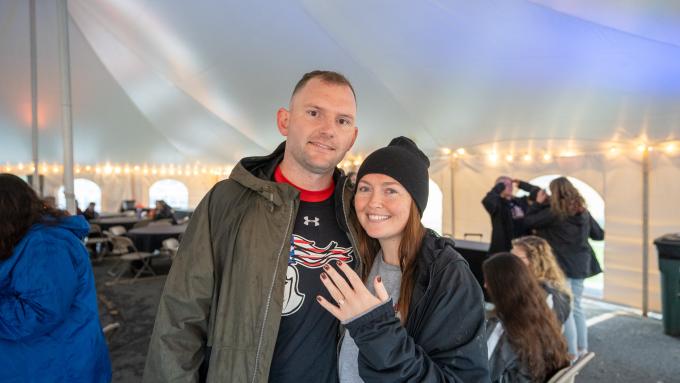 Huddled together under one of the tents was the Bulovas family — student Abby with her parents Julius and Heather — attending their first Homecoming together before the biology major graduates in December.

"We've been up here before but not to hang out for Homecoming," said father Julius. "It's been a lot of fun."

Abby Bulova said she has loved her time at Alvernia because the intimate setting reminds her of home in Glenolden, Delaware County.

Inside events early in the day included Coffee with the President, which allowed attendees to snack and chat with University President Glynis A. Fitzgerald, Ph.D.; and tours of the John R. Post Center at Reading CollegeTowne, the university's downtown location that just opened its John and Karen Arnold School of Nursing and state-of-the-art, interprofessional Healthcare Simulation Center on the second floor.

A handful of afternoon events that had been slated for the Quad were moved into the Physical Education Center. The GoggleWorks Center for the Arts and Reading Science Center brought demonstrations and hands-on activities for the whole family.

Revelers could also add some brushstrokes to a Penn Street Mural Project. "Ballet of the Street," designed by Reading High School and Reading-Muhlenberg CTC grad Treasure Lopes, will hang outside of DeCarlo's Bar and Grill on Third and Penn streets, similar to the community-painted, augmented-reality "Hope Blossoms" mural behind Threshold Rehabilitation Services' Mosaic House on Franklin Street. The pieces at the PEC resembled a massive Paint By Numbers project, with rivers of colors filling in many of the lines.

"What's nice about doing it this way is that I've had this at the Penn Street Farmers Market, I have it here today, we can take it all over to get as many peoples' hands being a part of it," said Mike L. Miller, mural coordinator for the project. "The designing of this started over a year ago. We're hoping to install it in the spring."

Saturday's festivities ended with roller skating at the PEC, trivia at the Student Center Dining Hall and candlelight tours of Francis Hall by the Bernardine Franciscan Sisters.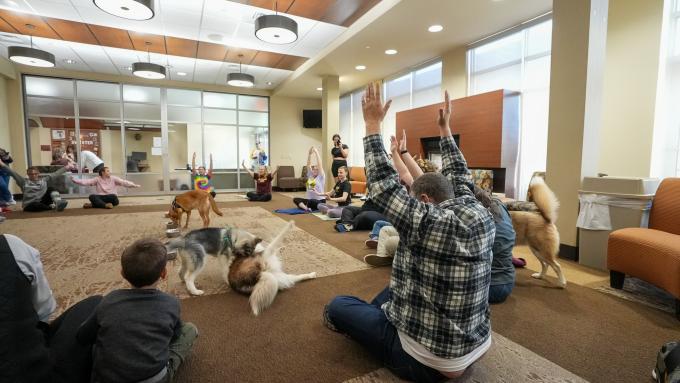 The events continued Sunday morning with Mass in Sacred Heart Chapel and champagne brunch in the Francis Hall Atrium. The tail end of the weekend featured puppy yoga in the Campus Commons living room, taking downward dog to a whole new level.

"Save the date for Oct. 10-13, 2024," Hartzman said.