By Nikki M. Murry

Not long from now, 1.5 billion bees may call the roof of the DoubleTree by Hilton Hotel on Penn Street in Reading home. Through a partnership between Uncle B's Honey Company, owned by Branden Moyer, and Alvernia University's SPARK Business Incubator, they'll work to pollinate 1.5 billion flowers in the city. That's a lot of buzz.

Because of the buzz about the Incubator kept Uncle B's from becoming an official client, Alvernia absolutely saw the advantages in forming a connection. "Partnerships make the world go 'round," said Michelle Conway, O'Pake Institute for Economic Development & Entrepreneurship Director of Student and Client Services and SPARK Business Incubator Manager.

It's true. The bees, Alvernia students, the residents of Reading and Moyer have all benefited.

The student fellows and graduate assistants that work at O'Pake with the SPARK Business Incubator are high achievers, carrying a 3.5 GPA or higher and earning a recommendation from a current Fellow, faculty or staff member for entry into the program. Those two pairings may lead to an interview process before determining if they are a fit for the paid work-study program that sees Fellows log 10-20 hours per week for the client they are assisting. Once selected, a Fellow can choose to remain such through their graduation year.

Those clients come from an assortment of fields, including the technology, software, retail, education, healthcare, entertainment and agriculture industries, to name a few. Fellows assisting them carry a wide variety of majors, too, from accounting and finance to sports management, biology and communications.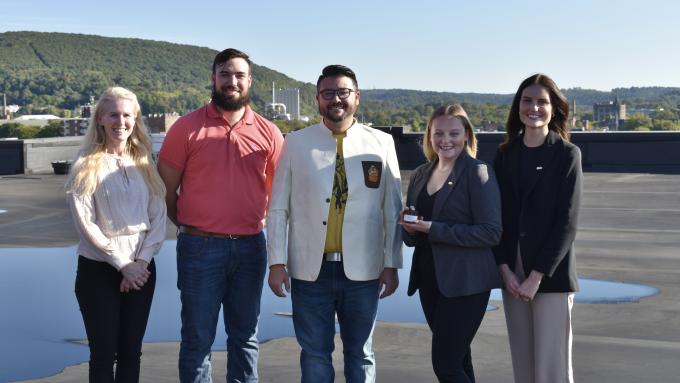 Jennifer Weasner, a digital media marketing and communications major, was thrilled to get hands-on for Uncle B's, designing the logo for the business's specially crafted O'Pake Honey, sold in the Institute's General Store. Since, she's working to enhance the O'Pake General Store's social media presence on Facebook and Instagram. It's the perfect partnership as Weasner looks to enter into the social media marketing field post-graduation this May.

"I enjoyed being the student lead on the marketing project for Uncle B's, from designing the logo for O'Pake Honey to now developing the social media strategy," said Weasner. "I look forward to the challenge of building an audience and seeing where we can take it."

Plans are also in the works to have students expand the hive project on top of the DoubleTree, seeing those connected with the EcoHouse, overseen by coordinator and Assistant Professor of Leadership, Dr. Alicia Sprow, work to establish, manage and harvest honey from 20 to 25 hives, said Conway.

Current SPARK client Hayden Craddolf, owner of Cemboo, a B2B software service company, has nothing but high praise for the program, which his business formally moved into this past May.

"Working with the O'Pake Fellows gave us the ability to frame our story and to prepare for future investors," Craddolf explained. "Long term, we hope to move into a more permanent space connected to Alvernia and the O'Pake SPARK Business Incubator program and to stay in the Reading area," he said.

For those entrepreneurs considering applying as a client with SPARK, Craddolf couldn't recommend it more highly.

"You get to work with bright young students that are eager to be exposed to experiences and are assisted by a hybrid team of those students, scholars and professionals," Craddolf said. "It's something any business should consider exploring. It has allowed us to flourish."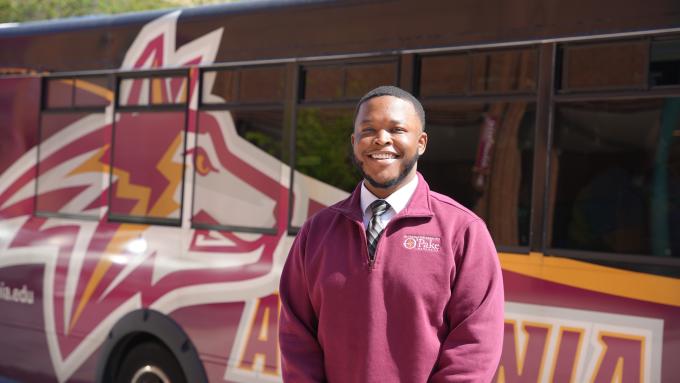 Seeing the Institute and the SPARK Business Incubator transform the City of Reading motivated Fellow and Reading Area Community College (RACC) transfer student Jamal Dancy to enroll at Alvernia.

Dancy, a criminal justice major and a Reading resident, works with the nonprofit section of SPARK to aid those individuals looking to start new community initiatives, tackling such projects as assisting in developing business plans, financial models and conducting meetings with lawyers.

As a RACC student he saw the positive change the O'Pake Institute and Alvernia were having in his community and was sold on enrolling with the university and becoming an O'Pake Fellow.

"A couple of years ago, there was a shooting in front of my home. It was a wake-up call," said Dancy. "Since O'Pake made its home here, the change has happened quickly. Five years ago, I wouldn't necessarily have walked up and down Penn Street."

Dancy is also working with the SPARK Business Institute as a student entrepreneur developing an app geared to universities.

The good news doesn't end in Reading.

As Alvernia and the CollegeTowne initiative branch out to more communities, so will the SPARK Business Incubator model.

"We'll have the Incubator in Pottsville, too," said Conway. "We'll duplicate what we do here [in Reading] at future locations and show others how special and real this project is, and aid in enhancing economic development, of course."