By Susan Shelly
After more than a year of canceled occasions and virtual events, the Alvernia community, family and friends gathered for commencement celebrations on Saturday, May 15, at First Energy Stadium in Reading. Members of the Class of 2020 received their diplomas at a morning ceremony, while those graduating in 2021 attended an afternoon gathering. More than 650 students participated in the events.
The ceremonies were the culmination of countless hours of planning, changing plans and changing them again. According to those who attended, however, the work and long delay paid off.
"I will say, sometimes things are worth the wait," said John R. Loyack, who presided over his first commencement as Alvernia's president. "I've been to a lot of graduations, but this one was very, very special. Having both groups together and celebrating on a beautiful Saturday was really wonderful."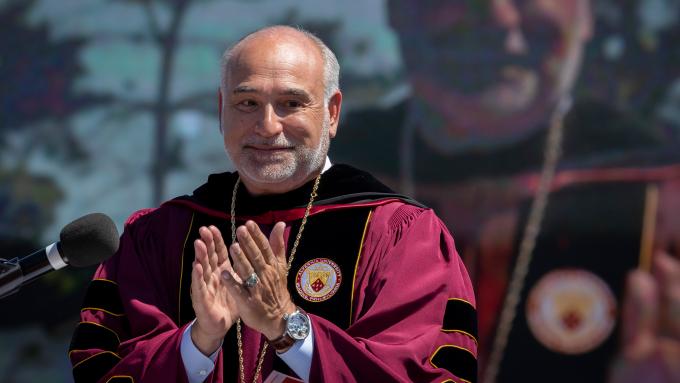 Abby Swatchick, associate dean of students and director of student activities, co-chaired the commencement planning committee, which worked for more than a year to get an event in place. Despite all the challenges, she said she would do it again.
"It was a great, celebratory event and definitely a labor of love," Swatchick said. "There was such a great vibe that day. You could feel the energy and elation and excitement from everyone."
Several people who participated in one of the commencement ceremonies shared their thoughts regarding the day.
Briana Buckley '20
Briana Buckley was the speaker for her class, having waited a full year to address her peers. She still remembers the disappointment of learning the 2020 commencement had been postponed. "I was so happy to have been chosen as speaker but devastated to learn we wouldn't be having the ceremony," Briana said. "I was so grateful to everyone who made sure my class was included in this year's events."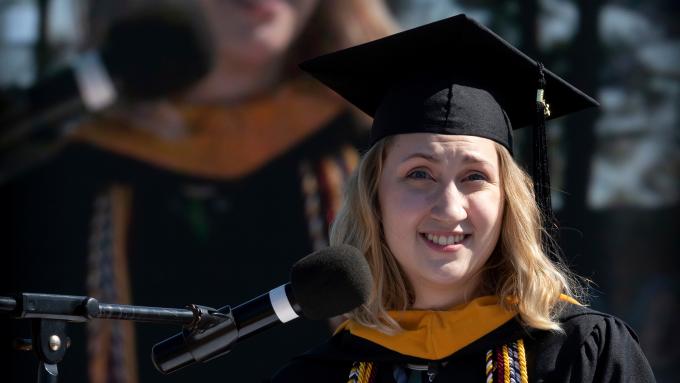 Her speech conveyed the message that Alvernia teaches more than academics. "I talked about all the life lessons we were given," she said, "and how those Alvernia lessons of helping and serving transformed us and made us better people."
Deacon Dr. Daniel DeLucca and his granddaughter, Gabrielle DeLucca '21
Deacon Dr. Daniel DeLucca, who served as president of Alvernia from 1990 until 1997, was thrilled to witness the graduation of his granddaughter, Gabrielle DeLucca. "It was a proud and very moving experience to watch her graduate from Alvernia," he said. "It was a joyous accomplishment."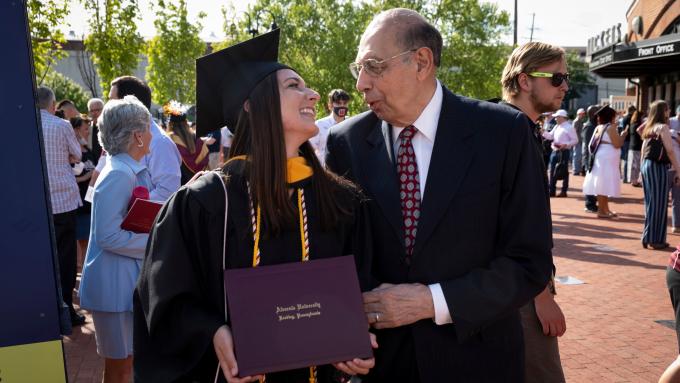 Gabrielle, a healthcare science graduate who will return to Alvernia to pursue a doctorate in physical therapy, said having her grandfather at commencement made the day more special: "Alvernia is a big part of me and it's a part of him, too. I'm grateful we share that connection because it makes us especially close."
Adrienne Rone '21
Adrienne Rone promised her mother she would finish college shortly before losing her to a brain tumor in July 2020.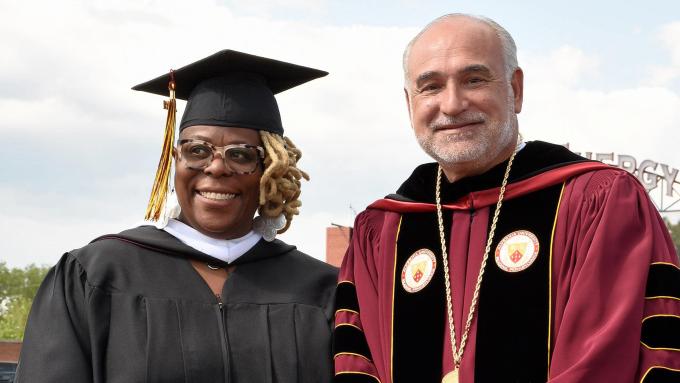 "Before she passed, I told her I'd find a way to finish school," said Adrienne, 46, who earned a degree in addictions and mental health treatment. "I needed to keep that promise." She did so with help from Dana Baker, Alvernia's executive director for regional campuses, who located funding for Adrienne to finish her last semester at Alvernia's Philadelphia Campus.
"My mother would have been so proud to see me sitting on the stage with the president of the university and then getting my college diploma," said Adrienne, who led the tassel turning during her commencement ceremony. "I could feel her smiling down on me that day."
Kathleen Herbein '95
When Kathleen Herbein earned a degree from Alvernia in 1995, she never expected she would be the recipient of a second degree—this one honorary—26 years later.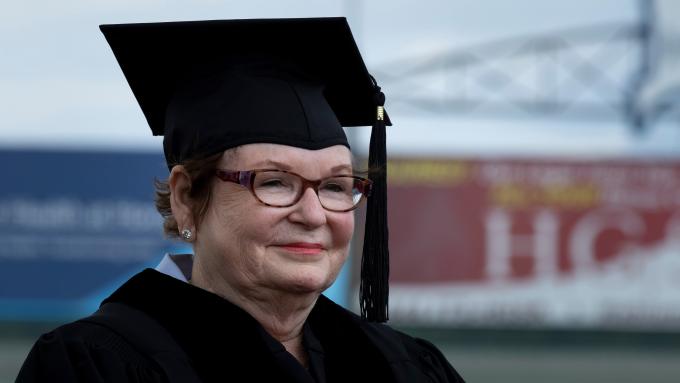 "It was an absolutely breathtaking and thrilling experience," said Kathleen, who received the honorary degree during the Class of 2021 graduation ceremony. "It wasn't anything I ever expected or anticipated."
A trustee emerita and former chair of Alvernia's board, Kathleen and her late husband, Carl, have enjoyed a long association with the University.
"Carl and I shared an extreme value of education," Kathleen said. "That's what I think made this such a thrilling experience for me."
This article originally appeared in the Winter 2022 issue of the Alvernia Magazine.