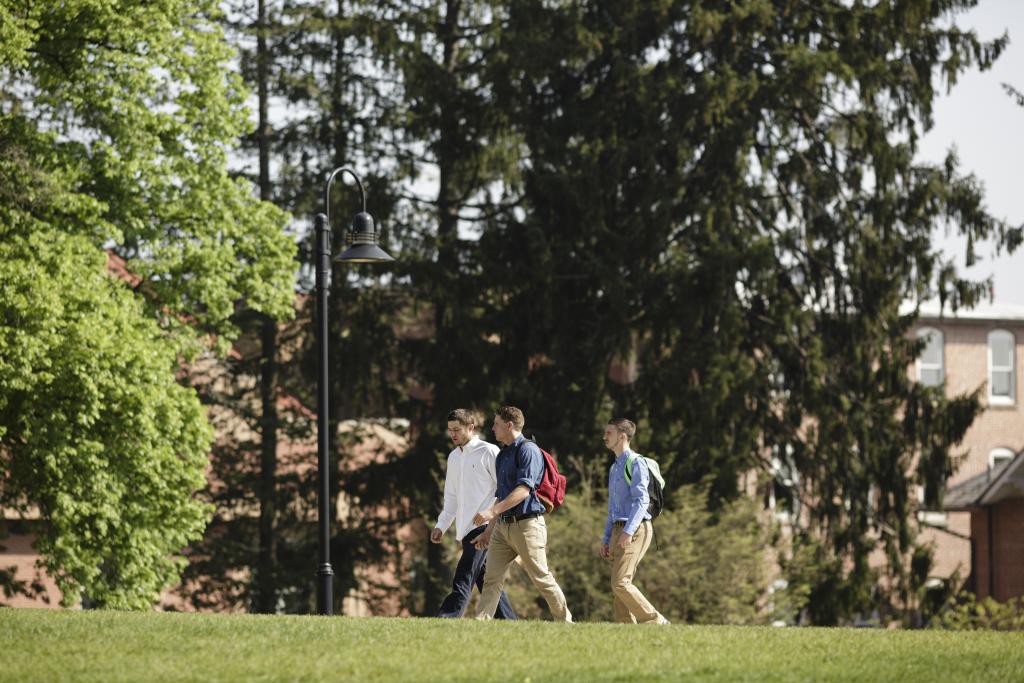 855 students earn distinction during pandemic
Over 850 students were named to Alvernia University's Dean's List for the spring 2020 semester. 
Despite the disruption of the semester by the COVID-19 pandemic and the university's quick transition to an online learning format, over 150 more students earned the distinction from the fall semester. 
"Our students and faculty showed incredible resilience during the spring 2020 semester," said Alvernia Universtiy President John R. Loyack. "The faculty's quick transition to the virtual learning environment and the students' ability to adapt to the changing instruction conditions is truly admirable and provides us with incredible faith as we prepare for the fall 2020 semester."
To be eligible for the Dean's List, students must carry a semester GPA of 3.5 or better and take a minimum of 12 credits.
Below is a full list of students:
| | | | | | |
| --- | --- | --- | --- | --- | --- |
| First Name | Last Name | Curriculum | City | State | Zip |
| Justin | Abreu Castro | Accounting | Reading | PA | 19602 |
| Victor | Acheson | Psychology | New Cumberland | PA | 17070 |
| Alyssa | Acker | Math | Bechtelsville | PA | 19505 |
| Nicole | Acosta | Occupational Therapy | Staten Island | NY | 10306 |
| Tiffany | Alexander | Marketing | Northampton | PA | 18067 |
| Elizabeth | Ali | Nursing | Horsham | PA | 19044 |
| Bridget | Allison | Occupational Therapy | Lewistown | PA | 17044 |
| Kyleigh | Ammerman | Occupational Therapy | Dushore | PA | 18614 |
| Faith | Amole | Nursing | Reading | PA | 19606 |
| Austin | Andrews | Sport Management | Pottstown | PA | 19464 |
| Hope | Andrews | PreK4 w/SpEd | Pleasant Valley | NY | 12569 |
| Kevin | Angeles | Biology | Stewartsville | NJ | 08886 |
| Sierra | Angstadt | Nursing | Wernersville | PA | 19565 |
| Brooke | Antolic | Nursing | Reading | PA | 19606 |
| Logan Marie | Arand | Criminal Justice | Manchester | MO | 63088 |
| Isabella | Arevalo | Nursing | Mohnton | PA | 19540 |
| Marissa | Armolt | PreK4 w/SpEd | Carlisle | PA | 17015 |
| Felecia | Arnold | Behavioral Health | Philadelphia  | PA | 19132 |
| Maggie | Arnold | Accounting | Penndel | PA | 19047 |
| Nicole | August | PreK4 w/SpEd | Toms River | NJ | 08753 |
| Samantha | August | Communication | Toms River | NJ | 08753 |
| Andrea | Avila | Nursing | Myerstown | PA | 17067 |
| Natalie | Axt | Marketing | New Tripoli | PA | 18066 |
| Aaron | Ayala | Accounting | Leesport | PA | 19533 |
| Matthew | Ayala | Management | Wantagh | NY | 11793 |
| Katy | Bailey | Diag Med Sonography | Kutztown | PA | 19530 |
| Timothy | Bailey | Management | Monroe | NJ | 08831 |
| Dawn | Baker | Surgical Technology | Lititz | PA | 17543 |
| Anne | Balter | Occupational Therapy | Floral Park | NY | 11001 |
| Leslie | Bamaca Perez | Forensic Science | Marydel | MD | 21649 |
| Jessica | Banschbach | Occupational Therapy | East Meadow | NY | 11554 |
| Victoria | Bare | Psychology | Manheim | PA | 17545 |
| Sean | Barnard | Health Care Science | Southampton | NJ | 08088 |
| Collin | Barndt | Health Care Science | Douglassville | PA | 19518 |
| Elizabeth | Barndt | Criminal Justice | Douglassville | PA | 19518 |
| Tyler | Barrett | Sport Management | Mays Landing | NJ | 08330 |
| Alicia | Barrow | Criminal Justice | Hanover | PA | 17331 |
| Theresa | Bates | Biology | Blandon | PA | 19510 |
| Jacqueline | Bauer | Psychology | Saylorsburg | PA | 18353 |
| Cassandra | Bean | Occupational Therapy | Reinholds | PA | 17569 |
| Julia | Beaven | Undecided | Belgrave | ON | N0G 1E0 |
| Shannon | Bell | Communication | Brick | NJ | 08724 |
| Dayna | Belsky | Occupational Therapy | Wilkes Barre | PA | 18705 |
| Carly | Benfield | Criminal Justice | Spring City | PA | 19475 |
| Brett | Berger | Chemistry | Douglassville | PA | 19518 |
| Kristina | Bertsch | Nursing | Kempton | PA | 19529 |
| Michael | Beyer | English | Birdsboro | PA | 19508 |
| Ammit | Bhogal | Computer Science | Shillington | PA | 19607 |
| Wade | Bieber | Applied Health | Reading | PA | 19604 |
| Tekia | Bigelow | Social Work | Glenside | PA | 19038 |
| Marisa | Bishop | Finance | Spring City | PA | 19475 |
| Raymond | Bishop | Health Care Science | Levittown | PA | 19056 |
| Kelsie | Blankenhorn | Applied Health | Schuylkill Haven | PA | 17972 |
| Alex | Blatt | Undecided | Myerstown | PA | 17067 |
| Morganne | Blazejak | Health Care Science | Galena | MD | 21635 |
| Elizabeth | Blejwas | Occupational Therapy | Poughquag | NY | 12570 |
| Allee | Blessing | Health Care Science | Shillington | PA | 19607 |
| Courtney | Blimline | Criminal Justice | Mohrsville | PA | 19541 |
| Joseph | Bode | Criminal Justice | Red Lion | PA | 17356 |
| Nicole | Bogenschutz | PreK4 w/SpEd | Boyertown | PA | 19512 |
| Derrick | Boltz | Biology | Hamburg | PA | 19526 |
| Miranda | Bonikowski | Nursing | Pottstown | PA | 19464 |
| Onelia | Bonilla | Nursing | Reading | PA | 19604 |
| Adam | Boudreau | Marketing | Enola | PA | 17025 |
| Martin | Bowman | Sport Management | Brownstown | PA | 17508 |
| Kristen | Boyle | Occupational Therapy | Jackson | NJ | 08527 |
| Lucas | Boyle | Health Care Science | Lehighton | PA | 18235 |
| Ryan | Boyle | Criminal Justice | Jackson | NJ | 08527 |
| Alexandra | Bozakis | Health Care Science | Reading | PA | 19605 |
| Colin | Brisbois | Applied Health | Gilbertsville | PA | 19525 |
| Myles | Brodie | Sport Management | Hyattsville | MD | 20782 |
| Mary | Brooks | Communication | Leesport | PA | 19533 |
| Michael | Brophy | Management | Reading | PA | 19608 |
| Dustin | Brown | Biology | Temple | PA | 19560 |
| Kiona | Bryant | Behavioral Health | Philadelphia | PA | 19111 |
| Brianna | Buckley | Psychology | Flourtown | PA | 19031 |
| Erica | Burch | Nursing | Leesport | PA | 19533 |
| Joseph | Burgess | Occupational Therapy | Jarrettsville | MD | 21084 |
| Emily | Burke | Healthcare Admin | Pearl River | NY | 10965 |
| Katlyn | Burkhardt | Occupational Therapy | Gilbertsville | PA | 19525 |
| Christian | Burrus | Accounting | Robesonia | PA | 19551 |
| Milannys | Busquets Rivera | Nursing | Hamburg | PA | 19526 |
| Hailey | Butler | Psychology | Riegelsville | PA | 18077 |
| Sylenis | Butler | Management | Lancaster | PA | 17602 |
| Katharine | Buzin | Applied Health | Downingtown | PA | 19335 |
| Dania | Cabello-Ruiz | Psychology | Reading | PA | 19604 |
| Jacqueline | Callanan | Occupational Therapy | New City | NY | 10956 |
| Kayla | Callender | Psychology | Philadelphia | PA | 19121 |
| Sara | Campbell | Athletic Training | Mount Laurel | NJ | 08054 |
| Kallie | Cardenas | Occupational Therapy | Lititz | PA | 17543 |
| Kallie | Cardenas | Occupational Therapy | Lititz | PA | 17543 |
| Breene | Carlin | Occupational Therapy | Easton | PA | 18045 |
| Amanda | Carter | Occupational Therapy | Leola | PA | 17540 |
| Amanda | Carter | Occupational Therapy | Leola | PA | 17540 |
| Tanya | Cartwright | Addictns Mental Hlth | Schuylkill Haven | PA | 17972 |
| Brenda | Casserly | Management | Mahanoy City | PA | 17948 |
| Claudia | Castaneda | Social Work | Reading | PA | 19604 |
| Cassandra | Castellucci | Healthcare Admin | Mohnton | PA | 19540 |
| Katherine | Castro | Healthcare Admin | Reading | PA | 19605 |
| Alexis | Cecero | Occupational Therapy | Middletown | NJ | 07748 |
| Alexis | Cecero | Occupational Therapy | Middletown | NJ | 07748 |
| Marcus | Celiano | Management | Califon | NJ | 07830 |
| James | Cerminaro | Management | Archbald | PA | 18403 |
| Victoria | Cerulli | PreK4 w/SpEd | Reading | PA | 19607 |
| Victoria | Cerulli | PreK4 w/SpEd | Reading | PA | 19607 |
| Hannah | Chadwick | Healthcare Admin | Lancaster | PA | 17602 |
| Maria | Checchia | Behavioral Health | Philadelphia | PA | 19116 |
| Jackelyn | Checo Mercado | Criminal Justice | Lebanon | PA | 17042 |
| Alexandra | Chierichella | Athletic Training | Holbrook | NY | 11741 |
| Marissa | Christiana | Nursing | Douglassville | PA | 19518 |
| Kassidy | Chuff | Nursing | Scott Twp | PA | 18447 |
| Kyung-Hwan | Chung | Sport Management | Reading | PA | 19607 |
| Ariana | Chuprinsky | Psychology | Sinking Spring | PA | 19608 |
| Rachael | Cibroski | Nursing-Completion | Womelsdorf | PA | 19567 |
| Aidan | Cichlar | Sport Management | Hackettstown | NJ | 07840 |
| Michael | Cirilli | Marketing | Ramsey | NJ | 07446 |
| Russell | Clineff | Criminal Justice | Douglassville | PA | 19518 |
| Sydney | Clouser | Healthcare Admin | Coaldale | PA | 18218 |
| Shiloh | Coffey | Nursing | Reading | PA | 19606 |
| Colleen | Colville | Occupational Therapy | Exton | PA | 19341 |
| Frank | Comotto | Nursing | Parkville | MD | 21234 |
| Kailey | Conrad | English | Mohrsville | PA | 19541 |
| Taylor | Cook | Nursing | Pottstown | PA | 19464 |
| Emily | Coppa | Nursing | Birdsboro | PA | 19508 |
| Mia | Corbacio | Addictns Mental Hlth | Reading | PA | 19608 |
| Samuel | Corn | Marketing | Bridgeton | NJ | 08302 |
| Molly | Corrigan | Biology | Bristol | PA | 19007 |
| Molly | Corrigan | Biology | Bristol | PA | 19007 |
| Michael | Corsetti | Health Care Science | Nazareth | PA | 18064 |
| Marissa | Cosgrove | Accounting | Reading | PA | 19607 |
| Emily | Cox | Nursing | Birdsboro | PA | 19508 |
| Michelle | Craciun | Behavioral Health | Reading | PA | 19606 |
| Lacie | Craft | Occupational Therapy | Newark | DE | 19702 |
| Natalie | Cross | Nursing | Reading | PA | 19607 |
| Wanda | Cruz | Social Work | Philadelphia | PA | 19134 |
| Piotr | Cymbalski | Occupational Therapy | Andalusia | PA | 19020 |
| Dana | Dahler | Applied Health | Auburn | PA | 17922 |
| Wendy | Dalton | Criminal Justice | Orwigsburg | PA | 17961 |
| Montana | Daniel | Healthcare Admin | Philadelphia | PA | 19131 |
| Elizabeth | Danovich | Occupational Therapy | Sewell | NJ | 08080 |
| Linda | Darosa | Health Care Science | Frackville | PA | 17931 |
| Ashlee | Davies | Occupational Therapy | Macungie | PA | 18062 |
| Evan | Davis | Behavioral Health | Fairfax | VA | 22033 |
| Julia | Davis | History | Lenhartsville | PA | 19534 |
| Victor | de Avila | Communication | Weymouth | MA | 02190 |
| Gabriella | De Vito | Health Care Science | Bayside Hills | NY | 11364 |
| Malik | Debrah | Undecided | Laurel | MD | 20708 |
| Allison | Decker | Nursing | Dalton | PA | 18414 |
| Christopher | DeCocinis | Health Care Science | Gilbertsville | PA | 19525 |
| Jennifer | Deeter | Management | Ashland | PA | 17921 |
| Luke | Degenhart | Chemistry | Douglassville | PA | 19518 |
| Jadziah | Delamerced | Behavioral Health | Nutley | NJ | 07110 |
| Alison | DeLia | Communication | West Chester | PA | 19382 |
| Sarah | Deller | Occupational Therapy | York | PA | 17402 |
| Caitlyn | DeLong | Accounting | Hamburg | PA | 19526 |
| Gabrielle | DeLucca | Health Care Science | North Wales | PA | 19454 |
| Matthew | DeMarco | Accounting | Shillington | PA | 19607 |
| Nick | Denlinger | Marketing | Lancaster | PA | 17602 |
| Karina | Desai | Occupational Therapy | Old Bridge | NJ | 08857 |
| Erin | Devlin | PreK4 w/SpEd | Rahway | NJ | 07065 |
| Marie-Jo | DeZart | Health Care Science | Jackson | NJ | 08527 |
| Joseph | Dezotell | Management | Leesport  | PA | 19533 |
| Nayelie | Diaz Santana | Social Work | Reading | PA | 19601 |
| Bethany | Dienner | Occupational Therapy | Lancaster | PA | 17602 |
| Juliana | DiGirolamo | Health Care Science | Easton | PA | 18045 |
| Kristina | Dinger | Management | Hegins | PA | 17938 |
| Edward | DiPietro | Finance | Gilbertsville | PA | 19525 |
| Morgan | Ditchey | Occupational Therapy | Nicholson | PA | 18446 |
| Vilma | Dominguez | Psychology | Reading | PA | 19604 |
| Taylor | Dorrin | Occupational Therapy | Swarthmore | PA | 19081 |
| Catherine | Dougherty | Behavioral Health | Pottsville | PA | 17901 |
| Katelyn | Dougherty | Occupational Therapy | Clark | NJ | 07066 |
| Regan | Downey | History | Bethlehem | PA | 18017 |
| Lauren | Dragan | Health Care Science | Oley | PA | 19547 |
| Brock | Drahus | Accounting | Birdsboro | PA | 19508 |
| Eric | Drebushenko | Management | Sinking Spring | PA | 19608 |
| Brianna | Dreisbach | Occupational Therapy | Reading | PA | 19607 |
| Brianna | Dreisbach | Occupational Therapy | Reading | PA | 19607 |
| Caitlin | Drobek | Health Care Science | Temple | PA | 19560 |
| Brianna | Dugan | Health Care Science | Norristown | PA | 19403 |
| Kelly | Dugan | Human Resource Mgmt | Mohnton | PA | 19540 |
| Breanna | Dukehart | Occupational Therapy | Mercersburg | PA | 17236 |
| Nicholas | Dumont | Occupational Therapy | Media | PA | 19063 |
| Ryan | Dumont | Occupational Therapy | Media | PA | 19063 |
| Jeremiah | Dunst | Health Care Science | Wilmington | DE | 19802 |
| Katryn | Durenleau | Occupational Therapy | Camp Hill | PA | 17011 |
| Chelsea | Dziamba | Health Care Science | Reading | PA | 19609 |
| Rachael | Dzik | Occupational Therapy | Newark | DE | 19702 |
| Rachael | Dzik | Occupational Therapy | Newark | DE | 19702 |
| Aubrey | Eaken | Occupational Therapy | Womelsdorf | PA | 19567 |
| Lindsay | Eberly | Occupational Therapy | Denver | PA | 17517 |
| Kristin | Eck | Communication | Sinking Spring | PA | 19608 |
| Lindsay | Eckhoff | Occupational Therapy | Williston Park | NY | 11596 |
| Sydney | Eddy | Nursing | Lebanon | PA | 17042 |
| Bethany | Edwards | Occupational Therapy | Morris | CT | 06763 |
| Chloe | Eggert | Nursing | Mount Penn | PA | 19606 |
| Emerald | Eggert | Occupational Therapy | Bethel | CT | 06801 |
| Ella | Ehlert | Psychology | Reading | PA | 19606 |
| Leighan | Elicker | Psychology | Bernville | PA | 19506 |
| Monique | Eloizard | Psychology | Mendham  | NJ | 07945 |
| Tara | Engelhardt | Social Work | Hazlet | NJ | 07730 |
| Cassie | Engle | Accounting | Orwigsburg | PA | 17961 |
| Mercedezs | Espin | Accounting | Reading | PA | 19604 |
| Yissette | Espinal | Bio Medical Lab Sci | Reading | PA | 19604 |
| Megan | Everts | PreK4 w/SpEd | Troy | PA | 16947 |
| William | Ewan | Psychology | York Haven | PA | 17370 |
| Ayanna | Fagan | Criminal Justice | Philadelphia | PA | 19139 |
| Thomas | Faggioni | Finance | Metuchen | NJ | 08840 |
| William | Fagley | Math | Mohnton | PA | 19540 |
| Terriene | Falcon | Management | Temple | PA | 19560 |
| Ashley | Farence | Nursing | Harrisburg | PA | 17109 |
| Kelsey | Farmer | Occupational Therapy | Mount Joy | PA | 17552 |
| Kelsey | Farmer | Occupational Therapy | Mount Joy | PA | 17552 |
| Nicole | Fazio | Occupational Therapy | Hillsborough | NJ | 08844 |
| Nicole | Fazio | Occupational Therapy | Hillsborough | NJ | 08844 |
| Paige | Fellows | Nursing | Auburn | PA | 17922 |
| Brad | Feltenberger | Human Resource Mgmt | Shoemakersville | PA | 19555 |
| Christa | Felty | Accounting | Bethel | PA | 19507 |
| Gabriel | Fernandez | Health Care Science | Somerville | NJ | 08876 |
| Katarina | Fernandez | PreK4 w/SpEd | Somerville | NJ | 08876 |
| Nicholas | Ferretti | Athletic Training | Reading | PA | 19606 |
| Makenna | Ferron | Health Care Science | Lykens | PA | 17048 |
| Sabrina | Fick | Surgical Technology | Leesport | PA | 19533 |
| Maria | Figurelli | Behavioral Health | Mullica Hill | NJ | 8062 |
| Abby | Fiorilla | Occupational Therapy | New Ringgold | PA | 17960 |
| Nicholas  | Fiucci | Sport Management | Reading | PA | 19601 |
| Casey | Flack | Occupational Therapy | Barto | PA | 19504 |
| Emily | Flanagan | Nursing | Pottsville | PA | 17901 |
| Jessica | Flanigan | Biology | Philadelphia | PA | 19136 |
| Maddison | Fleming | Behavioral Health | Hegins | PA | 17938 |
| Jessica | Flores-Young | Behavioral Health | Wernersville | PA | 19565 |
| Quinton | Foley | Accounting | Douglassville | PA | 19426 |
| Hannah | Folk | Nursing | Reading | PA | 19606 |
| Jackson | Fonseca-Webb | Accounting | Abington | PA | 19001 |
| Jackson | Fonseca-Webb | Accounting | Abington | PA | 19001 |
| Meagan  | Forster | Occupational Therapy | Wind Gap | PA | 18091 |
| Justin | Fortuna | Marketing | Williamstown | NJ | 08094 |
| Benjamin | Foster | Communication | Arlington | VA | 22203 |
| Emily | Foster | Occupational Therapy | Danville | PA | 17821 |
| Emily | Foster | Occupational Therapy | Danville | PA | 17821 |
| Kasey | Fox | Nursing | Barto | PA | 19504 |
| Kayla | Fox | Behavioral Health | Hamburg | PA | 19526 |
| Shina | Fraunfelter | Finance | Bernville | PA | 19506 |
| Christopher | Freed | Management | Blandon | PA | 19510 |
| Megan | Freed | Diag Med Sonography | Pottstown | PA | 19465 |
| Lauren | Freund | Behavioral Health | Hazlet Township | NJ | 07734 |
| Tyler | Frick | Nursing | Lincoln University | PA | 19352 |
| Isabel | Fries | Occupational Therapy | Reading | PA | 19606 |
| Olivia | Frutiger | Occupational Therapy | Camp Hill | PA | 17011 |
| Emily | Frye | Occupational Therapy | Thompson | PA | 18465 |
| Katherine | Gaeta | Occupational Therapy | Staten Island | NY | 10312 |
| Molly | Gaffney | Political Science | Temple | PA | 19560 |
| Jessica | Galan | Applied Health | Wyomissing | PA | 19610 |
| Sinead | Gallagher | Occupational Therapy | Rockaway Park | NY | 11694 |
| Dominic | Gallo | Criminal Justice | Bensalem | PA | 19020 |
| Emily | Gallo | Occupational Therapy | Yardley | PA | 19067 |
| Ryan | Galusha | Health Care Science | Northampton | PA | 18067 |
| Hannah | Gardner | Occupational Therapy | Gettysburg | PA | 17325 |
| Hannah | Gardner | Occupational Therapy | Gettysburg | PA | 17325 |
| Zoee | Garis | Sport Management | Lebanon | PA | 17042 |
| Madison | Garlinger | Health Care Science | Enola | PA | 17025 |
| Madison | Garlinger | Health Care Science | Enola | PA | 17025 |
| Emily | Gehringer | Nursing | Barto | PA | 19504 |
| Jacqueline | Gentile | Occupational Therapy | Highland Mills | NY | 10930 |
| Maria | Gerace | Healthcare Admin | Orwigsburg | PA | 17961 |
| Kimber | Gerlach | Behavioral Health | Drums | PA | 18222 |
| Alison | Germadnig | Occupational Therapy | Howell | NJ | 07731 |
| Ethan | Gernerd | Nursing | Oley | PA | 19547 |
| Heather | Gettle | Nursing | Myerstown | PA | 17067 |
| Katharine | Giannaras | Occupational Therapy | Elkton | MD | 21921 |
| Erica | Giannotti | Biology | Sinking Spring | PA | 19608 |
| Artease | Gibson | Management | Reading | PA | 19602 |
| Kyla | Gibson | Occupational Therapy | Warminster | PA | 18974 |
| Ariana | Giebler | Occupational Therapy | Keansburg | NJ | 07734 |
| Austin | Gilbert | Sport Management | Reading | PA | 19606 |
| Olivia | Gilida | Finance | Highlands Ranch  | CO | 80129 |
| Elizabeth | Gillespie | Psychology | Staten Island | NY | 10308 |
| Miranda | Gilmer | Nursing-Completion | Robesonia | PA | 19551 |
| Vanessa | Gimbor | PreK4 w/SpEd | Brockton | PA | 17925 |
| Joseph | Ginder | Criminal Justice | Schaefferstown | PA | 17088 |
| MaKayla | Gingrich | Nursing | Trevorton | PA | 17881 |
| Sofia | Gizzio | Occupational Therapy | Garnet Valley | PA | 19060 |
| Sabrina | Gleason | Nursing | Pottstown | PA | 19464 |
| Chloe | Gletow | Occupational Therapy | Flemington | NJ | 08822 |
| Anna | Gockley | Nursing | Ephrata | PA | 17522 |
| Alexis | Gomez | Criminal Justice | Philadelphia | PA | 19135 |
| Sophia | Gonzales | Biology | Princeton | NJ | 08540 |
| Jessica | Gonzalez | Accounting | Reading | PA | 19601 |
| Maria | Gonzalez Lara | Political Science | Reading | PA | 19604 |
| Rosalba | Gonzalez-Magana | Nursing | Reading | PA | 19604 |
| Sidney | Goodman | English | Leesport | PA | 19533 |
| Cameron | Gordineer | Biology | Hazleton | PA | 18201 |
| Alexander | Gorlin | Chemistry | Toms River | NJ | 08753 |
| Brooke | Graby | Health Care Science | Fredericksburg | PA | 17026 |
| Tyler | Graham | Sport Management | Hamburg | PA | 19526 |
| DarciJo | Grasso | PreK4 w/SpEd | Tamaqua | PA | 18252 |
| Keisha | Gregg | Social Work | Philadelphia | PA | 19141 |
| Nasheyla | Greggs | Nursing | Columbia | PA | 17512 |
| Kira | Griffenberg | Forensic Science | Philadelphia | PA | 19135 |
| Michael | Griffin | Criminal Justice | Hamilton | NJ | 08691 |
| Jennifer | Griffith | Applied Health | Wyomissing | PA | 19610 |
| Joely | Griffith | Communication | Reading | PA | 19607 |
| Casey | Grim | Nursing | Reading | PA | 19609 |
| Natalie | Grim | Occupational Therapy | Windsor | PA | 17366 |
| Madison | Grimwood | Applied Health | Stevens | PA | 17578 |
| Jenna | Grosko | Nursing | Bethel | PA | 19507 |
| Erica | Groves | Nursing | Hummelstown | PA | 17036 |
| Olivia | Grube | Occupational Therapy | Auburn  | PA | 17922 |
| Olivia | Grube | Occupational Therapy | Auburn  | PA | 17922 |
| Brandon | Gubler | Management | Lebanon | PA | 17042 |
| Hunter | Guenzel | Sport Management | Ewing | NJ | 08638 |
| Yocasta | Guerrero | Marketing | Reading | PA | 19604 |
| Theresa | Gulla | Occupational Therapy | Coopersburg | PA | 18036 |
| Brock | Gumaer | Sport Management | Hallstead | PA | 18822 |
| Winifred | Gutierrez | Communication | Mount Penn | PA | 19606 |
| Grant | Hackett | Finance | Howell | NJ | 07731 |
| Amanda | Hadley | Biology | Royersford | PA | 19468 |
| Hayley | Haggerty | Occupational Therapy | Forked River | NJ | 08731 |
| Hayley | Haggerty | Occupational Therapy | Forked River | NJ | 08731 |
| Isaac | Hain | Occupational Therapy | Lancaster | PA | 17602 |
| Corinne | Hambleton | Healthcare Admin | Willow Street | PA | 17584 |
| Katlin | Hampton | Accounting | Birdsboro | PA | 19508 |
| John | Handley | Health Care Science | Philadelphia | PA | 19111 |
| Samantha | Hands | Occupational Therapy | Freehold | NJ | 07728 |
| Margaret | Hansson | Criminal Justice | Chester Springs | PA | 19425 |
| Justin | Hardy | Biology | Temple | PA | 19560 |
| Morgan | Harig-Cook | Biology | Llewellyn | PA | 17944 |
| Nicole | Harman | Political Science | West York | PA | 17404 |
| Ciera | Harp-Nagle | ED: PRE K-4 | Birdsboro | PA | 19508 |
| Kim | Harris | Addictns Mental Hlth | Philadelphia | PA | 19151 |
| Nia | Harris | Nursing | Loganville | GA | 30052 |
| Emily | Hart | Nursing | Royersford | PA | 19468 |
| Giavana | Hartzell | Accounting | Ambler | PA | 19002 |
| Alec | Hawkins | Marketing | Ellicott City | MD | 21043 |
| Justin | Heck | Accounting | Wernersville | PA | 19565 |
| Jeremiah | Heckler | Accounting | Boyertown | PA | 19512 |
| Autumn | Heckman | Biology | Sinking Spring | PA | 19608 |
| Sarah | Heckman | Marketing | Fleetwood | PA | 19522 |
| Brooke | Hedrick | Nursing | Pottstown | PA | 19464 |
| Brittany | Heerwagen | Occupational Therapy | Washington | NJ | 07882 |
| Kassidy | Heidkamp | Nursing | Pittsburgh | PA | 15205 |
| Nicole | Heinze | Occupational Therapy | Ambler | PA | 19002 |
| Nicole | Heinze | Occupational Therapy | Ambler | PA | 19002 |
| Elisabeth | Hemmig | PreK4 w/SpEd | Reading | PA | 19601 |
| Madison | Hengey | PreK4 w/SpEd | Swedesboro | NJ | 08085 |
| Nikolas | Henson | Athletic Training | Reisterstown | MD | 21136 |
| Allison | Herb | Psychology | Reading | PA | 19604 |
| Molly | Herbold | Occupational Therapy | Hawthorne | NY | 10532 |
| Mayra | Hernandez | Nursing | York | PA | 17401 |
| Amanda | Herrera | Accounting | Reading | PA | 19604 |
| Garret | Hershberger | Nursing | Morgantown | PA | 19543 |
| Brooke | Hershey | Social Work | Gap | PA | 17527 |
| Ruth | Hettrick | Behavioral Health | Wernersville | PA | 19565 |
| Megan | Heydt | Accounting | Fleetwood | PA | 19522 |
| Dillon | Hicks | Health Care Science | Robesonia | PA | 19551 |
| Yasmin | Hidalgo | Occupational Therapy | Reading | PA | 19601 |
| Jacob | Hiester | Health Care Science | Sinking Spring | PA | 19608 |
| Jordan | Hine | Nursing | Reading | PA | 19606 |
| Jennifer | Hite | Applied Health | Leesport | PA | 19533 |
| Briana | Hocker | Biology | Warminster | PA | 18974 |
| Briana | Hocker | Biology | Warminster | PA | 18974 |
| Rachel | Hodgson | Nursing | Reading | PA | 19606 |
| Grace | Hoffman | Nursing | Tower City | PA | 17980 |
| Chloe | Hofmann | Nursing | Birdsboro | PA | 19508 |
| Alissa | Hollenbach | Criminal Justice | New Ringgold | PA | 17960 |
| Travis | Holonics | Sport Management | Trenton | NJ | 08620 |
| Jordyn | Homan | Health Care Science | Wernersville | PA | 19565 |
| Chaslin | Hoover | Occupational Therapy | New Castle | PA | 16101 |
| Lucy | Horn | Occupational Therapy | Reading | PA | 19606 |
| Lucy | Horn | Occupational Therapy | Reading | PA | 19606 |
| Emily | Hosier | Nursing | Boyertown | PA | 19512 |
| Carissa | Hostrander | Occupational Therapy | Hershey | PA | 17033 |
| Abrielle | Houck | Occupational Therapy | Barto | PA | 19504 |
| Kristyn | Huddleston | Management | Center Valley | PA | 18034 |
| Matthew | Huddleston | Management | Reading | PA | 19611 |
| Madison | Hudson | PreK4 w/SpEd | Middletown | DE | 19709 |
| Madison | Hudson | PreK4 w/SpEd | Middletown | DE | 19709 |
| Faith | Hughes | Behavioral Health | West Reading | PA | 19611 |
| Kimberly | Hunter | Addictns Mental Hlth | Frackville | PA | 17931 |
| Chloe | Huntsberry | Occupational Therapy | Hagerstown | MD | 21742 |
| Gabrielle | Husko | Occupational Therapy | Roosevelt | NJ | 08555 |
| Corinne | Huston | Occupational Therapy | Broomall | PA | 19008 |
| Claire | Huynh | Forensic Science | Cherry Hill | NJ | 08003 |
| Jamie | Inacio | PreK4 w/SpEd | Belford | NJ | 07718 |
| Erin | Irey | Marketing | Douglassville | PA | 19518 |
| Alexis | Iswalt | General Science | Reading | PA | 19606 |
| Mackenzie | Jackson | Biology | Grove City | PA | 16127 |
| Sydney | Jackson | Occupational Therapy | Cresco | PA | 18326 |
| Witmie | Jacques | Biology | Reading | PA | 19604 |
| Raisa | Jadotte | Nursing | Hamburg | PA | 19526 |
| Eden | Jahn | Athletic Training | Seven Valleys | PA | 17360 |
| Isata | Jalloh | Nursing | Wyomissing | PA | 19610 |
| Megan | James | Management | West Reading | PA | 19611 |
| Alisyn | Janavage | ED: PRE K-4 | Port Carbon | PA | 17965 |
| Yamile | Jimenez | Marketing | Reading | PA | 19602 |
| Meghan | Johns | Biochemistry | Royersford | PA | 19468 |
| Ariel | Johnson | Criminal Justice | Douglassville | PA | 19518 |
| Felicia | Johnson | Behavioral Health | Philadelphia | PA | 19119 |
| Tyler | Johnson | Nursing | Leesport | PA | 19533 |
| Colleen | Jones | Health Care Science | Perkasie | PA | 18944 |
| Jessica | Jones | Management | Philadelphia | PA | 19120 |
| Jordan | Jones | Occupational Therapy | Trenton | NJ | 08619 |
| Lexus | Jordan | Occupational Therapy | Girardville | PA | 17935 |
| Sierra | Kachel | Health Care Science | Elkton | MD | 21921 |
| Colin | Kaechele | Psychology | Haworth | NJ | 07641 |
| Brian | Kane | Accounting | Langhorne | PA | 19047 |
| Ashlee | Kantner | Human Resource Mgmt | Sinking Spring | PA | 19608 |
| Madilynne | Kasapidis | Health Care Science | Shillington | PA | 19607 |
| Taylor | Kauffman | Sport Management | Reading | PA | 19605 |
| Navdeep | Kaur | Social Work | Philadelphia | PA | 19152 |
| Alanna | Kazmierski | Athletic Training | Lutherville | MD | 21093 |
| Alyson | Keene | Occupational Therapy | Swedesboro | NJ | 08085 |
| Jocelyn | Keller | Undecided | Wyomissing | PA | 19610 |
| Kaitlyn | Keller | Biology | Allentown | PA | 18103 |
| Liam | Kelly | Health Care Science | Jamison | PA | 18929 |
| Emily | Kemler | Occupational Therapy | Pennsburg | PA | 18073 |
| Leah | Kemper | Marketing | Denver | PA | 17517 |
| Shannon | Kenney | PreK4 w/SpEd | Ashland | PA | 17921 |
| Eileen | Kenny | Nursing | Medford | NJ | 08055 |
| Hannah | Kerns | Occupational Therapy | Souderton | PA | 18964 |
| Gillian | Kerper | Addictns Mental Hlth | Wyomissing | PA | 19610 |
| Kyle | Kerr | Health Care Science | Lancaster | PA | 17602 |
| Cassie | Kershner | Occupational Therapy | Schuylkill Haven | PA | 17972 |
| Kathleen | Kessler | Occupational Therapy | Downingtown | PA | 19335 |
| Angelica Mae Shenah | Key | Criminal Justice | Palm Bay | FL | 32909 |
| Matthew | Kinahan | Criminal Justice | Sayville | NY | 11782 |
| Allison | Kirschner | Criminal Justice | Southampton | PA | 18966 |
| Collin | Kiwak | Criminal Justice | Reading | PA | 19607 |
| Meaghan | Klaburner | Psychology | Jonestown | PA | 17038 |
| Riley | Knapp | Applied Health | Birdsboro | PA | 19508 |
| Amy | Koch | Criminal Justice | Stroudsburg | PA | 18360 |
| Jared | Koechell | Athletic Training | Goose Creek | SC | 29445 |
| Kerstin | Koenig | PreK4 w/SpEd | Springtown | PA | 18081 |
| Brian | Konefsky | Occupational Therapy | Royersford | PA | 19468 |
| Roselyn | Korngor | Social Work | North Plainfield | NJ | 07060 |
| Calie | Kraft | Occupational Therapy | Lititz | PA | 17543 |
| Cathryn | Kramer | Nursing | Levittown | NY | 11756 |
| Brooke | Kramlich | Nursing | Sinking Spring | PA | 19608 |
| Kathryn | Kresge | Nursing | Emmaus | PA | 18049 |
| Kaitlyn | Krick | Psychology | Leesport | PA | 19533 |
| Emma | Kropkowski | Health Care Science | Forest Hill | MD | 21050 |
| Morgan | Krwawicz | Occupational Therapy | Voorhees | NJ | 08043 |
| Julia | Kuckla | Health Care Science | Old Forge | PA | 18518 |
| Aaron | Kulp | Management | Kutztown | PA | 19530 |
| Angel | Kurien | Occupational Therapy | Rosharon | TX | 77583 |
| Angel | Kurien | Occupational Therapy | Rosharon | TX | 77583 |
| Rebecca | Kutz | Applied Health | Kutztown | PA | 19530 |
| Abigail | Lackman | Nursing-Completion | Mohnton | PA | 19540 |
| Kirsten | Lake | Social Work | Stewartstown | PA | 17363 |
| Jessica | Lamb | Biology | Susquehanna | PA | 18847 |
| Marley | Lamb | Occupational Therapy | Etters | PA | 17319 |
| Briana | Lambert | Criminal Justice | Schwenksville | PA | 19473 |
| Michael | Lanza | Criminal Justice | Reading | PA | 19607 |
| Samantha | Lau | Occupational Therapy | Wind Gap | PA | 18091 |
| Rylee | Lawler | Nursing | Quakertown | PA | 18951 |
| Eden | Lawson | Nursing | Denver | PA | 17517 |
| William | Lazdins | Nursing | Burlington | NJ | 08016 |
| William | Lazdins | Nursing | Burlington | NJ | 08016 |
| Matthew | Lee | Biology | Reading | PA | 19606 |
| Alexa | Lennert | PreK4 w/SpEd | Sinking Spring | PA | 19608 |
| Sydney | Lesher | Nursing-Completion | Hamburg | PA | 19526 |
| Samantha | Levan | Addictns Mental Hlth | Lebanon | PA | 17046 |
| Terrance | Lewis | Criminal Justice | Gilbertsville | PA | 19525 |
| Irene | Licari | Nursing-Completion | Blandon | PA | 19510 |
| Nichole | Lichtley | Behavioral Health | Oley | PA | 19547 |
| McKenzy | Lilliock | Human Resource Mgmt | Palmyra | PA | 17078 |
| JoAnnah | Lim | Biology | Delanco | NJ | 08075 |
| Emma | Linsenbigler | Athletic Training | Collegeville | PA | 19426 |
| Alexis | Littlefield | ED: PRE K-4 | Tampa | FL | 33618 |
| Faith | Lo | Nursing | Denver | PA | 17517 |
| Kiara | Lockhart | Criminal Justice | Reading | PA | 19604 |
| Adam | Loehr | Health Care Science | Lebanon | PA | 17042 |
| Ashlin | Long | Healthcare Admin | Leesport | PA | 19533 |
| Issac | Long | Criminal Justice | Lititz | PA | 17543 |
| Shannon | Long | Nursing | Dauphin | PA | 17018 |
| Alexa | Longcor | Applied Health | Philadelphia | PA | 19128 |
| Melanie | Lopatin | Biology | Jamison | PA | 18929 |
| Alivia | Lopez | Sport Management | Pottstown | PA | 19464 |
| Francheska | Lopez | Criminal Justice | Reading | PA | 19601 |
| Rachel | Lowrie | Nursing | Mohnton | PA | 19540 |
| Haley | Macalush | Math | Tamaqua | PA | 18252 |
| Justin | Mace | Applied Health | Fleetwood | PA | 19522 |
| Meghan | Mackle | Occupational Therapy | Nutley | NJ | 07110 |
| Nicole | MacMullin | PreK4 w/SpEd | Pottstown | PA | 19465 |
| Alison | Maddox | Occupational Therapy | Perry Hall | MD | 21128 |
| Lauren | Maff | Occupational Therapy | Bethlehem | PA | 18020 |
| Lauren | Maff | Occupational Therapy | Bethlehem | PA | 18020 |
| James | Maier | Occupational Therapy | Mountainside | NJ | 07092 |
| Victoria | Mak | Occupational Therapy | Monmouth Junction | NJ | 08852 |
| Grace | Maketa | Theatre | Bristol | PA | 19007 |
| Erin | Malin | Social Work | Spotswood | NJ | 08884 |
| Amber | Malloy | Forensic Science | Sellersville | PA | 18960 |
| Sarah | Mangan | Nursing | Douglassville | PA | 19518 |
| Sonia | Mannepuli | Computer Science | Reading | PA | 19607 |
| Katherine | Manning | PreK4 w/SpEd | Hyde Park | NY | 12538 |
| Morgan | Maradeo | Criminal Justice | Nesquehoning | PA | 18240 |
| Crystal | Marchiani | Surgical Technology | Birdsboro | PA | 19508 |
| Nathan | Margerison | Criminal Justice | Reading | PA | 19605 |
| Julia | Marrone | Occupational Therapy | Atlantic Highlands | NJ | 07716 |
| Sydney | Martens | Nursing | Pottstown | PA | 19464 |
| Carissa | Martin | Nursing | Womelsdorf | PA | 19567 |
| Hunter | Martin | Finance | Gettysburg | PA | 17325 |
| Marissa | Martin | Occupational Therapy | Lititz | PA | 17543 |
| Shane | Martin | Criminal Justice | Pottsville | PA | 17901 |
| Leslie | Martines-Rivera | Criminal Justice | Reading | PA | 19604 |
| Jasmin | Martinez | Nursing | Reading | PA | 19604 |
| Yanet | Martinez | Nursing | Reading | PA | 19602 |
| Cierra | Martin-Permenter | Management | Reading | PA | 19605 |
| Julia | Martorano | Occupational Therapy | Sewell | NJ | 08080 |
| Mikaela | Mastromatto | Occupational Therapy | Ambler | PA | 19002 |
| Tamia | Mathias | Management | Smyrna | DE | 19977 |
| Alyssa | Matlack | PreK4 w/SpEd | Chester Springs | PA | 19425 |
| Marina | Matsuk | Nursing | Denver | PA | 17517 |
| Ashley | Mattern | Forensic Science | Hegins | PA | 17938 |
| Spencer | Matthews | Communication | Hamilton | NJ | 08610 |
| Heather | Matuszak | Addictns Mental Hlth | Shillington | PA | 19607 |
| Justin | Mayhood | Health Care Science | Newton | NJ | 07860 |
| Cheyenne | Mazza | Occupational Therapy | Wantage | NJ | 07461 |
| Meghan | McCausland | Digital Media Market | Pennsburg | PA | 18073 |
| Alexis | McCollum | Occupational Therapy | Cherry Hill | NJ | 08003 |
| Nateara | McDaniel | Social Work | Philadelphia | PA | 19141 |
| Allison | McDennis | Occupational Therapy | Sinking Spring | PA | 19608 |
| Allison | McDennis | Occupational Therapy | Sinking Spring | PA | 19608 |
| Logan | McGinley | Psychology | Coplay | PA | 18037 |
| Laura | McGinty | Behavioral Health | Douglassville | PA | 19518 |
| Mikaela | McGurkin | Occupational Therapy | Royersford | PA | 19468 |
| Ryan | McHugh | Marketing | Yorklyn | DE | 19736 |
| Erika | McKee | Behavioral Health | Easton | PA | 18040 |
| Paige | McKenna | Biochemistry | Pitman | NJ | 08071 |
| Sydni | McKenna | Management | Pitman | NJ | 08071 |
| Michaela | Medina | Occupational Therapy | Cream Ridge | NJ | 08514 |
| Joshua | Mergler | Finance | Havre de Grace | MD | 21078 |
| Kaitlyn | Merritt | Athletic Training | York | PA | 17404 |
| Savannah | Merritt | PreK4 w/SpEd | Feasterville Trevose | PA | 19053 |
| Jacob | Mesey | Sport Management | Marlton | NJ | 08053 |
| Maria | Mesias Salazar | Psychology | Lancaster | PA | 17601 |
| Raven | Metas | Communication | Philadelphia | PA | 19116 |
| Datnilza | Metz | Management | Reading | PA | 19604 |
| Bryce | Miceli | Athletic Training | Mount Penn | PA | 19606 |
| Cari | Middlecamp | PreK4 w/SpEd | Perry Hall | MD | 21128 |
| Cari | Middlecamp | PreK4 w/SpEd | Perry Hall | MD | 21128 |
| Alexa | Miller | Applied Health | Mohrsville | PA | 19541 |
| Collin | Miller | Criminal Justice | Frederick | MD | 21703 |
| Emily | Miller | Nursing | Birdsboro | PA | 19508 |
| Erich | Miller | Biochemistry | Robesonia | PA | 19551 |
| Jenna | Miller | Occupational Therapy | Elizabethtown | PA | 17022 |
| Katarina | Miller | Finance | Laureldale | PA | 19605 |
| Kirsten | Miller | Occupational Therapy | Reading | PA | 19606 |
| Paige | Miller | PreK4 w/SpEd | Bechtelsville | PA | 19505 |
| Sadie | Miller | Nursing | Shamokin | PA | 17872 |
| Taylor | Miltner | Psychology | Greenlawn | NY | 11740 |
| Rachel | Minchoff | Criminal Justice | Shillington | PA | 19607 |
| Cassandra | Mitchell | Nursing | Robesonia | PA | 19551 |
| Kylee | Mitchell | Health Care Science | Clearfield | PA | 16830 |
| Matthew | Mitchell | Communication | Lafayette Hill | PA | 19444 |
| Brenda | Mizhquiri | Accounting | Reading | PA | 19601 |
| Christian | Mizhquiri | Nursing | Reading | PA | 19606 |
| Falyn | Moe | Occupational Therapy | Hauppauge | NY | 11788 |
| Tiana | Mondesir | Occupational Therapy | East Stroudsburg | PA | 18301 |
| Morgan | Mondschein | Nursing | Danielsville | PA | 18038 |
| Jared | Montalto | Communication | Berlin | NJ | 08009 |
| Gabrielle | Montefiore | Athletic Training | Drexel Hill | PA | 19026 |
| Morgan | Moore | Health Care Science | Niles | MI | 49120 |
| Matthew | Moran | Athletic Training | Middletown | DE | 19709 |
| Stephanie | Moran | Psychology | West Grove | PA | 19390 |
| Tyler | Moran | Occupational Therapy | Reading | PA | 19604 |
| Dianna | Morganti | Athletic Training | Cedar Grove | NJ | 07009 |
| Nicolaus | Morrett | Healthcare Admin | Dover | PA | 17315 |
| Megan | Morris | Occupational Therapy | Cinnaminson | NJ | 08077 |
| Tyzhir | Morris | PreK4 w/SpEd | Millsboro | DE | 19966 |
| Karah | Morse | Forensic Science | Bel Air | MD | 21014 |
| Erica | Mount | Nursing | Haddon Township | NJ | 08108 |
| Alyssa | Moyer | Addictns Mental Hlth | Reading | PA | 19605 |
| Kaylee | Moyer | Occupational Therapy | Allentown | PA | 18104 |
| Kaylee | Moyer | Occupational Therapy | Allentown | PA | 18104 |
| Ryan | Moyer | Health Care Science | Temple | PA | 19560 |
| Hope | Mullins | Sport Management | York | PA | 17404 |
| William | Munson | Management | Albrightsville | PA | 18210 |
| Christopher  | Murphy | Management | Covina | CA | 91724 |
| Samantha | Murray | Health Care Science | Succasunna | NJ | 07876 |
| Melena | Musgrove | Nursing | Perkasie | PA | 18944 |
| Mackenzie | Musser | Nursing | Hamburg | PA | 19526 |
| Yupha | Muzyka | Management | Sinking Spring | PA | 19608 |
| Kirsten | Myer | Nursing | Manheim | PA | 17545 |
| Hailey | Myers | Occupational Therapy | Haddon Heights | NJ | 08035 |
| Briana | Natal | English | Sunbury | PA | 17801 |
| Amie | Navarro | Social Work | Reading | PA | 19602 |
| Ariel | Neafach | Biology | Mohnton | PA | 19540 |
| Emily | Neeld | Health Care Science | Perkiomenville | PA | 18074 |
| Antoinette | Nelson | Behavioral Health | Philadelphia | PA | 19126 |
| Laura | Nentwig | Digital Media Market | Spring City | PA | 19475 |
| Haley | Nestor | Nursing | Lykens | PA | 17048 |
| Hailey | Newell | Psychology | New Paltz | NY | 12561 |
| Julia | Newton | Biology | Reading | PA | 19606 |
| Monica | Nguyen | Finance | Reading | PA | 19606 |
| Amy | Nimmerichter | Surgical Technology | Birdsboro | PA | 19508 |
| Victoria | Noone | Human Resource Mgmt | Royersford | PA | 19468 |
| Mara | Oberholtzer | Nursing | Reading | PA | 19606 |
| Kerry | O'Boyle | Occupational Therapy | Franklin Square | NY | 11010 |
| Abby | O'Donnell | Occupational Therapy | Nesquehoning | PA | 18240 |
| Lorraine | Ogden | Accounting | Ashland | PA | 17921 |
| Scott | O'Hara | Accounting | Troy | NY | 12182 |
| Isabelle | Okkerse | PreK4 w/SpEd | Birdsboro | PA | 19508 |
| Jenna | Oliviero | Nursing | Newmanstown | PA | 17073 |
| Megan | Olsson | Forensic Science | Phoenixville | PA | 19460 |
| Carly | O'Neil | Healthcare Admin | Kutztown | PA | 19530 |
| Amber | Orban | PreK4 w/SpEd | Palmyra | PA | 17078 |
| Elianna | Ortega | ED: PRE K-4 | Reading | PA | 19606 |
| Daniel | Ortiz | Psychology | Reading | PA | 19607 |
| Joshua | Osborne | Accounting | Reading | PA | 19606 |
| Marion | O'Shaughnessy | Athletic Training | Newark | DE | 19711 |
| Valerie | Panetta | Health Care Science | Pottstown | PA | 19464 |
| Maria | Panettieri | Occupational Therapy | Centerport | NY | 11721 |
| Pinkal | Patel | Healthcare Admin | Pottsville | PA | 17901 |
| Jonathon | Pavlick-Demeter | Health Care Science | Reading | PA | 19607 |
| Jessica | Pellicane | PreK4 w/SpEd | Branchburg | NJ | 08853 |
| Deneen | Pendergrass | Healthcare Admin | Philadelphia | PA | 19120 |
| Heather | Perna | Nursing | Franklinville | NJ | 08322 |
| Jordan | Perry | Accounting | Helmetta | NJ | 08828 |
| Mikala | Persky | Occupational Therapy | Leesport | PA | 19533 |
| Priscilla | Peter | Occupational Therapy | Paramus | NJ | 07652 |
| Kiona | Peters | Occupational Therapy | Lenhartsville | PA | 19534 |
| Morgan | Petersen | Applied Health | Blandon | PA | 19510 |
| April | Peterson | Social Work | Philadelphia | PA | 19141 |
| Mikayla | Pettis | Marketing | Boyertown | PA | 19512 |
| Anjala | Phillips | Behavioral Health | Philadelphia | PA | 19141 |
| David | Pierce | Occupational Therapy | Fleetwood | PA | 19522 |
| Steven | Pierce | Undecided | Philadelphia | PA | 19143 |
| Shaddya | Pimienta-Mundell | Healthcare Admin | Mount Penn | PA | 19606 |
| Susanna | Pirollo | Athletic Training | Chester Springs | PA | 19425 |
| Isabella | Pizzo | Psychology | Douglassville | PA | 19518 |
| Zane | Plaza | Undecided | Reading | PA | 19607 |
| Megan | Poley | Occupational Therapy | Lansdale | PA | 19446 |
| Joseph | Polidoro | Finance | Glassboro | NJ | 08028 |
| Alexis | Pope | Surgical Technology | Pottstown | PA | 19465 |
| Madison | Potthoff | Occupational Therapy | Sinking Spring | PA | 19608 |
| Andrea | Potylycki | Math | Whitehall | PA | 18052 |
| Julie | Poulos | Social Work | Hamburg | PA | 19526 |
| Alexxa | Powers | Communication | Carlisle | PA | 17015 |
| Deanna | Prefach | Behavioral Health | Temple | PA | 19560 |
| Philip | Premici | Criminal Justice | Shillington | PA | 19607 |
| Dorothy | Price | Health Care Science | Philadelphia | PA | 19122 |
| Elise | Pryor | Occupational Therapy | Fairfield | PA | 17320 |
| Dominic | Pugliese | Undecided | Reading | PA | 19610 |
| Caron | Puryear | Health Care Science | Manchester | PA | 17345 |
| Carter | Puryear | Athletic Training | Manchester | PA | 17345 |
| Shannon | Qualters | Addictns Mental Hlth | Philadelphia | PA | 19140 |
| Kristen | Quillman | Nursing | Bernville | PA | 19506 |
| Alexis | Quinn | Forensic Science | Philadelphia | PA | 19131 |
| Selena | Quintanilla | Nursing | Reading | PA | 19604 |
| Shannon | Quirk | Occupational Therapy | Staten Island | NY | 10314 |
| Shannon | Quirk | Occupational Therapy | Staten Island | NY | 10314 |
| Marisa | Rader | Health Care Science | Parlin | NJ | 08859 |
| Rafiea | Rafique | Diag Med Sonography | Emmaus | PA | 18049 |
| Lily | Ramos | Healthcare Admin | Reading | PA | 19606 |
| Tyler | Rankin | Liberal Studies | Reading | PA | 19607 |
| Chelsea | Raser | Criminal Justice | Birdsboro | PA | 19508 |
| Kurt | Rauch | Human Resource Mgmt | Denver | PA | 17517 |
| Renee | Rauhut | Occupational Therapy | Forks Township | PA | 18040 |
| Brooke | Ray | Addictns Mental Hlth | Philadelphia | PA | 19144 |
| Bonnie | Reape | Behavioral Health | Pottstown | PA | 19464 |
| Elizabeth | Reece | Occupational Therapy | Audubon | NJ | 08106 |
| Elizabeth | Reece | Occupational Therapy | Audubon | NJ | 08106 |
| Danielle | Reed | Social Work | Lancaster | PA | 17601 |
| Sarah | Reed | Health Care Science | Wernersville | PA | 19565 |
| Aimmee | Reilly | PreK4 w/SpEd | Pine Grove | PA | 17963 |
| Michele | Reimert | Accounting | Seltzer | PA | 17974 |
| Sarah | Reinert | Athletic Training | Boyertown | PA | 19512 |
| Rebekah | Reinhart | Nursing-Completion | Sinking Spring | PA | 19608 |
| Brent | Reinoehl | Finance | Williamstown | PA | 17098 |
| Abigail | Reisinger | Management | Matthews | NC | 28104 |
| Anne-Gardy | Remy | Social Work | Lebanon | PA | 17046 |
| Brendan | Renn | Criminal Justice | Sunbury | PA | 17801 |
| Brendan | Renn | Criminal Justice | Sunbury | PA | 17801 |
| Marisa | Rex | Accounting | Mohrsville | PA | 19541 |
| Cyndy | Reyes | Social Work | Reading | PA | 19604 |
| Bridget | Reynolds | Occupational Therapy | Perry Hall | MD | 21128 |
| Bridget | Reynolds | Occupational Therapy | Perry Hall | MD | 21128 |
| Hannah | Richards | Nursing | Myerstown | PA | 17067 |
| Noah | Richards | Behavioral Health | Girardville | PA | 17935 |
| Rachel | Ricketts | Nursing | Reading | PA | 19607 |
| Tyshe | Ricketts | Behavioral Health | Benalem | PA | 19020 |
| Trent | Rider | Accounting | Leola | PA | 17540 |
| Leah | Riegel | Occupational Therapy | Mechanicsburg | PA | 17050 |
| Jennifer | Rinehart | Human Resource Mgmt | Mohrsville | PA | 19541 |
| Emily | Ritter | Health Care Science | Newport | PA | 17074 |
| Antonio | Rivera | Communication | Sinking Spring | PA | 19608 |
| Antonio | Rivera | Communication | Sinking Spring | PA | 19608 |
| Zenaida | Rivera | Nursing-Completion | Reading | PA | 19602 |
| Alexandra | Robertson | Sport Management | Prides Crossing | MA | 01965 |
| Ashley | Robinson | Occupational Therapy | Norristown | PA | 19406 |
| Hope | Robinson | Accounting | Gilbertsville | PA | 19525 |
| Jannelle | Robinson | Biology | Lemoyne | PA | 17043 |
| Ty | Robinson | Health Care Science | Mertztown | PA | 19539 |
| Jesus | Rodriguez | Criminal Justice | Reading | PA | 19601 |
| Mallorie | Rodriguez | Forensic Science | Bethel | PA | 19507 |
| Mariel | Rodriguez | Behavioral Health | Reading | PA | 19605 |
| Jayah | Roman | Nursing | Reading | PA | 19601 |
| Nicholas | Rosahac | Criminal Justice | Jim Thorpe | PA | 18229 |
| Ceydi | Rosario | Nursing | Reading | PA | 19604 |
| Kirsy | Rosario | Accounting | Reading | PA | 19604 |
| Jordani | Rosario-Santana | Biology | West Lawn | PA | 19609 |
| Anne | Rose | Occupational Therapy | Forked River | NJ | 08731 |
| Regina | Rossi | Occupational Therapy | Springfield | VA | 22153 |
| Elyse | Rothenberger | Applied Health | Boyertown | PA | 19512 |
| Caitlyn | Rothermel | Occupational Therapy | Reading | PA | 19608 |
| Caitlyn | Rothermel | Occupational Therapy | Reading | PA | 19608 |
| Olivia | Ruch | Occupational Therapy | Ewing | NJ | 08628 |
| David | Ruppert | Criminal Justice | Reading | PA | 19604 |
| Austin | Rush | Marketing | Perkasie | PA | 18944 |
| Kelly | Ryan | Athletic Training | Downingtown | PA | 19335 |
| Melanie | Sanchez-Gonzalez | Nursing | Reading | PA | 19605 |
| Nicole | Sanchez-Gonzalez | ED: PRE K-4 | Reading | PA | 19605 |
| Lily | Sankey | Nursing | Mc Alisterville | PA | 17049 |
| Alexis | Santiago | Health Care Science | Laureldale | PA | 19605 |
| Grace | Santos | Athletic Training | Taneytown | MD | 21787 |
| Jimmy | Saunders | Nursing-Completion | Reading | PA | 19606 |
| Gina | Scandone | Accounting | Norristown | PA | 19403 |
| Nicole | Scarle | Biology | Narvon | PA | 17555 |
| Riley | Scepansky | Psychology | Blandon | PA | 19510 |
| Claudia | Schadler-Duong | Human Resource Mgmt | Sinking Spring | PA | 19608 |
| Autumn | Schell | Nursing | Reading | PA | 19606 |
| Edward | Schmeltz | Criminal Justice | Reading | PA | 19606 |
| Emily | Schneck | Criminal Justice | Lebanon | PA | 17042 |
| Brianna | Schneider | Management | Milford | NJ | 08848 |
| Brittany | Schoen | Surgical Technology | Mohrsville | PA | 19541 |
| Andrew | Schoenblum | ED: PRE K-4 | Yardley | PA | 19067 |
| Katelyn | Schoener | Health Care Science | Fleetwood | PA | 19522 |
| Michael | Schoenleber | Criminal Justice | Lower Gwynedd | PA | 19002 |
| Anna | Schollenberger | Occupational Therapy | Woodbury | NJ | 08096 |
| Hannah | Schultz | Surgical Technology | Wernersville | PA | 19565 |
| Jacob | Schwartz | Health Care Science | Jim Thorpe | PA | 18229 |
| Hannah | Schwarzmann | Nursing | Lumberton | NJ | 08048 |
| Jason | Scott | Finance | Jim Thorpe | PA | 18229 |
| Haylee | Selesky | Undecided | West Reading | PA | 19611 |
| Chyanne | Sell | Finance | Reading | PA | 19606 |
| Makenzie | Sensenig | Occupational Therapy | Denver | PA | 17517 |
| Olivia | Shaak | Psychology | Shillington  | PA | 19607 |
| Taylor | Shambaugh | Health Care Science | Landisburg | PA | 17040 |
| Kayla | Shane | Nursing | Boyertown | PA | 19512 |
| Duncan | Shaver | Finance | Needham | MA | 02492 |
| Savannah | Shirey | Undecided | Bernville | PA | 19506 |
| Jack | Short | Finance | Birdsboro | PA | 19508 |
| Kelly | Shuey | Health Care Science | Jonestown | PA | 17038 |
| Jordan | Sickler | Criminal Justice | Birdsboro | PA | 19508 |
| Alyssa | Sieck | PreK4 w/SpEd | Bensalem | PA | 19020 |
| Grace | Silva | Athletic Training | Wayne | NJ | 07470 |
| Andrew | Simmons | Management | Reading | PA | 19605 |
| Josephine | Sipler | Marketing | Mohnton | PA | 19540 |
| Maxwell | Slaby | Occupational Therapy | Boyertown | PA | 19512 |
| Sean | Slade | Management | Reading | PA | 19606 |
| Jessica | Sloan | Health Care Science | Langhorne | PA | 19047 |
| Makenzie | Smeigh | Nursing | New Bloomfield | PA | 17068 |
| Rachel | Smiley | Criminal Justice | Mohnton | PA | 19540 |
| Amber | Smith | Criminal Justice | Reading | PA | 19606 |
| Julianna | Smith | Applied Health | Waynesboro | PA | 17268 |
| Kealey | Smith | Occupational Therapy | Hummelstown | PA | 17036 |
| Shannon | Smith | Digital Media Market | Union Beach | NJ | 07735 |
| Dana | Snyder | Applied Health | Blandon | PA | 19510 |
| Kaitlyn | Snyder | Finance | Fleetwood | PA | 19522 |
| Nathan | Snyder | Biochemistry | Felton | PA | 17322 |
| Bryan | Sobczak | Occupational Therapy | Fogelsville | PA | 18051 |
| Sydney | Sobczyk | Marketing | Wilmington | DE | 19809 |
| Haley | Solan | Occupational Therapy | Acme | PA | 15610 |
| Joseph | Sonsino | Biochemistry | Gilbertsville | PA | 19525 |
| Tyler | Spare | Finance | Reading | PA | 19611 |
| Holly | Speaker-Cadugan | Athletic Training | West Chester | PA | 19382 |
| Emily | Spedding | Occupational Therapy | King of Prussia | PA | 19406 |
| Daria | Speranza | Occupational Therapy | Scotch Plains | NJ | 07076 |
| Olivia | Speranza | PreK4 w/SpEd | Scotch Plains | NJ | 07076 |
| Brooke | Spezialetti | Occupational Therapy | Millersville | PA | 17551 |
| Melissa | Stahl | Occupational Therapy | Philadelphia | PA | 19128 |
| Melissa | Stahl | Occupational Therapy | Philadelphia | PA | 19128 |
| Rachel | Stanford | Nursing | Perkasie | PA | 18944 |
| Mariah | Steffey | Occupational Therapy | Boyertown | PA | 19512 |
| Meghan | Steffey | Nursing | Kempton | PA | 19529 |
| Amber | Steinhilpert | Nursing | Anchorage | AK | 99516 |
| Mitchell | Sterkenburg | Management | Allentown | PA | 18106 |
| Julian | Stetzler | Math | Sinking Spring | PA | 19608 |
| Duncan | Stevens | History | Bear | DE | 19701 |
| Kiley | Stevens | Accounting | Camp Hill | PA | 17011 |
| Fiona | Stewart | Athletic Training | Shedd | OR | 97377 |
| Natalie | Stiner | Nursing | Stanhope | NJ | 07874 |
| Victoria | Strasser | Political Science | Crofton | MD | 21114 |
| Amber | Strohl | Nursing | Barto | PA | 19504 |
| Catherine | Strosnider | Occupational Therapy | Hanover | PA | 17331 |
| Michaela | Sturm | Nursing | Reading | PA | 19607 |
| Taylor | Sundstrom | Occupational Therapy | Pottstown | PA | 19464 |
| Jessica | Suter | PreK4 w/SpEd | Jackson | NJ | 08527 |
| Taylor | Suto | Health Care Science | Jobstown | NJ | 08041 |
| Natalie | Sweigart | Nursing | Narvon | PA | 17555 |
| Haylee | Sweigert | Health Care Science | Tower City | PA | 17980 |
| Keira | Swoyer | Psychology | Reinholds | PA | 17569 |
| Gianna | Taffo | Health Care Science | Staten Island | NY | 10306 |
| Gabrielle | Tamburro | Nursing | Phoenixville | PA | 19460 |
| Christopher | Taney | Criminal Justice | Blandon | PA | 19510 |
| Alexis | Taylor | Biology | Branchburg | NJ | 08853 |
| Jacob-Paul | Taylor | Criminal Justice | York | PA | 17403 |
| Kayley | Taylor | Nursing | Perkiomenville | PA | 18074 |
| Keon | Taylor | Communication | Wilmington | DE | 19809 |
| Michael | Tepedino | Criminal Justice | Monroe Township | NJ | 08831 |
| Martin | Thompson-Riggins | Athletic Training | Carlisle | PA | 17013 |
| Madison | Thornton | Occupational Therapy | Aston | PA | 19014 |
| Dion | Thorpe | Communication | Baltimore | MD | 21206 |
| Timothy | Tirado | Nursing | Reading | PA | 19601 |
| Arlene | Tolentino | Athletic Training | West Lawn | PA | 19609 |
| Anastasia | Tomko | Communication | Blandon | PA | 19510 |
| Kristina | Tomko | Occupational Therapy | Leesport | PA | 19533 |
| Amanda | Tony | Occupational Therapy | Reading | PA | 19608 |
| Jaisha | Toro-Soto | Social Work | Ephrata | PA | 17522 |
| Kayleen | Torres | Healthcare Admin | Reading | PA | 19604 |
| Meralyn | Torres | Health Care Science | Reading | PA | 19602 |
| Troy | Tranly | Management | West Reading | PA | 19611 |
| Melissa | Trapani | Behavioral Health | Auburn | PA | 17922 |
| Alexandra | Traunfeld | Behavioral Health | New Britain | CT | 06052 |
| Jenna | Trento | Theology | Brick | NJ | 08724 |
| Kamga | Tresor | Management | New Cumberland | PA | 17070 |
| Taylor | Trotter | Medical Imaging | Schuylkill Haven | PA | 17972 |
| Alaina | Tunnell | PreK4 w/SpEd | Hummelstown | PA | 17036 |
| Paula | Turner | Behavioral Health | Philadelphia | PA | 19140 |
| Jessica | Tuttle | Occupational Therapy | North Wales | PA | 19454 |
| Twila | Ulishney | Occupational Therapy | Bird in Hand | PA | 17505 |
| Sawyer | Underwood | Applied Health | Mohnton | PA | 19540 |
| Nayely | Valdez | Applied Health | Reading | PA | 19604 |
| Caleigh | Van Der Veer | Occupational Therapy | Monmouth Junction | NJ | 08852 |
| Drew | Van Divner | Health Care Science | Harleysville | PA | 19438 |
| Megan | Vane | Nursing | Street | MD | 21154 |
| Lesliebet | Vargas | Health Care Science | Reading | PA | 19604 |
| Aniela | Verbin | Undecided | Nazareth | PA | 18064 |
| Hannah | Ververs | Occupational Therapy | Mount Tabor | NJ | 07878 |
| Jessica | Visbisky | Nursing | Leesport | PA | 19533 |
| Chloe | Vogel | Nursing | West Lawn | PA | 19609 |
| Tanner | Vogel | Criminal Justice | Wyomissing | PA | 19610 |
| Tram | Vuong | Biology | Reading | PA | 19606 |
| Matthew | Wacker | Athletic Training | Oak Ridge | NJ | 07438 |
| Christian | Wagner | Health Care Science | Perkiomenville | PA | 18074 |
| Ayanna | Walker | Occupational Therapy | York | PA | 17404 |
| Kaylie | Walker | Occupational Therapy | Douglassville | PA | 19518 |
| Elonnie | Walters | Nursing | Fords | NJ | 08863 |
| Kaydee | Warmkessel | Human Resource Mgmt | Schuylkill Haven | PA | 17972 |
| Rexann | Washington | Social Work | Philadelphia | PA | 19135 |
| Andrew | Waz | Criminal Justice | Hawley | PA | 18428 |
| Heather | Weber | Nursing | Reading | PA | 19607 |
| Meilea | Weber | Health Care Science | Reading | PA | 19606 |
| Kelly | Weiss | PreK4 w/SpEd | Schuylkill Haven | PA | 17972 |
| Natalie | Weller | Applied Health | Oley | PA | 19547 |
| Collin | Welteroth | Biology | Altoona | PA | 16601 |
| Collin | Welteroth | Biology | Altoona | PA | 16601 |
| Jamison | Wendel | Athletic Training | Morristown | NJ | 07960 |
| Jenna | Wentling | Healthcare Admin | Fredericksburg | PA | 17026 |
| Ashley | Wentzel | Nursing | Kutztown | PA | 19530 |
| April | Werner | Management | Shillington | PA | 19607 |
| Marley | Werner | Behavioral Health | Wernersville | PA | 19565 |
| Abbigail | Westgate | Occupational Therapy | Thompson | PA | 18465 |
| Irelynn | White | Criminal Justice | Stevens | PA | 17578 |
| Erinn | Whitlock | Human Resource Mgmt | New Freedom | PA | 17349 |
| Makenzie | Wieciech | Occupational Therapy | Bel Air | MD | 21014 |
| Christine | Williams | Social Work | Philadelphia | PA | 19135 |
| Delaney | Wise | Social Work | Denver | PA | 17517 |
| Madelynn | Witkus | Occupational Therapy | Hamburg | PA | 19526 |
| Kayla | Wittje | Occupational Therapy | Haddon Township | NJ | 08107 |
| Madison | Wolf | Nursing | Fleetwood | PA | 19522 |
| Erin | Wolfinger | Applied Health | Boyertown | PA | 19512 |
| Megan | Wood | Health Care Science | Sinking Spring | PA | 19608 |
| Jamie | Wooten | Psychology | Birdsboro | PA | 19508 |
| Samuel | Worrall | Digital Media Market | Reading | PA | 19606 |
| Felicia | Wulf | Behavioral Health | Philadelphia | PA | 19154 |
| Katie | Wyland | Nursing | Harrisburg | PA | 17111 |
| Shaileeya | Yancey | Social Work | Philadelphia | PA | 19120 |
| Shakira | Yancey | Social Work | Philadelphia | PA | 19133 |
| Micah | Yarbray | Criminal Justice | New Castle | DE | 19720 |
| Carly | Yarosz | Nursing | Pottstown | PA | 19464 |
| Alyssa | Yoder | Occupational Therapy | York | PA | 17402 |
| Destiny | Yoder | Health Care Science | Auburn | PA | 17922 |
| Madalyn | Yorke | Occupational Therapy | Bath | PA | 18014 |
| Nicholas | Youngkin | Communication | Bethlehem | PA | 18020 |
| Anita | Zakharov | Occupational Therapy | Denver | PA | 17517 |
| Nathaniel | Zalegowski | Sport Management | North Haven | CT | 06473 |
| Yerana | Zarabia | Biology | Laureldale | PA | 19605 |
| Ashley | Zelli | Occupational Therapy | Eagleville | PA | 19403 |
| Audrey | Zelli | Occupational Therapy | Eagleville | PA | 19403 |
| Abigail | Zerbe | ED: PRE K-4 | Bethlehem | PA | 18017 |
| Mahzee | Zerbe | PreK4 w/SpEd | Tremont | PA | 17981 |
| Victoria | Zerbe | Math Secondary Ed | Bethlehem | PA | 18017 |
| Meranda | Ziegler | Management | Reading | PA | 19606 |
| Charles | Zimmerman | Political Science | Ephrata | PA | 17522 |
| Tina | Zimmerman | Accounting | Schuylkill Haven | PA | 17972 |
| Anita | Zuberecz | Health Care Science | Pottstown | PA | 19465 |