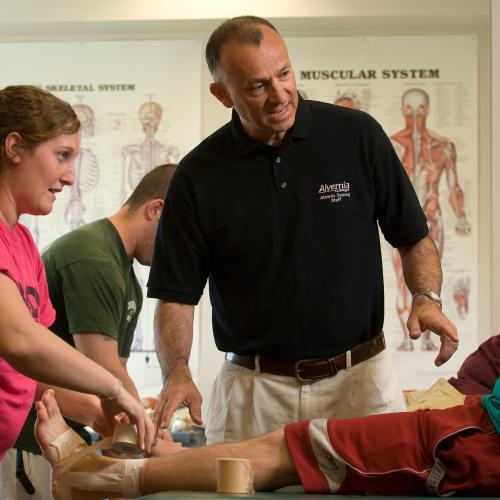 Associate Professor of Healthcare Science
Chair of Allied Health & Human Services
Director of Sports Medicine
Biography
Dr. Tom Porrazzo is an Associate Professor and the Department of Allied Health and Human Services Chair, where he serves as the Program Director for the Healthcare Science major. Dr. Porrazzo has been with Alvernia University since 1988. He was Alvernia's first Athletic Trainer and founded the Athletic Training major. Along with his Chair and Program Director responsibilities, he currently teaches Healthcare Science and Health and Wellness courses. Dr. Porrazzo, a certified, licensed Athletic Trainer, also serves as the Sports Medicine Director in the Department of Athletics & Recreation.
While attending The State University of New York, College at Cortland with a B.S.E. in Physical Education, he also received a minor in Anthropology and a concentration in Athletic Training. The Fred T. Holloway Award, which is an award given annually to a student who excels in Varsity Soccer while showing promise of academic achievement beyond the baccalaureate degree, was awarded to Dr. Porrazzo. He accepted a graduate assistantship at Eastern Illinois University and earned his M.S. in Physical Education while serving as the Head Athletic Trainer for the football team. He earned his Ph.D. in Kinesiology from Temple University in 2005. Dr. Porrazzo's dissertation, "Utilization of Evidence-Based Clinical Practice by Certified Athletic Trainers," is a topic he continues to explore. He serves on the Pennsylvania Athletic Trainers' Society (PATS) research grant committee and Alvernia's Institutional Review Board (IRB) committee.
Dr. Porrazzo is interested in curriculum development and has co-authored several papers with his colleague, Dr. Dolores Bertoti. They have had the opportunity to present their work at various conferences throughout Europe.
Dr. Porrazzo and his wife, Gail, have served in Outreach Ministry work, and both hold Associates Degrees in Biblical Studies. They have four grown children, two grandchildren, and have been married for 39 years.