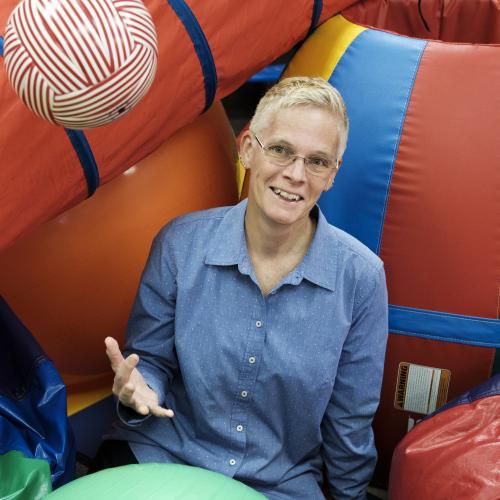 Associate Professor of Occupational Therapy
COTAD Advisor
Chair & Program Director of Occupational Therapy
Biography
Dr. Amy J. Thomas joined Alvernia's Occupational Therapy Department, Fall 2014, and is very happy to be teaching at her alma mater. Drawing from a diverse professional and educational background, Dr. Thomas embraces a student-centered approach to teaching and is fully committed to inclusivity and supporting diverse learning styles. Earning a B.S. in Music Education from West Chester University, Dr. Thomas spent the first 20+ years of her professional career as an instructor, business owner, and certified coach with the United States Sports Acrobatic Federation (USSAF) and United States Gymnastic Federation (USGF). During that time, Dr. Thomas instructed and coached individuals of all ages, and became a staunch advocate for inclusive participation.
Upon completion of her Master of Science in Occupational Therapy degree, Alvernia University, Dr. Thomas worked as a school-based occupational therapy practitioner, serving students ages six to 21 years. As a practitioner, she promoted a strength-based approach, supporting and advocating for individuals with neurodiverse learning needs. She actively promoted interdisciplinary collaboration, and conducted workshops on Understanding Autism, Evidence-based Intervention Strategies for Individuals with Autism, Therapeutic Relationship Building, and Sensory Environments.
Dr. Thomas' interest in academia led to the completion of her doctoral studies at Chatham University, and subsequent acceptance of the full-time faculty position at Alvernia. Her past and current research interests include: examining positive educational, vocational, and social supports for individuals with autism spectrum disorder (ASD), identifying effective supports for paraprofessionals and professionals assisting students with an ASD, and effective post-secondary academic accommodations for students with neurodiverse learning styles.
Dr. Thomas is currently pursuing hippotherapy certification with the American Hippotherapy Association (AHA), Inc., and, as an avid animal lover, enjoys volunteering at a local therapeutic riding center.