Major in Electrical, Industrial or Mechanical Engineering
At Alvernia, we prepare students majoring in engineering to be fundamentally sound and application-ready. 
During your first three semesters, all engineering majors take the same sequence of courses. This affords students the opportunity to be exposed to each of the engineering majors offered before deciding on their area of concentration. Additionally, this provides the opportunity for engineering students get to know each other and work together in an interdisciplinary setting.
Our unique 4-year design sequence culminates with a year long design project sponsored by a local company. During the first year, engineering majors will work in teams to complete a real world design project. Each project will be mentored by a Berks County engineering firm. During year 2, students will focus on problem-solving using advanced and additive manufacturing techniques. During year 3, students will have the opportunity to participate in a co-op or research experience.
With the 2019 launch of Reading CollegeTowne initiative, Alvernia's new downtown Reading location, the John R. Post Center at Reading CollegeTowne is home of John R. Post School of Engineering. Our downtown location features state-of-the-art labs and research facilities. Our engineering programs partner heavily with local industry, including the entrepreneurial community and other institutions of higher education to deliver a world-class education in engineering.
---
"Dr. Ridley wants us to have a technological edge compared to other programs, splitting learning and hands-on experiences, and not having a traditional way of doing things. Typically, engineering programs weed out the plethora of students and then work on solidifying the fundamentals, but Dr. Ridley wants to flip that and make his students fundamentally sound before he starts teaching them the basics of engineering."
--Brian Czaus, Alvernia undergraduate student
---
What makes Alvernia's Engineering Programs Special?
Interdisciplinary approach
Exposure to your discipline of choice within your first three semesters
1st class within your discipline of choice occurs during your 4th semester
4-year design sequence culminating in a year-long design project sponsored by a local business
Within a major, you can have a specialty e.g. batteries, robotics, or more
Strong math and science core
Rigorous liberal arts curriculum through SEARCH
---
"At Alvernia, we want our engineering students to be fundamentally-sound, application-ready engineers. To that end, we have designed a sequence of math, physics, and other science courses that will give our students this foundational advantage."
--Dr. Matthew Prudente, Assistant Professor of Mathematics
---
Industry Advisory Committee 
Alvernia's Engineering Program is closely partnered with local industry and business, resulting in a program that is cutting-edge and market-driven. Our advisory committee includes:
| | | |
| --- | --- | --- |
| Member | Title | Company |
| Roger Heasley | Director of External Affairs | First Energy Corp. |
| Chris Pruitt | CEO & President | East Penn Manufacturing Co. Inc. |
| Daniel Langdon | Former CEO | East Penn Manufacturing Co. Inc. |
| Kelly Beaver | VP of Engineering | UGI Utilities, Inc. |
| Peter Rye | President | Brentwood Industries |
| Gregory Shemanski | President & Owner | Custom Processing Services, Inc. |
| Dave Shaffer | President & CEO | EnerSys |
| Joern Tinnemeyer | Senior VP & Chief Technology Officer | EnerSys |
| Momo Kechmir | VP of Electronics and Systems Engineering | EnerSys |
| Alan Holbrook | Manager Engineering and Tech Services | Mitsubishi Chemical Advanced Materials Inc. |
| Darryl A. Jenkins | Vice President and Chief Engineer | Spotts, Stevens and McCoy |
---
Learn More
For more information about Alvernia's Engineering Programs, please contact the Admissions Office at 1-888-ALVERNIA or 610-796-8269 or admissions@alvernia.edu.
Explore our Engineering Degrees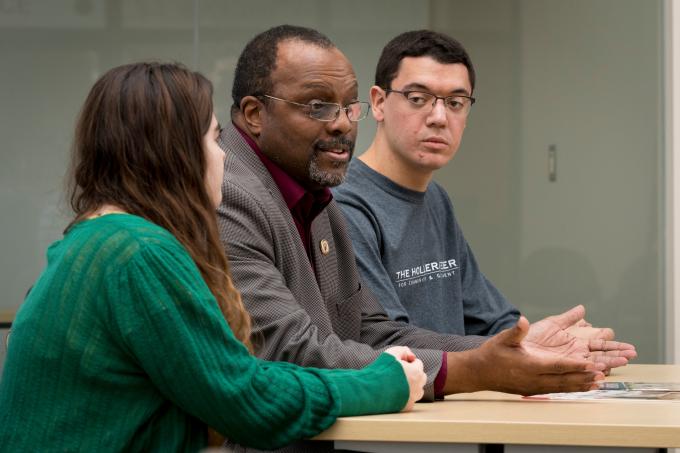 Major in Engineering at Alvernia
"Our engineering programs will provide students with a hands-on experience that allows them to be application ready. The program is going to focus on teaching the fundamentals, based on our industry partners and their ability to dynamically apply those fundamental skills."

-Dr. Rodney Ridley, Associate Provost and Vice President / COO for the O'Pake Institute