By Jon Fassnacht

The rise of esports over the last decade has been meteoric. Many traditionalists initially scoffed at the idea of an audience watching others compete in video game tournaments, but passionate fans were game.

According to those who participate, playing esports allows gamers to stimulate their brains while connecting with enthusiasts from across the globe. Which makes the activity a perfect fit for Hao Ha.

"I like to use my brain in the games," the Alvernia junior said. "The games actually make me think."

The electrical engineering major has been a member of Alvernia's varsity esports team since the program's founding in September of 2021. His specialty is "League of Legends," one of five games in which the team competes. Ha plays top lane in the multiplayer online battle game.

"The top laner's goal is usually to pressure the opposite side of the map and show up to the most important objectives," said Josh Buchanan, director of Alvernia's esports program. "Hao is a player with really good mechanics and execution in-game."

Ha could have chosen numerous other schools in the region with more established engineering programs, but he said staying close to home was important to him. The Reading resident wanted to help out his parents, who emigrated with him from Vietnam in 2015. Assistance from the Reading Collegiate Scholars Program, which provides scholarships and support to first-generation students living in the city, also aided his decision.

Salem Elsaiah, assistant professor of electrical engineering, speaks very highly of his student.

"He's enthusiastic and very smart," he said. "He's always coming to my office asking questions, asking about the program. He is also willing to help with demonstrations."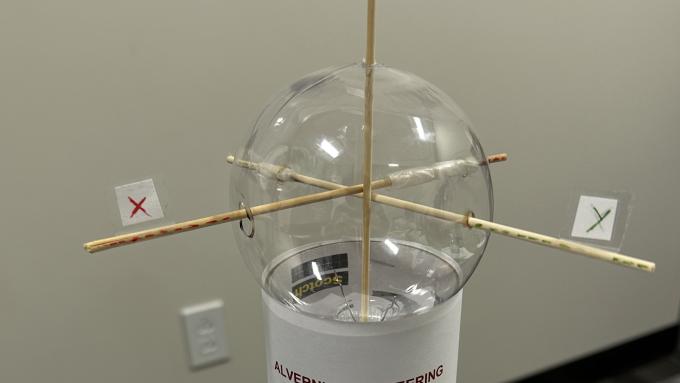 One of Elsaiah's classes is electromagnetics, which he calls a tough course that is difficult to teach. In late 2022, he asked his students to create a 3-D presentation of one of the commonly used coordinate systems used in the study of electromagnetics. Ha took advantage of the time of year to make his model functional, turning it into a Christmas ornament.

"Since the engineering major here is new, maybe I can do something for the city where I live," Ha said. "I hope it will grow."

Had he attended a different institution, Ha might not have had the chance to play sanctioned esports in between his studying. Alvernia's team practices and competes in a new facility at the John R. Post Center at Reading CollegeTowne, featuring top-of-the-line equipment and ample space for the team's 45 members, who practice up to four days a week in between its competitions.

A highlight from his time with the team was playing against bigger schools at a tournament in Philadelphia during the program's maiden season.

"I mean, we lost, yeah, because it was it was our first year, but I got experience and people were saying I was good, so I took that as a compliment," he said.

One of the reasons esports have gotten so popular, according to Buchanan, is because they're an easy way for people to connect with like-minded individuals near and far. He said one of Ha's strongest attributes is making sure his teammates from far-flung areas are adjusting, which isn't surprising considering Ha's experiences with new beginnings after moving to Berks County from half a world away.

"He plays for our 'League of Legends' team, and it's actually the team with the most players from far away," Buchanan said. "We have players from Washington state, from Texas, from Oklahoma, and for them I feel like he's really gone out of his way to make sure that they feel at home and feel comfortable at Alvernia playing for our team. His mom will cook some food, he'll bring food in for the team. He's always that guy."