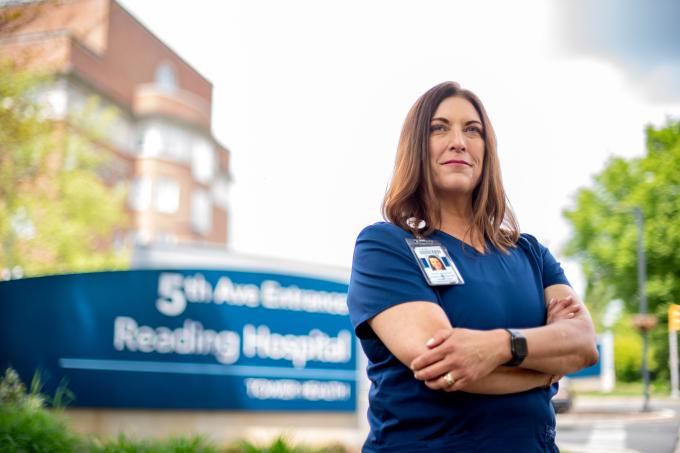 Education
RN to BSN Completion Program
Alumni
College of Health Sciences
Jennifer's Comeback Story

Truth be told, Jennifer Haraschak '93 '00 MSN '21 didn't have the greatest grades when she applied to Alvernia University for undergraduate studies. Still, the school's bet on her paid off big. The scholar-athlete (softball and field hockey) not only graduated with honors in criminal justice but also launched her comeback over the course of three decades to earn additional degrees in her true love of nursing, all while working and raising a family. 

When Haraschak first entered Alvernia, she lived at home, thanks to the school's proximity, helping her focus on studies, she said. Alvernia's faculty, she added, served as second parents. "They helped me through that process of maturing," she said. 

"I just felt guided right," said Haraschak, 53, of Sinking Spring, who after more than two decades in patient care became a nursing instructor in 2021 at her alma mater. "The professors always went the step forward to help you, no matter what. I didn't have that in high school."  

After graduation, Haraschak worked a few years in juvenile detention but her heart was in nursing. "I wanted to be more of a nurturer," she said. With a 1997 nursing diploma from Reading Hospital School of Nursing, she joined the hospital's Surgical Intensive Care Unit, caring for the most critical patients. Her previous Alvernia experience, she added, gave her the confidence to return to college for nursing. "I knew the sky was my limit."  

Haraschak continued her education at Alvernia by enrolling in the RN to BSN Completion Program that was well-suited for those balancing work and school: "During my BSN, I was able to balance work full time, being a wife, working at a gym, playing softball in a travel league and just enjoying life with important goals to meet," she said. "The instructors all worked in the field. They knew you worked full time. They were understanding. It was a camaraderie, not only with instructors but with your peers. Alvernia allowed me to extend my knowledge and skills which will help me improve healthcare systems and influence patient outcomes."
"I chose Alvernia again due to their great track record for producing strong nurses and the flexibility that allowed me to arrange my learning schedule through dedication, and perseverance."
Over nearly 20 years at Reading Hospital, Haraschak also did stints in the Post-Anesthesia Care Unit and the Emergency Room Department. Meanwhile, she had three children with her husband Larry Haraschak '89 MBA '08, a Finance Business Partner for Reading Mill and Recycling at DS Smith in Reading. Jennifer met Larry at Alvernia when he helped coach the softball team. 

In 2014, Haraschak switched to home-care nursing, working most recently for Enhabit Home Health. In 2018, she was ready to take on more. "I love to teach," Haraschak said. "At the hospital, I always precepted and mentored." That goal required more education, and once again, Alvernia was the obvious choice for her MSN, she said. 

"I think it was so important to advance my degree to better care for my patients and allow me to feel a sense of accomplishment and professional satisfaction," she said. "I chose Alvernia again due to their great track record for producing strong nurses and the flexibility that allowed me to arrange my learning schedule through dedication, and perseverance." 

Now, Haraschak says she strives to pay forward what Alvernia afforded her, going the extra step for students who need support to succeed in college like she once did. "I make sure my students know I have an open-door policy," she said. "I give my cell out to my clinical group to support their needs in any way I can. I create study guides and case studies to help prepare for exams. They come to my office, and we go over notes, or whatever they need. My struggles as a student made me a conscientious instructor. I want to be able to facilitate conversations with students so they feel connected and engaged in the course and be successful academically." 

As she looks ahead, her goal is to bring her expertise in health care to her students, said Haraschak, who recently got accepted to Liberty University for her doctorate in nursing education. "I saw for years what health care is," she said. "If I'm going to make change, what are the positives and negatives that I can bring to these new, bright minds — kids who are going to be caring for us some day." 

— Story written by Lini S. Kadaba 
Degree Type:

Bachelor of Science in Nursing (BSN)

College:

College of Health Sciences

Location:

Main Campus/Hybrid (Primarily Online)

Program Type:

Accelerated Adult

Credit Hours:

123