By Susan Shelly

Kirsy Rosario MBA '22 discovered Alvernia's Reading Collegiate Scholars Program (RCSP) as a senior at Reading High School. She went on to earn both her bachelor's degree and MBA at Alvernia and then returned to her alma mater to oversee the program that helped her become a first-generation college graduate.

"If I didn't receive this scholarship, my education and experience would have been completely different," Rosario said. "I always knew I wanted to attend college — education and work have always been big values in my family. I know it would've been a financial challenge without the scholarship."

Launched in 2014, the RCSP aims to increase high school graduation rates for local students by providing tutoring, mentorship, and college preparation support. Work-study and student volunteers from Alvernia have guided more than 1,200 high school students through the College Readiness Program.

Every summer, RCSP scholarship recipients spend a week on campus to meet other students in their cohort and acclimate to their new surroundings. Throughout the year, the program hosts events to keep the scholars connected and to make sure they are faring well juggling their studies and adjustment to college life.

"We really are a family," Rosario said, referring to the close bonds that form between the RCSP scholars as they progress through their college years, and beyond. "Even after we graduated, the members of my cohort are still my closest friends. We talk all the time."

The RCSP recently expanded its reach, welcoming students from 11 other high schools throughout Berks County. Two RCSP scholars will also travel to Ireland on short-term study abroad trips this year thanks to the newly established Jerry Greiner Fund. The fund was created by the Greiner and Flynn families in honor of the late Jerry Greiner who served the University as a volunteer, donor, and provost.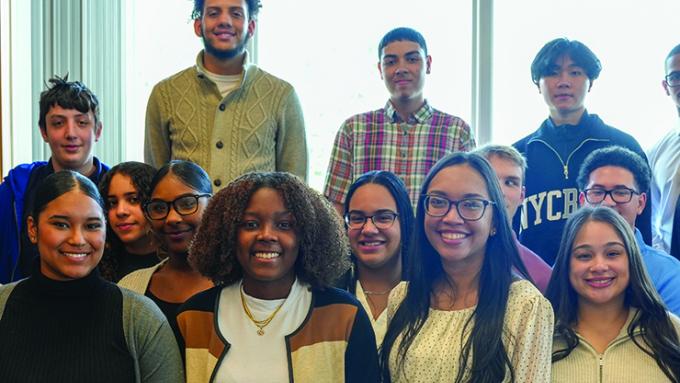 To date, the RCSP has assisted five cohorts with financial support totaling nearly 100 scholars, 41 of which have graduated thus far. This year, it welcomed its largest one to date with 43 incoming first-year students. Nearly all of the RCSP alumni and current students are first-generation college students from Reading.

Also from the area, Rosario holds a bachelor's degree in accounting with a minor in psychology and earned an MBA in 2022, shortly before joining the University staff. She began working with high school students as a student herself, serving as a team member and graduate assistant for The Holleran Center for Community Engagement, where she provided after-school programming and mentorship to students at Reading High School.

"The moment I stepped on campus, I knew that this was home," she said. "And being able to see that feeling in other students is very satisfying. Being here at Alvernia, a place that gives back so much to the community, and sharing those values of family and humility has really shaped me into who I am today."

Similarly, Dania Cabello-Ruiz '20 is a first-generation college graduate from Reading who earned her bachelor's degree at Alvernia. Like Rosario, she returned to pursue graduate studies and joined the University staff in January 2022 as an admissions counselor for the RCSP. Cabello-Ruiz works closely with Rosario, her high school and college friend, on overseeing the RCSP as students are accepted into the program.

It's the perfect position for Cabello-Ruiz, she said, because she shares a lot in common with students. "We have a high Spanish-speaking population, I speak Spanish," she said. "I can relate on a more personal level because I know where some of these students have been. It's a sense of me giving back. I had a wonderful experience at Alvernia and I want to be able to provide that for students coming here."

Rosario and Cabello-Ruiz agree that the goal is to continue expanding the program in Berks County, to help students grow academically and professionally, and to encourage them to give back to the community.

"The city of Reading needs more people that are graduating with their bachelor's degrees, hopefully getting their master's as well, and then staying within the area to work their jobs," Cabello-Ruiz said. "We want to give students all the tools that they need to do that. That's our focus."