Margarita's Comeback Story

When Margarita Cornejo-Jimenez '21 MBA '22 finally found her way back to college — overcoming hurdles of poverty, sexual assault and domestic violence — she said she was "on a mission" to create her comeback. The 31-year-old has done just that, thanks to her own perseverance and Alvernia University's welcoming support of adult students like her looking to advance their career.

"One day, I want to become a chief financial officer," said the Lance CPA Group accounting and tax intern who lives in Philadelphia. "I want to climb the ladder."

Cornejo-Jimenez, who came to America at age 9, said her father, an undocumented, Mexican immigrant who eventually received legal status for himself and his family, worked hard, along with her mother, to provide for their seven children. "I need to do better with my life, when I have all these opportunities in the United States," she said. "I need to give my parents back what they gave me."

But after high school, Cornejo-Jimenez said she suffered a sexual assault which led to educational struggles at Reading Area Community College. She dropped out and took a job as a receptionist at William R. Maslo, CPA, where she found a supportive supervisor and colleagues and quickly picked up skills in bookkeeping, payroll and other practices. But when she sought to return to community college to complete an accounting associate's degree, she was stymied by an abusive partner, she said.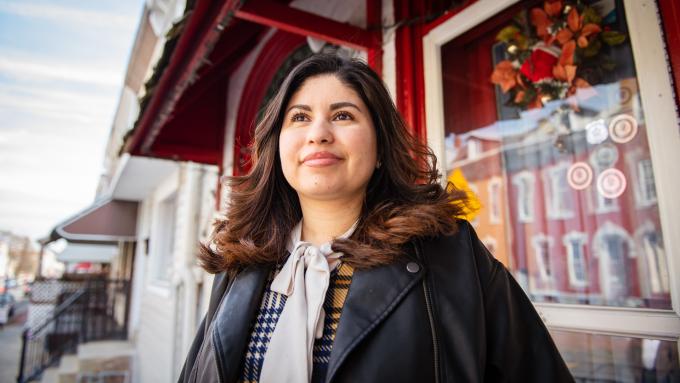 In 2018, Cornejo-Jimenez left the relationship and returned to school, earning her associate's degree, then pursuing her bachelor's at Alvernia with the help of the Reading Collegiate Scholar Transfer award, a scholarship established for Reading High School and RACC students, which allows for generous credit transfers to help students complete a bachelors degree at an accelerated pace. During this time, she continued to work fulltime as a manager at accounting firm GBB & Company, which had bought Maslo, and often completed homework into the wee hours.

Cornejo-Jimenez said it was a no-brainer to get her MBA. "Once I was in school, I realized I can do so much more," she said. "The more I learn, the more doors are going to open for me."

At Alvernia, Cornejo-Jimenez thrived. "It turned out everyone was really helpful," she said. "All my accounting professors were amazing. I don't even have words." She looked to immerse herself in the college experience that she had never had, serving as treasurer of Allied, which promotes inclusion and awareness of the LGBT community; president of the Multicultural Club, and president of Phi Beta Lamda, a future business leaders organization.

During her MBA studies, Cornejo-Jimenez, who had left her accounting job to focus on her studies, worked as a graduate assistant at Alvernia's Health & Wellness Center, where she developed materials and programs to promote stress relief and sexual assault awareness among students. She also served as a student ambassador for Surgent, which offers certification courses and resources for accounting majors, and the Institute of Management Accountants. In addition, she volunteered with the university's foundresses Bernardine Franciscan Sisters at the Mother Veronica Resource Center in downtown Reading, helping teach English skills as part of a citizenship course.

"How could I say no," she said of her deep involvement at Alvernia, "to a place that tried to give me everything?"
Margarita created her comeback. Create Yours:
Story written by Lini S. Kadaba