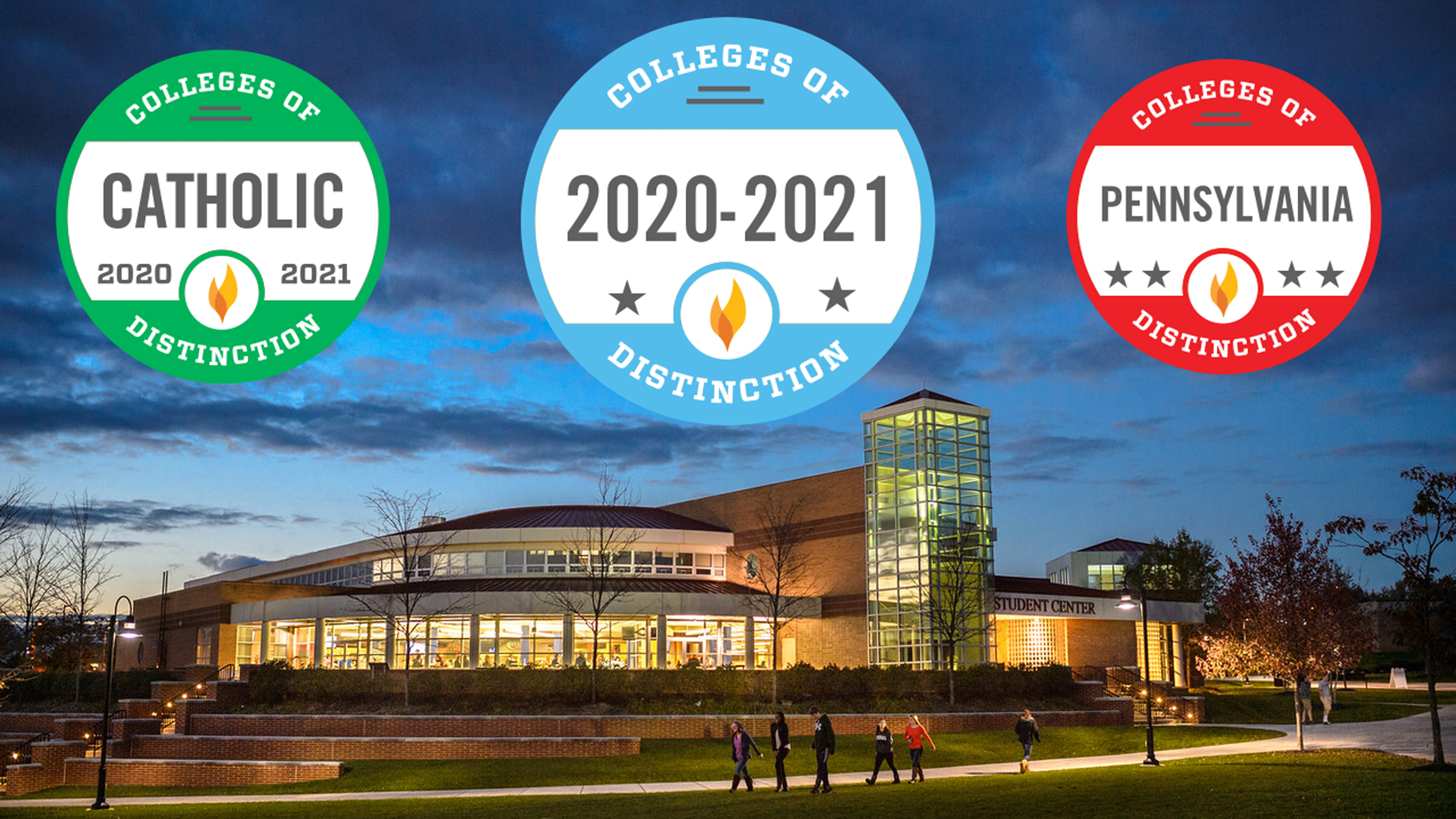 Student engagement at center of honor
Alvernia University has been recognized as a College of Distinction for its commitment to engaged, experiential education.
Alvernia was listed among the 2020-21 national Colleges of Distinction, which is an online resource that helps students and their parents navigate the processing of selecting a school and not just the "best" college, but the right one.
"This designation is the perfect example of Alvernia's renewed commitment to enhancing and expanding the student experience," said Alvernia University President John R. Loyack. "Through the Reading CollegeTowne initiative and expanded academic programming, experiential learning and enhancing student engagement outside of the classroom and off the field, we are providing the experience students want and deserve."
In addition to being named a College of Distinction, Alvernia was noted as a Catholic College of Distinction and a Pennsylvania College of Distinction. Now in its 20th year, the Colleges of Distinction awards program recognizes institutions for their commitment to student success and satisfaction.
"Alvernia has been a pillar in the Greater Reading community for decades because of its strong mission and commitment to serve those in need," said Alvernia board of trustees Chairman Michael Fromm. "These values, combined with all the new campus engagement opportunities, make it an exciting time to be an Alvernia student."
Colleges of Distinction evaluates institutions based on their commitment to "Four Distinctions:" engaged students, great teaching, vibrant community and successful outcomes. The selection process consists of COD staff conducting in-depth research and detailed interviews with the schools about each institution's freshman experience and retention efforts, alongside its general education programs, career development, strategic plan, student satisfaction and more.
During the last few years, Colleges of Distinction has looked into "high-impact practices" for an evaluation model that prioritizes the opportunities institutions have for students that make for a fulfilling, individualized college experience.
"Each school is different, just as every student is different," said Wes Creel, founder of Colleges of Distinction. "There is no number-one college for everyone, so we never rank those in our cohort. It's inspiring to see Alvernia commit to the learning styles and community involvement that will best allow their students to thrive."
Since 2000, Colleges of Distinction has been committed to honoring schools throughout the U.S. for true excellence in higher education. The member schools within the Colleges of Distinction consortium distinguish themselves through their dedicated focus on the undergraduate experience. Its website provides dynamic college profiles, customized tools, and resources for students, parents, and high school counselors. For more information, and to learn how to become a College of Distinction, visit CollegesofDistinction.com.