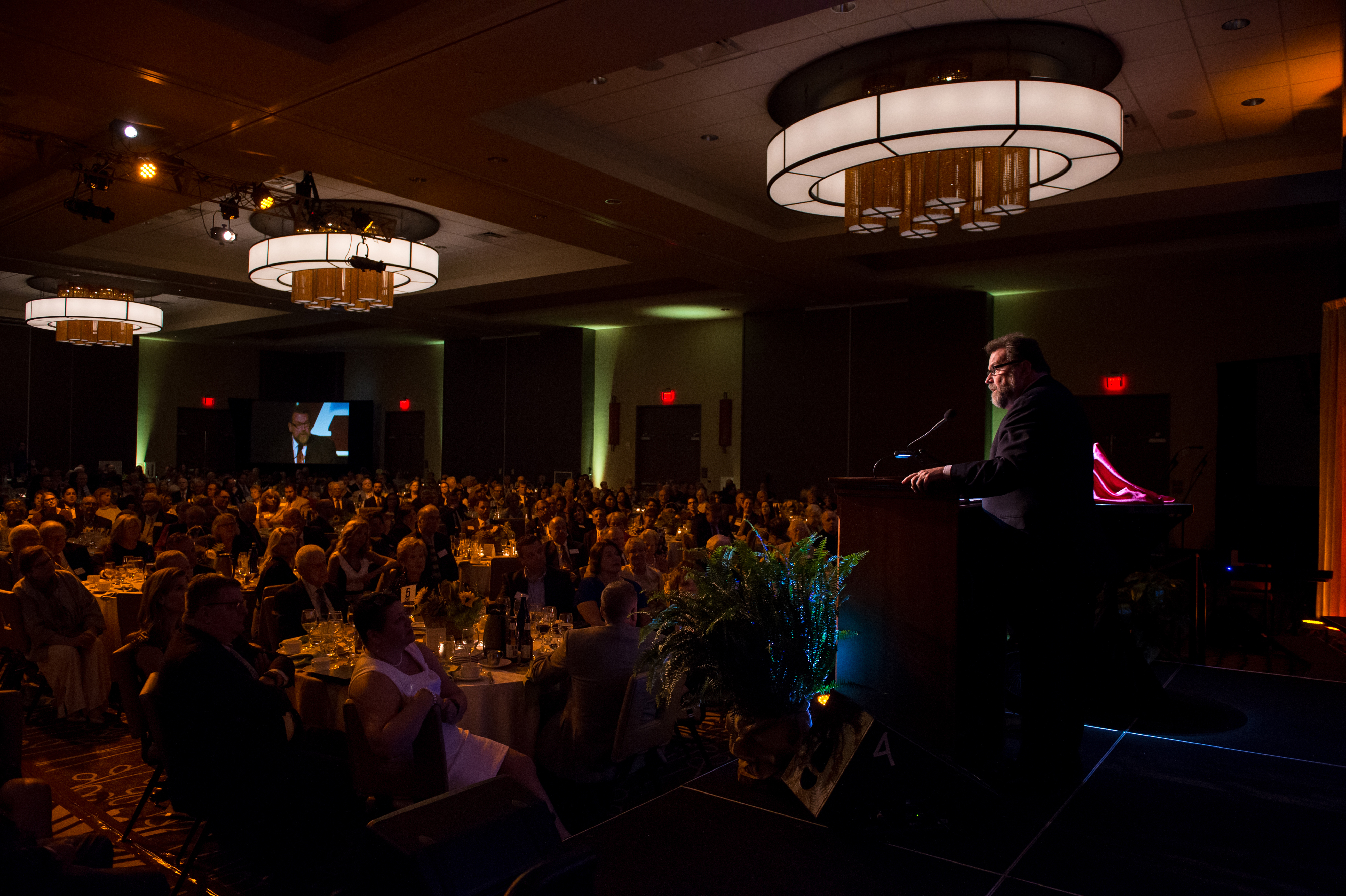 Flynn gala supports scholarships for Reading High students
About 800 people gathered at the DoubleTree by Hilton Hotel in downtown Reading for the Salute to Tom Flynn gala, celebrating his legacy of leadership and recognizing the phenomenal transformation of Alvernia during his 14-year tenure. A blend of business and community leaders as well as faculty, staff and students assembled to support one of Flynn's signature achievements—Reading Collegiate Scholars Program. Funds raised through the gala, now at $2 million, will support the program in perpetuity, doubly the number of endowed scholarships from five to 10 out of 40.
"Alvernia's Reading Collegiate Scholars Program is a core civic commitment, one reflecting and, indeed, defining our Franciscan mission," said Flynn during the gala. "An investment in these students offers the best return possible, both for them and for our community. And, for those of us invested deeply in this program, there is a personal return that cannot be adequately put into words."
Launched in 2014 to improve retention and graduation rates in the community, particularly Reading High School, the Reading Collegiate Scholars Program offers college-readiness activities to hundreds of high school students annually, preparing them to attend the college of their choice. The program also provides 10 full-tuition scholarships for Reading High students to attend Alvernia for four years. The first college cohort, which graduated in 2018, boasts a 100% graduation rate.
"It is extremely important that everyone who has supported this program truly know that they are making a difference not only to the scholarship recipients, but in every life that recipient touches," said Syanashailyn Ortega, a 2018 college graduate of the first cohort.
One of the highlights during the evening was Daniel Flynn, Tom Flynn's son, speaking from the stage to his father about the impact of the program. "I think this event is a good microcosm of much of what you've accomplished at Alvernia. The focus is as much on the Reading College Scholars as on you—even more so. You've amplified their voices and experiences tonight, which helps the rest of us to better understand why this program is so important and so transformational."
The gala, chaired by Kathleen D. Herbein, who also is an Alvernia trustee emerita, brought together leaders from various sectors of the Reading community to honor Flynn's contributions and Alvernia's transformation. "The journey has been a grand and exciting adventure for all who have enjoyed the ride. Along the way, challenges were overcome, successes celebrated and lasting friendships formed," said Herbein as she thanked the Reading community for their support. 
Through proceeds raised from the Salute to Tom Flynn gala, the Reading Collegiate Scholars Program will be supported by an endowed fund, ensuring its sustainability for generations to come.