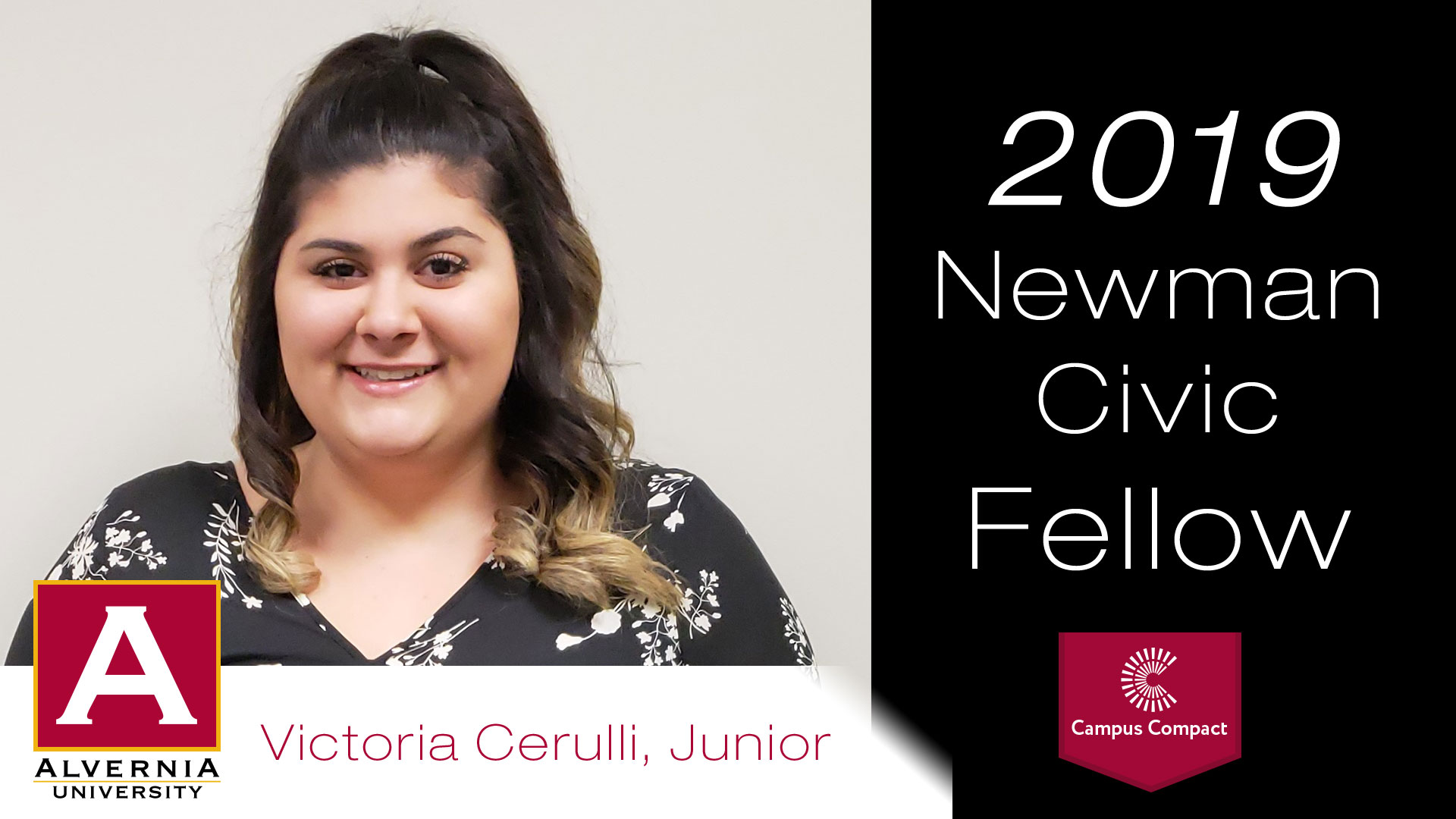 Social change efforts in Reading community leads to national recognition
Reading, Pa. – For her collaborative social change efforts in the City of Reading community, Alvernia University student Victoria Cerulli (Massapequa, N.Y.) has earned national recognition by being named a 2019 Newman Civic Fellow by Campus Compact.
Cerulli served as the long-time president of the Circle K Club and oversaw the growth of membership and impactful community event offerings by the campus organization, which associates with Kiwanis International, a global community of clubs, members and partners dedicated to improving the lives of children. In addition, she is recognized among the most committed participants in Alvernia's elementary outreach program with the Reading School District through the South Reading Youth Initiative, which aims to promote continued education, mentoring and support for healthy choices in children who live or go to school in the South Reading area.
 "Victoria has demonstrated substantial leadership abilities during her time at Alvernia, managing a wide variety of community engagement activities with other students," said Alvernia University President Thomas F. Flynn. "She is an inspiring young woman with exceptional ability in community engagement and a notable ability to seek long-term solutions for civic issues."
Cerulli, a junior elementary education major, is the eighth Alvernia student to be named a Newman Civic Fellow since 2012. The fellowship embodies the mission of the Holleran Center for Community and Global Engagement, which was established by Flynn in 2006.
"I feel lucky with the position that I am in and that I am able to be involved first hand in the shaping of a small portion of the youth in Reading," said Cerulli. "Overall, I am extremely thankful for my experiences that this program has given me so far, and the privilege of helping students who need it."
Nominated by university presidents, Newman Civic Fellowships are a one-year experience emphasizing personal, professional, and civic growth for students who have demonstrated a capacity for leadership and an investment in solving public problems. Through the fellowship, Campus Compact provides a variety of learning and networking opportunities and access to apply for exclusive scholarship and post-graduate opportunities.
Alvernia University is a thriving comprehensive university that empowers students to become ethical leaders with moral courage, while providing an intellectually challenging environment with real-world learning experiences. Located on a scenic 121-acre suburban campus in historic Berks County, Pennsylvania, the university of nearly 3,000 students is conveniently located near Philadelphia (60 miles) and within an easy drive of New York, Baltimore and Washington, DC.
Campus Compact is a national coalition of 1000+ colleges and universities committed to the public purposes of higher education. Campus Compact supports institutions in fulfilling their public purposes by deepening their ability to improve community life and to educate students for civic and social responsibility. As the largest national higher education association dedicated solely to campus-based civic engagement, we provide professional development to administrators and faculty to enable them to engage effectively, facilitate national partnerships connecting campuses with key issues in their local communities, build pilot programs to test and refine promising models in engaged teaching and scholarship, celebrate and cultivate student civic leadership, and convene higher education institutions and partners beyond higher education to share knowledge and develop collective capacity.