Each year, the Alumni Association recognizes alumni of distinction through several notable awards.
The Alvernia Alumni Distinguished Alumni Award provides recognition to Alvernia University alumni who have exemplified a dedication to their chosen profession. Specifically, candidates are evaluated on how they have distinguished themselves in their profession; participation in professional organizations and leadership within their profession; how they share their professional knowledge and experience with others; and the professional recognition received and/or professional certifications they have achieved. In addition, candidates are evaluated on their service to Alvernia University and their community (service, church, country).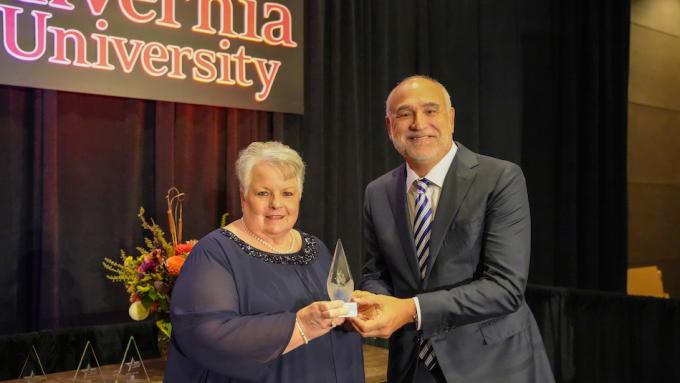 The Ellen Frei Gruber Award recognizes Alvernia alumni who reflect the values of service, humility, peacemaking, contemplation and collegiality in how they conduct their life. These core values are at the heart of what Alvernia University and the founding Bernardine Franciscan Sisters believe are the values that will carry us through life.

Candidates for the Ellen Frei Gruber Award are considered based on their commitment and support of the mission of Alvernia University demonstrated by adhering to the moral and ethical precepts of the Franciscan tradition – to learn, to love, to serve- throughout their life. They demonstrate a strong code of ethics and personal integrity in both their private and professional lies and their relationships with others. The candidate will have a strong relationship with God and it is reflected in their daily lives and deeds. In addition, the Ellen Frei Gruber candidate would have outstanding service to their profession, community and Alvernia University.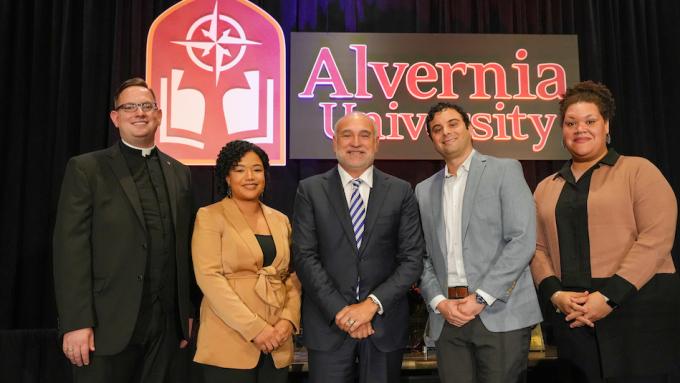 The Alvernia University Young Alumni Four Under Forty Achievement Award recognizes the accomplishments/achievements of our young alumni as they move forward and developed in their career. It shows the success they have made thus far with their Alvernia University degree. The definition of an Alvernia Young Alumnus is someone who graduated in the last 10-15 years and is under the age of 40. As the University continues to grow, this group of constituents will become the philanthropic heart of Alvernia's future.
 
Nominations are accepted on annual basis. Nominations are due by Dec. 31 to be considered for the award in the following year. Nominations may be made by any individual. Self-nominations are accepted. Up to two awards are presented annually at the President's Dinner held in October. Additional information on how to submit a nomination can be obtained by contacting the Office of Alumni & Parent Engagement: 610-796-8212 or alumni@alvernia.edu.
 
Hall of Fame
Alvernia University's Athletics Hall of Fame was established to formally recognize outstanding contributions to the heritage and tradition of Alvernia's intercollegiate athletic program. It is the intent of the Hall of Fame to honor and preserve the memory of those athletes, teams, coaches and administrators whose achievements have brought recognition and honor to the university and its athletic program. Award recipients are honored during at the Hall of Fame Dinner and Induction Ceremony during Homecoming and Family Weekend.