Tower Health + Alvernia = Success

Through a partnership with Alvernia University, Tower Health employees can earn the degrees necessary to excel in their careers and meet the ever evolving requirements of the healthcare industry. Poised to meet the needs of all Tower Health facilities (Reading, St. Christopher's, Chestnut Hill, Phoenixville, and Pottstown), Alvernia offers Tower Health employees the opportunity to pursue RN to BSN completion, a Master of Science in Nursing (MSN), Graduate Certificates in Nursing Education or Nursing Leadership providing pathways to the MSN degree, Post-Baccalaureate or Post-Master's DNP, and MBA with Healthcare Emphasis. Opportunity is also available to explore accelerated bachelor degrees in preparation for career advancement.
Exclusive Tower Health Benefits
The Alvernia + Tower Health partnership allows Tower Health employees to take advantage of the following benefits:
Preferred pricing on Alvernia University tuition
Access to more than 50 majors with accelerated degree options to complete an associate's degree, bachelor and bachelor's completion degrees, master's degrees and certificate programs
Personalized transfer credit evaluation upon receipt of official transcripts
Assistance in applying and enrolling at Alvernia
Access to professional development events through our Center for Entrepreneurial Leadership
A vast network of professionals in the Greater Reading business community

Healthcare Related Programs
Bachelor's in Healthcare Administration - prepares students to handle the business aspects of the healthcare industry including areas such as human resources, accounting, marketing and sales, planning and facility management. Classes are offered on campus and online.
Bachelor's in Healthcare Science - prepares students for meaningful careers in a variety of medical care settings including hospitals, healthcare agencies or government organizations. Classes are offered on campus or online.
RN to BSN Completion - allows registered nurses to complete their Bachelor of Science in Nursing degree. Classes are offered on campus, online, or in a blended format.
Master of Science in Nursing - our MSN program is designed for nurses who desire a career in nursing education. Students can choose from two tracks – either the Nursing Education Track or the Nursing Leadership & Healthcare Administration Track. Classes are offered in a blended format. 
Graduate Certificates in Nursing Education or Nursing Leadership - both graduate certificates are 12 credits and are designed for nurses who have earned a BSN degree (or related field), an MSN degree, or Doctorate degree. In addition, for those completing the graduate certificate as a post-bacc student, credits earned with graduate certificates are eligible to be applied to the MSN program, specific to the Nursing Education track, or Nursing Leadership & Healthcare Administration Track.
Post Baccalaureate DNP - allows BSN nurses to seamless complete advance nursing practice clinical coursework and DNP requirements in one program. Student can choose from one of two primary care nurse practitioner tracks, Adult Gerontology Nurse Practitioner (A-GNP) or Family Nurse Practitioner (FNP). This program is offered in an on campus and online blended format.
Post Master's DNP - for master's prepared and licensed APRNs, this program is designed for clinical nurse specialists, nurse anesthetists, nurse midwives, and nurse practitioners looking to earn their DNP. This program is offered online.
MBA with Healthcare Emphasis - designed to provide the working healthcare professional a cross-section multidisciplinary foundation in business.  Demands and changing complexities of our healthcare system require that healthcare professionals not only excel in their chosen specialty, they also need to possess leadership, management, entrepreneurial and financial skills.
 
Get Started Today!
We're here to help you every step of the way. Contact our Graduate and Adult Admissions team at 610.796.5187 or gradandadult@alvernia.edu with questions or to enroll today.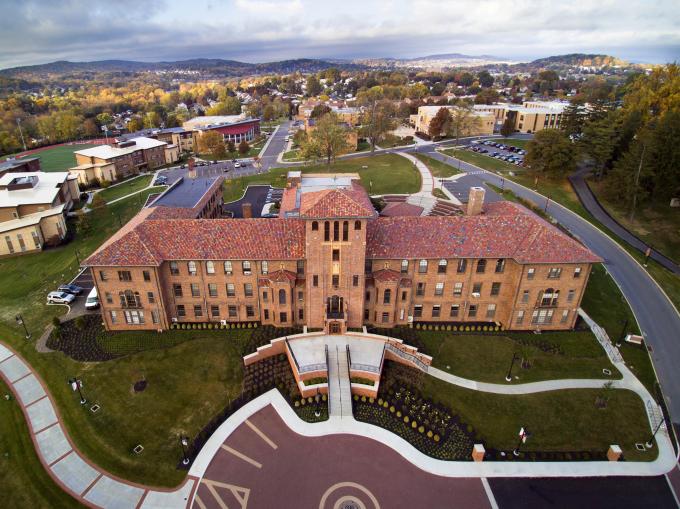 Alvernia Advantage
Alvernia University was founded in 1958 by the Bernardine Sisters of the Third Order of St. Francis. Through its main campus in Reading and locations in Philadelphia and Schuylkill County, Pennsylvania, the university serves 3,000 students of diverse backgrounds from around the country.

Alvernia offers a unique blend of rigorous liberal arts core education for development of the mind, strong technical training in many high demand majors, experiential learning through study abroad and internship experiences, and engagement with the community through our Franciscan-based community service model. We call our model of transformational education the Alvernia Advantage, and we believe this style of education transforms students into ethical leaders with moral courage.