Master of Arts in Clinical Counseling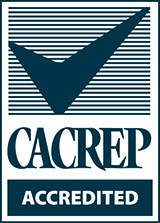 MACC Student Manual
The Master of Arts in Clinical Counseling (MACC) is a CACREP accredited program for adult students committed to upholding the highest standards in professional mental health and addictions counseling. Offered at our Reading Campus, the MACC program prepares students to address complicated issues of social justice and healthy functioning with an approach that combines theory, technique and hands-on practical experiences. Methods of instruction include lecture, skill demonstrations, role plays, small group interactions, and discussions. Most courses are delivered on site with a few online and blended course offerings.
We offer small class sizes and exceptional support before, during, and after your graduate studies to help you continue to learn and grow.     
 
Designed for future counselors
As you build a solid foundation in traditional and contemporary counseling topics, you'll discover how your actions can create positive changes. In all, you'll acquire a broad range of skills, tools and knowledge that prepare you for advanced counseling practice. Our masters in clinical counseling students bring diverse educational and experiential backgrounds to our program. Some have recently completed their undergraduate studies while others are returning to graduate school after years in the workplace. You can advance your career with a graduate degree in counseling.
With three semesters a year, our MACC program lets you complete your coursework at a fast pace without sacrificing quality. Students have the choice of a 3-Year Program or a 4-Year Program. During the 3-Year Program, students take three classes per semester, including summer classes, and can finish their degree requirements within three years. The program operates on a modified cohort model, with flexibility to make adjustments to your schedule if necessary. Classes are specifically scheduled to accommodate the needs of a working student with a busy lifestyle. Prospective students are welcome to observe a class and obtain course syllabi for review. For more information on any of our graduate programs, please make an appointment with an admissions counselor.
The MACC program of study provides students with the opportunity to explore areas of personal interest within the content of coursework. Our small class sizes help ensure you'll receive personalized learning and attention. In a collaborative learning environment, faculty guide students through repeated practice of counseling skills and techniques, ensuring mastery through a developmental approach. Then, when you're ready, you'll have the opportunity to practice those skills under supervision in your practicum and internship experiences. You'll be taught by practicing licensed mental health professionals, with years of experience in the field.
The MACC faculty expertise represents a variety of theoretical approaches to counseling. You will be exposed to these approaches, but encouraged to develop your own personal theory of counseling. Your classes will emphasize theory, evidenced-based counseling techniques, ethical practice, case examples, and counseling simulations.
 
Offers a springboard to professional licensure or doctoral study
The MACC program has been developed to correspond with the academic and experiential requirements for licensure as a Professional Counselor in Pennsylvania.
Students interested in becoming licensed should contact the Pennsylvania State Licensing Board to determine the exact requirements for post-degree licensure as a Professional Counselor (LPC) in Pennsylvania. Students can contact the American Counseling Association or the National Board of Certified Counselors to access licensure requirements for other states. Students also have the opportunity to sit for the National Counselor Examination (NCE) at the end of the MACC program. The NCE is one of seven content-based tests approved by the Pennsylvania Licensure Board for Professional Counselors. Students completing the MACC program and passing the NCE will have met significant milestones on their pathway toward licensure, which may influence their employment opportunities after graduation.

Also, students who complete the Masters in Clinical Counseling graduate program may be eligible for certification as Certified Addiction Counselors and as National Certified Counselors with specialties as Certified Mental Health Counselors and Master Addiction Counselors.
Connected to our community
Additionally, students will find learning opportunities outside the classroom. MACC students continue to show an interest in attending the professional conferences offered through the American Counseling Association and the Pennsylvania Counseling Association. These activities offer the opportunity to network with other professionals at the state and national levels.
When it comes time to complete your counseling internships, you'll choose among many public and private agencies in Reading, Philadelphia, Lancaster, Pottsville, and the surrounding areas. You'll gain valuable experience as you network with counseling professionals and cultivate relationships that benefit you after graduation, perhaps even by landing you a job. You may even decide to join the growing percentage of our MACC graduates who have chosen to continue their professional development in a doctoral counseling program.
Contact Admissions:
610.796.5187
gradandadult@alvernia.edu