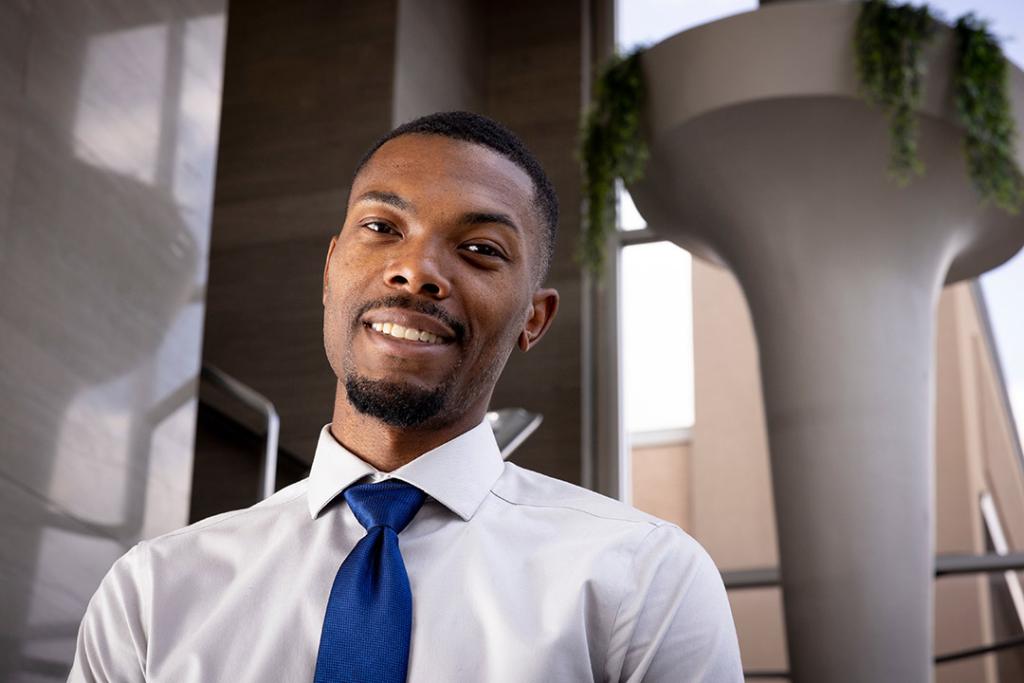 Terrence's Comeback Story

Going with the flow is a popular saying. Certain people are comfortable keeping the status quo, and others want to step out of their comfort zone and create their paths. Adult learner Terrence Watts '22 MBA '23 does not follow the flow but creates his own.
 
He joined the United States Marine Corps in 2011 and served until 2019, reaching military-grade E-6 Staff Sergeant, with a slew of many medals for his heroism and achievements. Today, Watts is an accomplished Department Manager at B&G Manufacturing where he strides to make his team feel like they are family instead of a number. He also proudly wears the title of husband and father of three in his home life.
 
Having three children under six years of age challenges the most experienced parent. And then, returning to school to pursue an MBA, Watts needed a university that offered a flexible schedule that allowed him to find a work and family life balance while furthering his education. Not only did Alvernia University check all the boxes for his personal life, but the university's mission resonated with him. To build a better future for the next generation, Watts believes "selfless dedication, setting an example for others to emulate and respect for other differences are foundations for trust and commitment in community relationships."
 
During his active duty, he witnessed various cultures encompassing ethics and leadership styles affecting local communities. "Those effects are real and can change people's lives and the culture of the workforce and local populace in any country," he said. It is evident that Watts is passionate about changing people's lives, and last year at Alvernia's 2022 Honors Convocation Ceremony, his passion was acknowledged. When Director of Undergraduate Admissions Bret Krotee presented his biography of accomplishments to the audience, he was met with a standing ovation as he walked across the stage to receive the highly coveted Saint Ignatius Award.
 
This award is bestowed upon a student who is a military graduate and has exemplified selfless service, high moral courage and character, and a commitment to intellectual excellence without the expectation of material reward or public recognition. His humbling response to how he felt about this joyous experience reminded him of his brothers and sisters still on active duty and the impact that has on those around us. He goes on to say that the ovation wasn't just for him, and he "represents everyone that has put on the uniform and continues to do so."
 
Alvernia's professors impact how he thinks and looks at the world. He credits Mike Vanthyne, Tom Gray, and Dr. Anthony Driggers, who challenged him to move out of his comfort zone and utilize applied concepts in course literature.
 
Once he receives his MBA, Watts sees himself growing into an executive leader within a company. He wants to change the culture of the workforce through employee engagement by "conducting business and transforming urban areas through generating sustainable growth economically to impact and uplift the families, businesses, and educational institutions that are underfunded and underprivilege to a key resource that can reinforce their infrastructure."
 
A word of advice from Watts to prospective students is, "No one plans to fail - they fail to plan." Exploring interests and real-world experiences sets a path for finding your own flow.
Terrence created his comeback. Create Yours:
 
Story written by Kristin Eck