Theatre helps us share our common humanity through storytelling. An audience laughs at a "knock-knock" joke told by a character in "Macbeth." People laughing at jokes other people laughed at hundreds of years ago – that shows a common human nature. Theatre reaches out to audience members as individuals and collectively to remind them that we are all human together.
Theatre majors develop skills all employers want — both in and out of show business — such as:
Creative problem-solving
Teamwork
Critical thinking
Communication
Time management
In the Alvernia tradition, theatre students learn the importance of diversity of thought, faiths and cultures.  Students are challenged to shape and transform the world as ethical leaders, concerned citizens and caring members of the greater community.
Careers in Theatre
Today's employers look for recent graduates with the "soft" skills of a strong liberal arts background. Theatre graduates are prepared to work in many fields within the performing arts and beyond. Alvernia theatre graduates are prepared to work as actors, directors, designers and technicians, as well as positions outside show business in human resources, public relations and business.
---
Curriculum

ll Alvernia students must successfully complete a minimum of 123 semester credits to receive a Bachelor of Arts or a Bachelor of Science degree, and theatre majors must complete 48 credits in the major.

Students get hands-on experience they can use in or outside the world of theatre through a range of behind-the-scenes, performance-based and theoretical courses.

Theatre majors complete nine core courses. They also complete three courses that focus on Acting/Directing or Design/Technical Theatre. Students take four courses of co-requirements in English, Art and Music. In addition, all Alvernia students complete general studies core courses.

Required courses for theatre majors are:

THR 142 Creativity Workshop
THR 155 Introduction to Acting
THR 156 Theatrical Production and Design
THR 350 Directing for the Stage
THR 355 Theatre History
THR 356 Theatre History II
THR 357 Behind the Curtain
THR 404 Arts Operations

 

Related electives, 6 credits. Recommend 1 from art and 1 from music:

ART 101 Drawing I
ART 103 Color and Design
ART 105 Art Appreciation
ART 215 Art: Prehistoric through Middle Ages
ART 217 Art: Renaissance to Present
MUS 121 Introduction to Music
MUS 135 Music Theory
MUS 222 Multicultural Music
MUS 224 Broadway Musicals
MUS 331 Women in the Arts
MUS 333 Music History

English electives, 6 credits. Recommend 2 from:

ENG 213 Modern Drama
ENG 302 Shakespeare: Histories and Comedies
ENG 303 Shakespeare: Tragedies and Romances

Choose from one of the two following 9-credit options:

Acting/Directing:

THR 255 Intermediate Acting
THR 360 Advanced Acting/Directing (must be repeated for 6 credits)

Design/Technical Theatre:

THR 244 Computer-Assisted Design
THR 357 Behind the Curtain (must be repeated for 6 credits)
THR 434 Senior Production Workshop

Theatre majors are also advised to take 4 credits of THR 134 (Theatre Workshop) as free electives.

Experiential Learning 

Through internships, students have opportunities to apply theories and knowledge learned in the classroom in a variety of professional settings. In addition to providing exposure to the activities and expectations of a real-world workplace, internship experiences help students develop their network of professional contacts.

Tuition

To determine the cost of this program, please visit our Tuition page.  For a personalized estimate, please contact an admissions counselor at 610-790-8269 or at admissions@alvernia.edu.

Financial Aid

Alvernia offers loan, grants, scholarships, and payment plans. Our admissions counselors can help you identify the aid that is available to you and for your program. For more information, visit our Financial Aid page.

Accreditation

All programs offered by Alvernia University are approved by the Department of Education of the Commonwealth of Pennsylvania and accredited by the Middle States Association of Colleges and Secondary Schools.
---
Learn More
For more information about Alvernia's Theatre Program, please contact the Admissions Office at 1-888-ALVERNIA or 610-796-8269 or admissions@alvernia.edu, or reach out directly to:
Nathan Thomas
Associate Professor of Theatre
Francis Hall Room 305
610-796-8343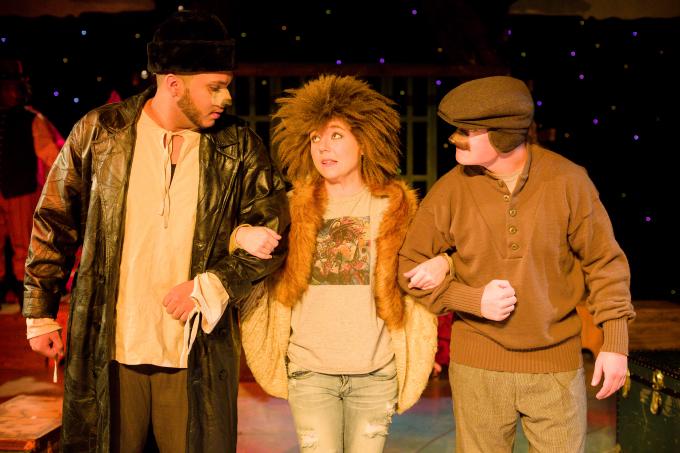 Dynamic & Personalized
Alvernia provides a dynamic and personalized program for students who want to learn about all aspects of theatrical art.