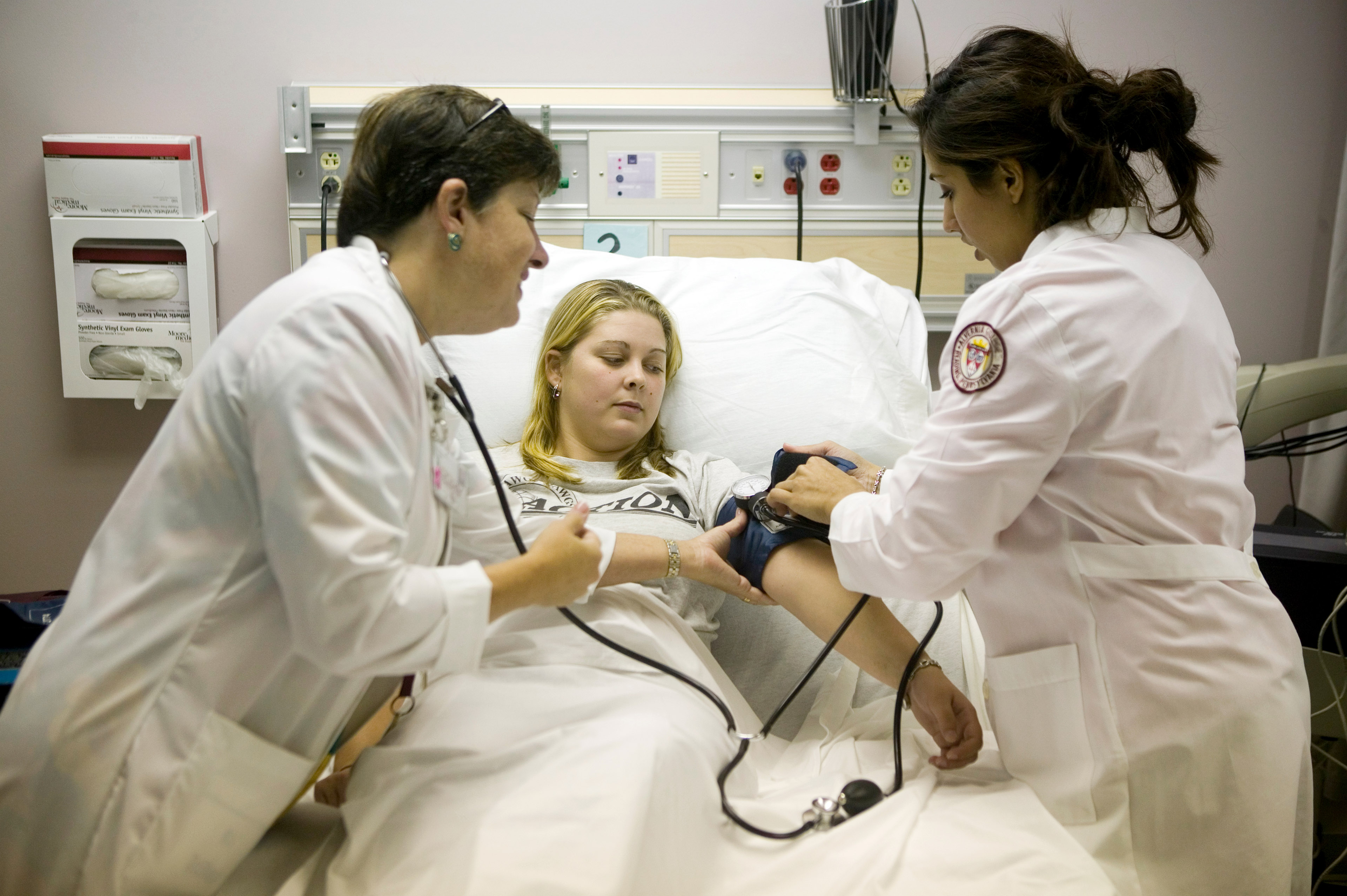 Nurses play a vital role in delivering healthcare services in communities across the nation and around the world. For those who dedicate themselves to this life of service, it is truly a noble profession. 
The Nursing Program at Alvernia University prepares future healthcare professionals to enter the field ready to provide skillful, compassionate healthcare in virtually every setting, from community health clinics and hospitals to schools and nursing homes to emergency and disaster relief sites. 
Combining theory with clinical practice, the curriculum develops the skill set necessary for nurses to not only address the physical and psychological needs of their patients across the lifespan, but also to educate and advocate, counsel, research and problem solve with sensitivity and understanding.
Rooted in the University's rich Franciscan traditions, the program challenges students both intellectually and spiritually, emphasizing ethics, moral integrity and reverence for the dignity and care of the human family.
A Promising Career Path
There couldn't be a better time to choose a career in nursing. The field is experiencing explosive growth and nurses are in high demand.
America's aging population, an increasing focus on preventative care and wellness, recent healthcare reforms and practitioners retiring from the field are among the many factors that account for the national shortage of registered nurses. As a result, employment is projected to grow more than any other occupation over the next decade. In fact, according to the Bureau of Labor Statistics, nearly 500,000 new jobs will be added to the workforce by 2022.
For Nursing graduates, the future is bright with unlimited job opportunities in every healthcare setting. Simply apply for RN Licensure by taking the National Council Licensure Examination (NCLEX-RN) after graduation, and get ready to start your career in this exciting and rewarding field. Alvernia graduates have an exceptional 95% NCLEX-RN pass rate.
An undergraduate degree in Nursing is the foundation for a wide range of advanced studies and career options, including:
Administration
Education
Health Coaching
Law
Nurse Practitioner
Nursing Informatics
Nutrition and Fitness
Occupational Health
---
Curriculum

Bachelor of Science in Nursing students will earn 125 credits both within and outside of the major. Required or recommended nursing courses are:

NUR 110 Intro to Experiential Nursing Science I (recommended) 0.5 credits
NUR 111 Intro to Experiential Nursing Science II (recommended) 0.5 credits
NUR 209 Foundations of Professional Nursing Concepts 5 credits
NUR 210 Intro to Nursing Practice: Roles and Responsibilities 3 credits
NUR 218 Pharmacology and the Nursing Process 3 credits
NUR 220 Nursing I: Adult Medical Surgical Clients 5 credits
NUR 311 Health Assessment Across the Life-Span 3 credits
NUR 315 Nursing II: Birth and Childhood to Adulthood 9 credits
NUR 312 Transcultural Nursing 3 credits
NUR 317 Nursing III: Behavioral Health and Chronicity 5 credits
NUR 408 Intro to Research Methods 3 credits
NUR 410 Nursing IV: Adult and Geriatric Clients 5 credits
NUR 412 Nursing of the Family and Community 5 credits
NUR 409 Leadership and Ethical Dimensions for Practice 3 credits
NUR 417 Nursing Role Synthesis Practicum 6 credits
NUR 418 Nursing of the Acute and Critically Ill 3 credits
Other required courses include those in Chemistry, Biology, Mathematics, Philosophy, Foreign Language, etc.

During the senior year, all nursing students complete a two-phase Capstone Project designed to develop and demonstrate competency in a cluster of skills that are integral to the practice of professional nursing at the baccalaureate level.

In accordance with USDE Regulation 34 CFR 668.43 (a) (5) (v): The Alvernia University Nursing Curriculum meets the educational requirements for licensure or certification for all fifty states in the United States, listed below:

Alabama, Alaska, Arizona, Arkansas, California, Colorado, Connecticut, Delaware, Florida, Georgia, Hawaii, Idaho, Illinois, Indiana, Iowa, Kansas, Kentucky, Louisiana, Maine, Maryland, Massachusetts, Michigan, Minnesota, Mississippi, Missouri, Montana, Nebraska, Nevada, New Hampshire, New Jersey, New Mexico, New York, North Carolina, North Dakota, Ohio, Oklahoma, Oregon, Pennsylvania, Rhode Island, South Carolina, South Dakota, Tennessee, Texas, Utah, Vermont, Virginia, Washington, West Virginia, Wisconsin, Wyoming

Experiential Learning 

Through clinical experiences, students have opportunities to apply theories and knowledge learned in the classroom in a variety of professional settings. In addition to providing exposure to the activities and expectations of a real-world workplace, clinical experiences help students develop their network of professional contacts.

Tuition

To determine the cost of this program, please visit our Tuition page.  For a personalized estimate, please contact an admissions counselor at 610-790-8269 or at admissions@alvernia.edu.

Financial Aid

100% of Alvernia students receive some form of scholarship and/or aid. Our admissions counselors can help you identify the aid that is available to you and for your program. For more information, visit our Financial Aid page.

Accreditation

The Bachelor of Science in Nursing program at Alvernia University is accredited by the Commission on Collegiate Nursing Education (http://www.ccneaccreditation.org).

All programs offered by Alvernia University are approved by the Department of Education of the Commonwealth of Pennsylvania and accredited by the Middle States Association of Colleges and Secondary Schools.
---
Learn More
For more information about Alvernia's Nursing Program contact the Admissions Office at 1-888-ALVERNIA or 610-796-8269 or admissions@alvernia.edu, or reach out directly to:
Deborah A. Greenawald, Ph.D., RN
Nursing Department Chair
Associate Professor of Nursing
610.796.8462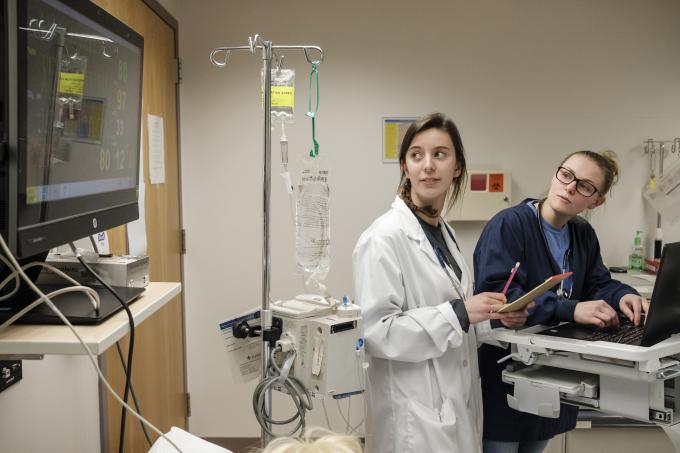 U.S. News & World Report's Top Nursing Program
Alvernia recognized as top 500 program in first-ever national BSN rankings
Nursing


Abigial Eby Nursing Staff

Nursing induction ceremony

Nursing instructor with student