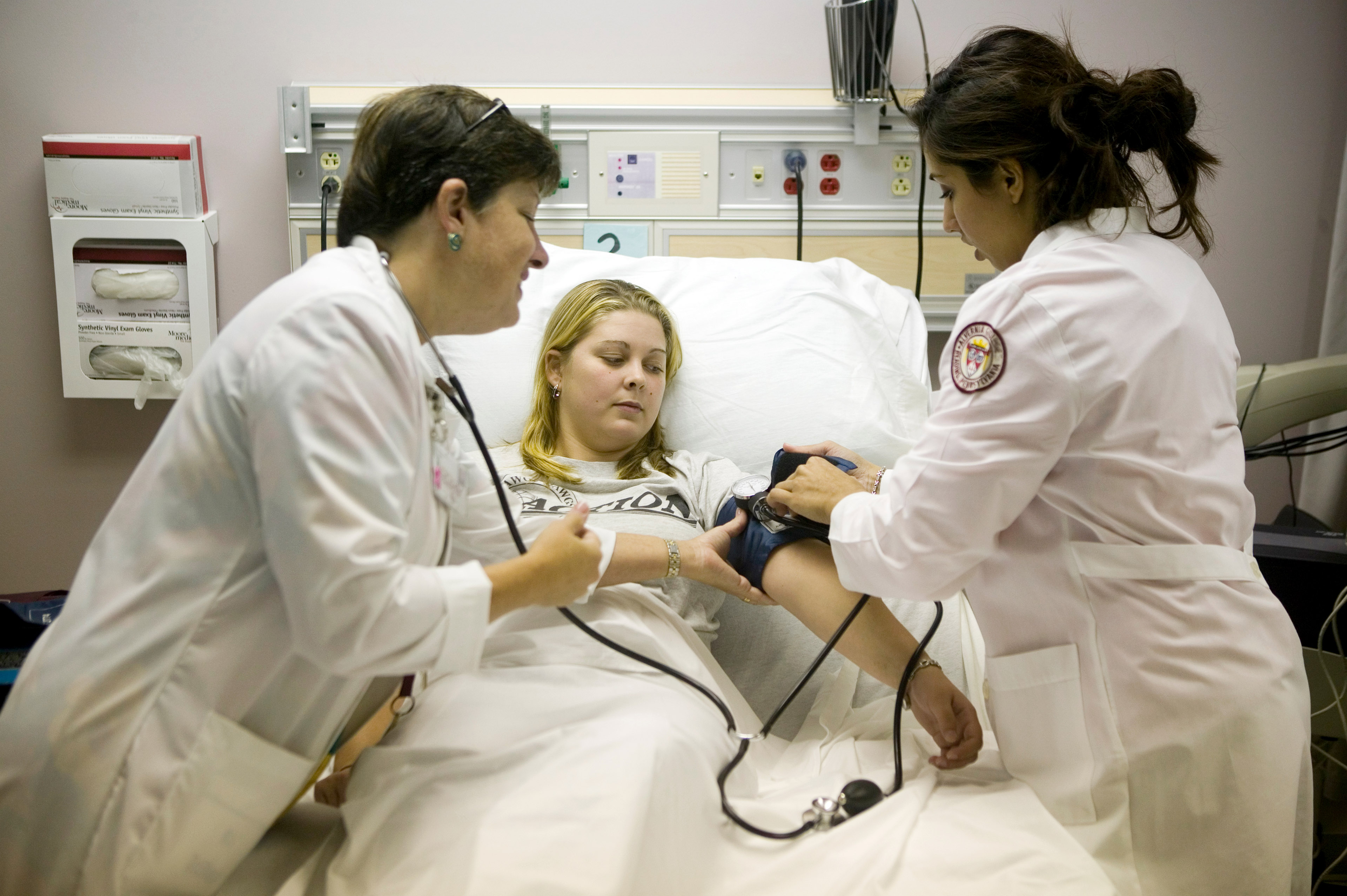 Nurses have always been an integral part of our healthcare system, and their role is increasing in scope as they become more highly educated and trained. In addition to caring for patients, nurses serve as administrators, educators and leaders within healthcare organizations.
Nurses not only tend to the physical and psychological needs of patients, they also must be effective communicators. Nurses assume the responsibilities of teachers, counselors, advocates, managers, researchers and change agents. They must be able to interact effectively with patients, family members, peers, physicians, support staff and supervisors.

Nurses serve in many different settings and contribute greatly to communities across the United States and around the world. They are found in community clinics, private homes, hospitals, nursing homes, dialysis centers, war zones, businesses, schools, hospice settings and mental health facilities. Nurses are indispensable to every aspect of modern healthcare.
With a nursing program that has been evolving since 1973, Alvernia University is well known and highly regarded for its Bachelor of Science in Nursing Program. As a graduate of the program, you will be prepared to deliver healthcare to people of all ages with sensitivity to cultural and environmental factors.
Careers in Nursing
A Bachelor of Science in Nursing degree from Alvernia University can put you on the road to a highly successful career. You might decide to pursue work in a hospital or other healthcare setting. Or, you may choose to pursue further education in graduate degree programs for an advanced practice career such as nurse practitioner, nurse educator, administrator or many other advanced practice roles.
According to the U.S. Bureau of Labor Statistics, more than half a million positions for registered nurses will become available between 2012 and 2022. In addition, it is projected that more than a half million nurses will be needed to replace those who are leaving the field.
That will result in a 19 percent increase in employment of registered nurses during that time frame, a rate much higher than the average for all occupations. The high demand for nurses is attributed to factors such as an increasing emphasis on preventative care and growing rates of chronic conditions such as diabetes and obesity.
Aging Baby Boomers are demanding an increasing number of healthcare services, and recent healthcare reforms have enabled millions of additional people to gain access to the healthcare system.
When you graduate from Alvernia's Bachelor of Science in Nursing Program, you will be eligible to apply for RN Licensure by taking the National Council Licensure Examination (NCLEX-RN). Once licensed, you will be ready to begin your career.
Recent Graduates of Alvernia's B.S. in Nursing Program have found employment with:
Children's Hospital of Philadelphia
Tower Health/Reading Hospital
Lehigh Valley Health System
Temple University Hospital
Penn State Health, St. Joseph Medical Center
And many more
---
Curriculum

Bachelor of Science in Nursing students will earn 125 credits both within and outside of the major. Required or recommended nursing courses are:

NUR 110 Intro to Experiential Nursing Science I (recommended) 0.5 credits
NUR 111 Intro to Experiential Nursing Science II (recommended) 0.5 credits
NUR 209 Foundations of Professional Nursing Concepts 5 credits
NUR 210 Intro to Nursing Practice: Roles and Responsibilities 3 credits
NUR 218 Pharmacology and the Nursing Process 3 credits
NUR 220 Nursing I: Adult Medical Surgical Clients 5 credits
NUR 311 Health Assessment Across the Life-Span 3 credits
NUR 315 Nursing II: Birth and Childhood to Adulthood 9 credits
NUR 312 Transcultural Nursing 3 credits
NUR 317 Nursing III: Behavioral Health and Chronicity 5 credits
NUR 408 Intro to Research Methods 3 credits
NUR 410 Nursing IV: Adult and Geriatric Clients 5 credits
NUR 412 Nursing of the Family and Community 5 credits
NUR 409 Leadership and Ethical Dimensions for Practice 3 credits
NUR 417 Nursing Role Synthesis Practicum 6 credits
NUR 418 Nursing of the Acute and Critically Ill 3 credits
Other required courses include those in Chemistry, Biology, Mathematics, Philosophy, Foreign Language, etc.

During the senior year, all nursing students complete a two-phase Capstone Project designed to develop and demonstrate competency in a cluster of skills that are integral to the practice of professional nursing at the baccalaureate level.

Experiential Learning 

Through internships, students have opportunities to apply theories and knowledge learned in the classroom in a variety of professional settings. In addition to providing exposure to the activities and expectations of a real-world workplace, internship experiences help students develop their network of professional contacts.

Tuition

To determine the cost of this program, please visit our Tuition page.  For a personalized estimate, please contact an admissions counselor at 610-790-8269 or at admissions@alvernia.edu.

Financial Aid

Alvernia offers loan, grants, scholarships, and payment plans. Our admissions counselors can help you identify the aid that is available to you and for your program. For more information, visit our Financial Aid page.

Accreditation

The Bachelor of Science in Nursing program at Alvernia University is accredited by the Commission on Collegiate Nursing Education (http://www.ccneaccreditation.org).

All programs offered by Alvernia University are approved by the Department of Education of the Commonwealth of Pennsylvania and accredited by the Middle States Association of Colleges and Secondary Schools.
---
Learn More
For more information about Alvernia's Nursing Program contact the Admissions Office at 1-888-ALVERNIA or 610-796-8269 or admissions@alvernia.edu, or reach out directly to:
Deborah A. Greenawald, Ph.D., RN
Nursing Department Chair
Associate Professor of Nursing
 
Priscilla Price
Nursing Department Secretary
Nursing Resource Center, Alvernia University
Reading, PA
Phone: 610.796.8217
Fax: 610.796.8464
Nursing


Abigial Eby Nursing Staff

Nursing induction ceremony

Nursing instructor with student