B.S. in Marketing Overview
Marketing is a broad and varied field that includes a range of exciting and challenging careers. As a marketing major at Alvernia University, you can prepare to work as a market research analyst, an international marketing specialist, a fundraiser, a merchandising manager or one of a range of other positions. Marketing is an exciting field because it is progressive and always changing. New marketing-related jobs are becoming available in areas such as search engine optimization and social media marketing.
People who work in marketing-related fields tend to be creative and energetic. Because marketing strategies change, you should be willing to be flexible and versatile in your thinking. Likeability also is important, as many marketing positions involve the need to build relationships and connect with others. Managers always are needed in marketing-related jobs.
If you major in marketing at Alvernia, you'll develop an understanding of consumer perceptions and the creation of an exchange of value between the consumer and an organization. In other words, you'll learn why marketing is so important and how it can be applied to a variety of careers. You'll also experience "real-life learning" that enables you to link your classroom experiences to the larger community and, indeed, the world.
Faculty members at Alvernia teach about business from both practical and ethical standpoints. This gives you the knowledge you'll need to succeed professionally because it develops supervisory and managerial skills that are necessary to advance in your career.
Careers in Marketing
Marketing is pervasive in American society, and companies are putting more money into marketing their products and services as the economy improves. The U.S. Bureau of Labor Statistics predicts that the marketing industry will grow significantly in the next decade, meaning that job prospects will be bright. And, many jobs in the field of marketing pay more than the median salary for all professional positions.
A marketing degree from Alvernia can prepare you for a career in an area such as advertising or public relations, sports marketing, direct marketing, sales, product development or marketing research. For more information about the marketing field and to get an idea of some jobs currently available, go to the website of the Marketing Association of America at http://www.ama.org. You also can research available marketing-related positions and read the job descriptions to get a better idea of what various marketing jobs entail.
A sampling of employers of Alvernia marketing graduates:
Mail Shark
Penske
GAI-Tronics
HomeAdvisor
WebpageFX
High Construction
Sherwin-Williams
Nestle
Marketing Consulting Firms
Restaurant/Travel Industries
Enterprise Car Rental
---
Curriculum

All Alvernia students must successfully complete a minimum of 123 semester credits to receive a Bachelor of Arts or a Bachelor of Science degree.  You'll need to complete 54-55 liberal arts core credits and complete community service hours.

In addition, Marketing majors must complete 64 credits in the major.  View all business course descriptions here.

Required Courses for Marketing Degree

Business Core (33 credits)

BUS 101 Financial Accounting*
BUS 200 Managerial Accounting or BUS 250 Accounting Principles
BUS 206 Management Principles*
BUS 207 Marketing Principles*
BUS 315 Data Analytics & Information Systems
BUS 342 Business Law
BUS 410 Financial Markets
BUS 411 Financial Decision Making
BUS 426 Strategic Management
BUS 441 Cooperative Education in Business I (enrolled for at least 3 credits)
MAT 208 Introductory Statistics or MAT 209 Probability and Statistics

* must earn a grade of "C" or better

Related Area (9 credits)

ECON 248 Macroeconomics
ECON 249 Microeconomics
COM 103 Fundamentals of Speech, or COM 155 Introduction to Acting, or COM 344 Writing for the Workplace

High Performer Development Series (3 credits)

BUS 251 High Performer Development Series I
BUS 351 High Performer Development Series II
BUS 451 High Performer Development Series III

Professional Readiness (1 credit)

UNIV 200 Career & Internship Preparation

Marketing Courses (18 credits)

BUS 208 Introduction to Sales
BUS 309 Advertising and Promotion
BUS 324 Consumer Behavior
BUS 414 Global Strategic Marketing
BUS 434 Marketing Management
BUS 444 Marketing Research Seminar

Recommended Courses (Optional)

BUS 442 Cooperative Education in Business II

 

Business Minor

Students who major in another area can minor in Business by earning 21 credits. Required courses for a business minor are:

BUS 101 Financial Accounting
BUS 200 Managerial Accounting
BUS 206 Management Principles
BUS 207 Marketing Principles
BUS 342 Business Law
BUS 410 Financial Markets
ECON 248 Macroeconomics OR ECON 249 Microeconomics

Experiential Learning 

Through internships, students have opportunities to apply theories and knowledge learned in the classroom in a variety of professional settings. In addition to providing exposure to the activities and expectations of a real-world workplace, internship experiences help students develop their network of professional contacts.

Alvernia believes that real-world experience is extremely important, as it can improve your confidence and introduce you to professionals in your intended field of employment.

You will not only benefit from experienced faculty members who have extensive experience in the business world, you'll also get the opportunity to participate in learning opportunities in real business settings through internships and cooperative experiences.

Some of the organizations with which Alvernia business majors have had internships include:

The Camden Riversharks
Citizens Bank
Cott Beverage
Ernst & Young
Four Seasons Produce
Haines & Kibblehouse
InRoads
Morgan Stanley
The Philadelphia Eagles
The Reading Royals
Service And Access Management (SAM)
Superior Oxygen
U.S. Department of Finance
U.S. Department of Treasury
Walt Disney World
Webb Insurance

 

Research Opportunities

Research is a valuable aspect of any education. Business faculty at Alvernia conduct research in a variety of areas, including leadership, management, organizational development, strategy, market research, international marketing, time management, conflict resolution, international leadership and hiring of part-time employees.

As a business major, there may be an opportunity for you to assist in faculty research, and to benefit from the knowledge gained through faculty research.

Tuition

To determine the cost of this program, please visit our Tuition page.  For a personalized estimate, please contact an admissions counselor at 610-790-8269 or at admissions@alvernia.edu.

Financial Aid

Alvernia offers loan, grants, scholarships, and payment plans. Our admissions counselors can help you identify the aid that is available to you and for your program. For more information, visit our Financial Aid page.

Accreditation

Alvernia University's Business Department programs – including Marketing – are accredited by the Accreditation Council for Business School and Programs (ACBSP) and by the Middle States Commission on Higher Education.

All programs offered by Alvernia University are approved by the Department of Education of the Commonwealth of Pennsylvania and accredited by the Middle States Association of Colleges and Secondary Schools.
---
Reading CollegeTowne featuring Enhanced Business Programs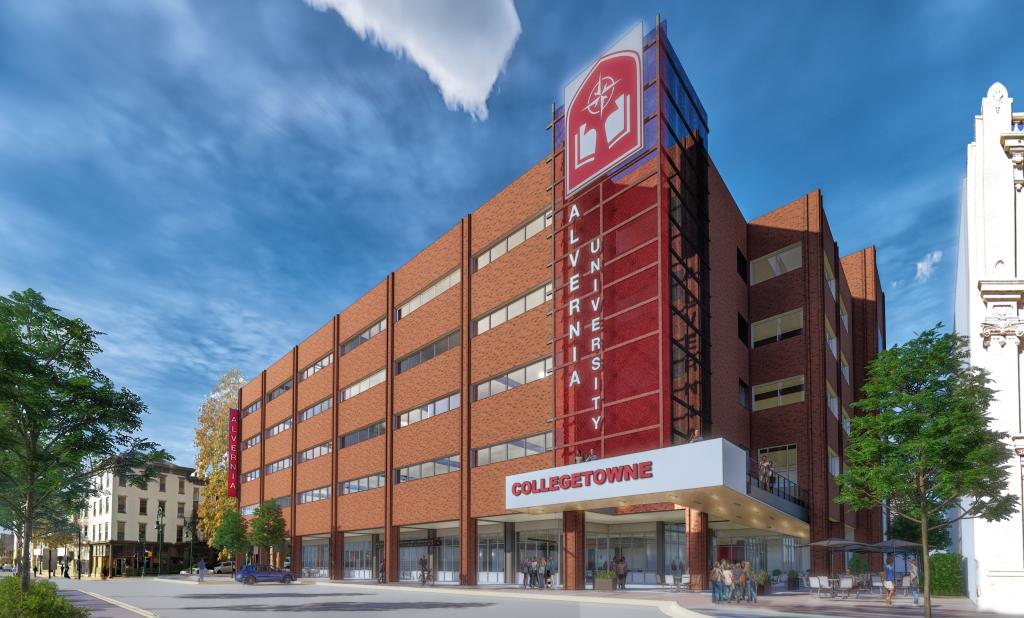 With the launching of Alvernia's CollegeTowne initiative and new state-of-the-art metropolitan complex at 401 Penn Street in downtown Reading, the university's business programs take experiential learning to new heights. With world-class facilities and increased community engagement, our real-world learning opportunities will be further expanded to fully prepare students for success upon graduation.
A new trading floor/business lab will be used for a variety of learning experiences over a wide range of classrooms. It will be incorporated into upper level seminar classes such as Marketing Research Seminar, Marketing Management, Investment Fund Management, Accounting Information Systems, Financial Analysis and Corporate Finance. The lab will support simulations, research and a wide-variety of other business applications. It will also support the granting of Microsoft Certification for Excel.
The expanded curriculum will fully utilize the new facilities as well as enhanced engagement via the O'Pake Center's business incubator. The student-run incubator provides hands-on learning for students of all disciplines, allowing students to create, collaborate and lead while they provide support to new ventures and entrepreneurs in the community. In addition, industry and community partners provide resources, internships and professional mentoring to students. It's a win-win for both students and businesses in the region.
---
Learn More
For more information about Alvernia's Marketing program, contact the Admissions Office at 1-888-ALVERNIA or 610-796-8269 or admissions@alvernia.edu, or reach out directly to:
Dr. Tufan Tiglioglu
Chair of Business Department
tufan.tiglioglu@alvernia.edu
610-796-8278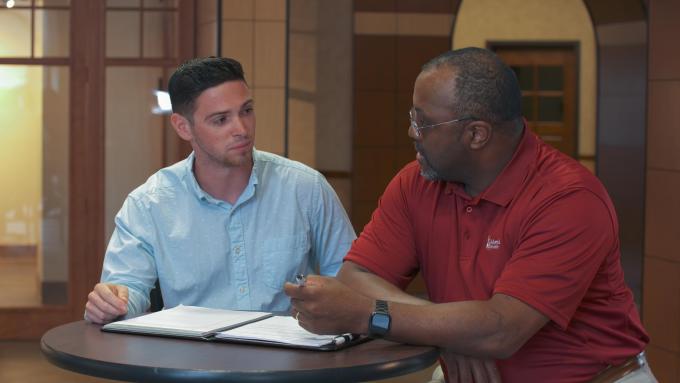 Master of Business Administration
Some business students pursue graduate degrees after graduation, either at Alvernia or other colleges and universities.

Alvernia offers a special program for motivated students — a MBA + 1 option. By declaring an interest in your junior year, you could be eligible to enroll in a 30-credit Master of Business Administration degree program that you complete in just one year. You would extend your stay at Alvernia for an extra year, finishing after five years with both an undergraduate and graduate degree.