English is among the most widespread and influential of human languages. The language of Virginia Woolf and Ernest Hemingway is also the preferred language of global commerce. A classic among collegiate programs of study, English does more than prepare students for careers in a variety of fields. It prepares graduates with skills that are crucial to success in any endeavor.
Students in the Bachelor of Arts in English degree program at Alvernia University develop their abilities in reading, writing and critical analysis while leveraging their power of imagination. Some graduates go on to careers as English educators, while others apply their degrees in fields as diverse as journalism, public relations, library science, government, law and business.
---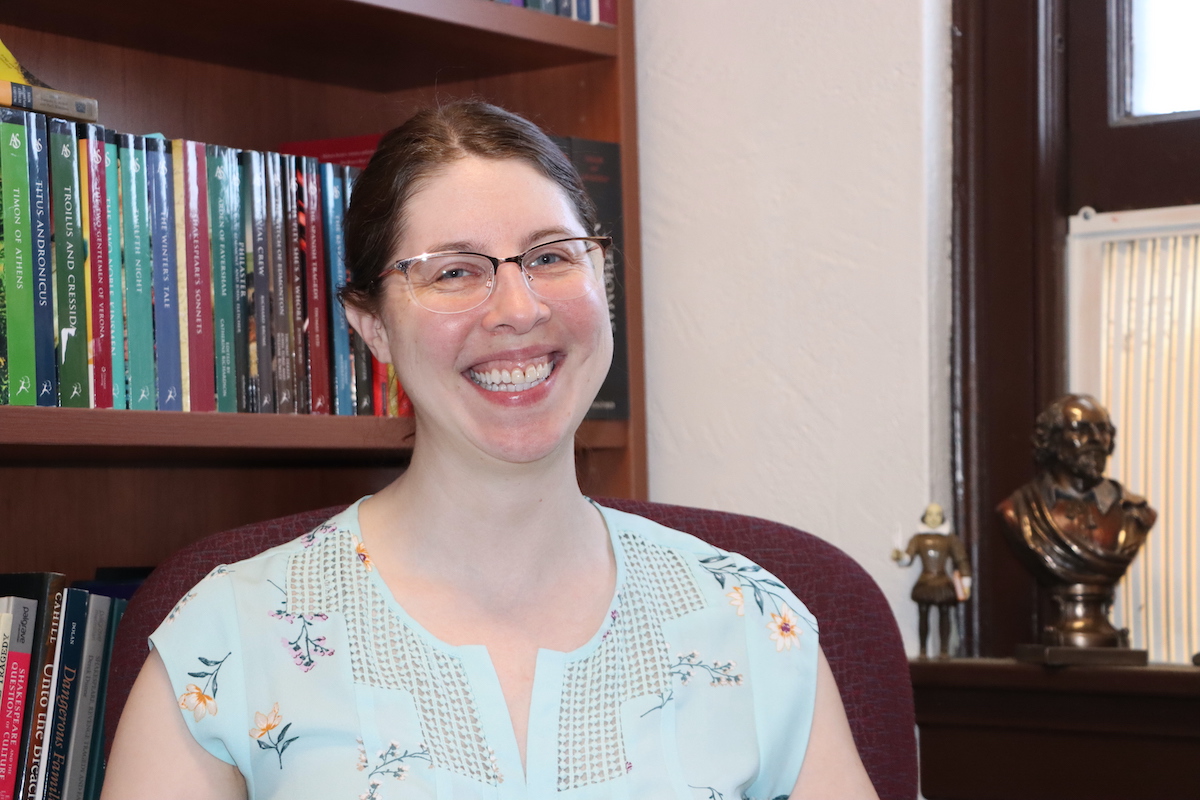 Daring "To Be" in a period of modern unrest 
New English faculty member Hamlet examines equity and inclusion in award-winning doctoral dissertation 
Originating as a tiny seed in 2014 before ultimately blossoming into a powerful argument for equity and inclusion, Dr. Jess Hamlet, Assistant Professor of English, did not anticipate winning a competition in which she would face 100 other candidates from 30 different programs. Hamlet has been awarded the University of Alabama's 2021 Outstanding Dissertation Award at both the English Department level and College of Arts and Sciences level for her doctoral dissertation, "Shakespeare, Race, and Adaptation in Times of Unrest, 1601-1888."  
Read More

The dissertation, which examines nearly half of Shakespeare's plays and some of his sonnets, also serves as the foundation of her upcoming book, Shakespeare as Paratext to Power. It examines how Shakespeare has been and continues to be used as a weapon to create racial and class boundaries that keep poor, un- and under-educated, and non-White individuals out of spaces controlled by and intended for White people. "Shakespeare's role in white supremacy and white supremacist causes has been acknowledged, but not fully reckoned with," Hamlet explained.  

The continued use of Shakespeare's works by white supremacists is why Hamlet's research is so crucial to the conversations we have today about race and equality.

"Recent racially-motivated incidents are why it's so important to think about Shakespeare even when there's other, more important stuff happening. People say, 'who cares about a dead white guy,' yet this dead white guy is part and parcel of all the systemic racial, diversity, and equality issues we're dealing with right now," Hamlet reflected.  

Consequently, Hamlet is committed to teaching her students about race and equity in her classroom through Shakespeare. Hamlet explains that the best way for her to teach students about race and equity is by modeling productive discomfort. 

"My students who identify as white are reticent to engage with conversations about whiteness, race, and privilege in large part because they don't have the tools or the vocabulary. Rather than take a risk and say something that might be harmful, they would rather not say anything. I have found that when I show them how I talk about it and deal with my own personal discomfort, it lets them know that it's okay to not know and it's okay to try." 

Her goal is to show her students that when they get something wrong, it's ok to acknowledge it, correct it, and move forward. In Hamlet's eyes, one of the most important things we can teach students is that we can always try to be better and work for a more just, inclusive, and equitable society.  
 
"I am very excited about the work Dr. Hamlet is doing in the classroom and beyond. She is deconstructing racial hierarchies by analyzing sources that have so often been used to expand and entrench racist views," said Dr. Darryl Mace, Vice President for Mission, Diversity and Inclusion. "It really is an innovative approach to teaching literature, and she is reclaiming part of the so-called 'great works.' Most importantly, she creates safe spaces in her classroom where students can grapple with issues of diversity and inclusion." 

Hamlet taught a class on Shakespeare and race, and she's off to a running start with one of Shakespeare's most iconic tragedies, Othello. According to Hamlet, her students are engaging with the play and doing excellent work.

"I was initially scared to enroll in the class and discuss race and diversity. Being in a predominately white institution, I didn't know how these topics were going to be approached. But after the first week, I felt so comfortable. I love hearing the opinions of others, sharing what I think, and coming to a mutual understanding. Dr. Hamlet does her best to understand what we are going through as college students and tries to relate to us. I love the respect that is given to each of our differences," said Early Childhood Education student Jonny Martinez.  

Martinez's classmate Sarah Mies, Communication and English major, echoed similar sentiment: "Dr. Jess's classes are interesting and engaging, and her teaching skills are unique but successful. I would absolutely recommend my fellow students take a class or two with Dr. Jess no matter what their major is." 

Hamlet is excited to continue instructing her Shakespeare courses next fall.

"I love Alvernia so much. I feel extraordinarily lucky that not only did I get a job straight out of the Ph.D. fire, but that I also got this job" Hamlet said. "Alvernia is full of professors who are so intelligent, collegial, and supportive. Our students are absolutely amazing. I couldn't be happier!" 


 
Impact
Reading the works of great writers from throughout history promotes development of high level communication skills while enhancing depth of knowledge across disciplines.
Interpreting and deconstructing ideas helps students to shape their world-views while refining skills in logic, reasoning and conceptual analysis.
Exploring in real-world settings enables students to understand how English language skills can be applied to solve challenges in schools, government, business and other realms.
Applying skills of critical thinking, clear organization and persuasive expression of ideas enriches the appreciation of English as a discipline with limitless applications.
Careers with an English Degree
A major in English teaches students the refined skills needed for close reading and advanced writing. As a result, graduates often work in fields where these skills are in demand, such as publishing, public relations, advertising, media, or teaching. graduates of Alvernia's English program are prepared for entry-level careers in a variety of roles, such as:
English teacher
Creative writer
Technical writer
Editor
Reporter
Correspondent
Columnist
Copywriter
Commentator
Critic
Production assistant
Public relations representative
English majors also go on to pursue graduate and professional degreesin fields ranging from law and business to journalism and library scienct.
According to the National Association of Colleges and Employers, what sets two equally qualified job candidates apart can be as simple as who has the better communication skills. Earning a degree in English develops and refines high-level communication skills. (source: http://www.naceweb.org/career-development/trends-and-predictions/job-outlook-2016-attributes-employers-want-to-see-on-new-college-graduates-resumes/)
Curriculum

Alvernia students must successfully complete a minimum of 123 semester credits to receive a Bachelor of Arts degree in English, including 39 credits in the major. All students must complete the liberal arts core and community service hours to qualify for graduation.

Required Courses:

ENG 202 Critical Approaches to Literature
ENG 302 Shakespeare: Histories and Comedies - OR - ENG 303 Shakespeare Tragedies & Romances
ENG 406 Research Seminar

Choose two of the following courses:

ENG 203 Early American Poetry
ENG 204 Modern American Poetry
ENG 305 Early American Fiction
ENG 306 Modern American Fiction

Choose two of the following courses:

ENG 205 Early British Literature
ENG 206 Modern British Literature
ENG 307 The English Novel
ENG 401 Romantic and Victorian Writers
ENG 404 History of the English Language

Choose two of the following courses:

ENG 106 Short Story
ENG 202 Critical Approaches to Literature
ENG 207 Contemporary Fiction and Drama
ENG 213 Modern Drama
ENG 309 World Literature
ENG 310 Modern Novel
ENG 321 Ethics and Tragedy
ENG 355 Theatre History

English majors also must take a 3-credit major writer or period course and 9 credits of electives in literature and communication.

English Minor:

Students in other majors who have career goals that required good communication skills can consider a minor in English, which requires 18 credits in English and Communications (maximum 6 credits in Communications). COM 100 and COM 101, which are components of the liberal arts core, cannot be applied toward the minor.

Experiential Learning 

Through internships, students have opportunities to apply theories and knowledge learned in the classroom in a variety of professional settings. In addition to providing exposure to the activities and expectations of a real-world workplace, internship experiences help students develop their network of professional contacts.

Tuition

To determine the cost of this program, please visit our Tuition page.  For a personalized estimate, please contact an admissions counselor at 610-790-8269 or at admissions@alvernia.edu.

Financial Aid

100% of Alvernia students receive some form of scholarship and/or aid. Our admissions counselors can help you identify the aid that is available to you and for your program. For more information, visit our Financial Aid page.

Accreditation

All programs offered by Alvernia University are approved by the Department of Education of the Commonwealth of Pennsylvania and accredited by the Middle States Association of Colleges and Secondary Schools.
---
Learn More
For more information about Alvernia's English Program, contact the Admissions Office at 1-888-ALVERNIA or 610-796-8269 or admissions@alvernia.edu, or reach out directly to:
Ryan Lange, PhD
English, Communications, CIS Department Co-Chair
Business/Comm. Building, Room 19
610-568-1557
Jodi Radosh, PhD
English, Communications, CIS Department Co-Chair
Business/Comm. Building, Room 9
610-796-8419