B.S. in Mechanical Engineering
Do you have mad technical skills? Can you work under pressure? Are you a super problem-solver? Are you creative, a team-player and aware of commercial productivity trends?  If so, you might enjoy a career in mechanical engineering.
The field of mechanical engineering is one of engineering's most comprehensive.  Mechanical engineers design and supervise the manufacture of many products including medical devices, appliances, electronic gadgets and new battery systems, internal combustion engines and power-using machines like refrigeration and air conditioning. Mechanical engineers also design elevators, escalators and conveyor systems.
You might work as a mechanical engineer in the technical support division of the U.S. Naval Foundry and Propeller Center, preparing plans, specifications, studies and reports concerning ship propellers.
For a robotics company, you might support landmine and IED clearance roller efforts as well as be part of designing, prototyping, testing and manufacturing a new generation of rollers.
In the ever-expanding healthcare arena, you could serve as a mechanical medical device engineer as an expert in CAPA/NC investigation for electro-mechanical medical devices.
Mechanical engineers are a part of so many exciting global projects like climate change, clean water, energy and cyber security and if your ideas surpass those of the norm, you can invent your own methods.
The Vern Mechanical Engineering Advantage
Preparing you to be fundamentally sound and application-ready
A common core engineering curriculum allows exposure to all disciplines before selecting a major. For the first three semesters, all engineering majors will take the same core courses in the same sequence. All students will take at least one course in mechanical as well as electrical and industrial engineering. In addition to becoming well-rounded, you will have the option to switch majors if you find an affinity for one over the other.
Four semesters of interdisciplinary design courses
The first-year design course features an industry-based project that gives you real-world hands-on project experience. It will be mentored by industry professionals overseeing a team of three to five students on a project.
The second-year design course focuses on designing a problem-solving solution using advanced and additive manufacturing techniques.
The third-year design course will be a co-op or research experience.
The fourth-year design course will be a senior capstone design course spanning the entire senior year. As with the first year, all engineering program students at the senior level will be integrated into this course and broken into teams consisting of three to five students.
All delivered in a new model for higher education
Alvernia is committed to creating programs, educational experiences and delivering services that meet the 21st century demands of both students and industry partners. The student-centered business incubator provides experiential learning opportunities where you can engage in innovative and creative thinking as well as real-world problem-solving.
With the 2019 launch of Reading CollegeTowne, Alvernia's new building at 401 Penn Street will house our engineering programs, state-of-the-art labs and research facilities.  Our engineering programs will partner heavily with local industry including the entrepreneurial community and other institutions of higher education to deliver a world-class education.
Careers in Mechanical Engineering
According to the Bureau of Labor Statistics, mechanical engineering jobs will increase four percent by 2028 but because mechanical engineers can work in a variety of industries, the growth will vary by the industry in which they are employed.
Aerospace engineer
Additive manufacturing (3D printing) engineer
Automotive research engineer
CAD technician
Contracting civil engineer
Environmental engineer
Mechatronics engineer
Nuclear engineer
Robotic engineer
Technical sales engineer
Mechanical Engineering Program Details
Curriculum

To earn the Bachelor of Science in Mechanical Engineering, students must successfully complete a minimum of 123 semester credits.

Mechanical Engineering Major Core (54 credits):

EGR 107 Engineering Lab Safety  (1 credit) 
EGR 110 Engineering Design I (1 credit)
EGR 206 Mechatronics (3 credits)
EGR 210 Engineering Design II (1 credit)
EGR 480 Senior Capstone Design I (2 credits)
EGR 481 Senior Capstone Design II (2 credits)
EE 200 Circuits I with lab (4 credits)
ME 201 Strength of Materials (3 credits)
ME 211 Thermodynamics (3 credits)
ME 302 Dynamics (3 credits)
ME 310 Fluid Mechanics with lab (4 credits)
ME 331 Heat Transfer with lab (4 credits)
ME 341 Machine Design with lab (4 credits)
ME 402 Finite Element Methods & Analysis (3 credits)
ME 410 Robotics (3 credits)
ME 421 Vibrations with lab (4 credits)

Major Electives (9 credits):

EGR 311 Engineering Design III, ME 351 Topics in Mechanical Engineering (multiple can be taken as long as the course descriptions are different), or any IE or EE courses at the 300-400 level

Required Related Areas (47 credits):

MAT 230 Calculus I (4 credits)
MAT 231 Calculus II (4 credits)
MAT 232 Calculus III (4 credits)
MAT 322 Differential Equations (3 credits)
MAT 345 Applied Probability & Linear Models (4 credits)
PHY 200 Physics I (4 credits)
PHY 201 Physics II (4 credits)
PHY 202 Statics (3 credits)
PHY 304 Modern Physics (4 credits)
CHE 104 General Chemistry I (3 credits)
CHE 110 General Chemistry I lab (1 credit)
CS 155 Introduction to Object-Oriented Programming (3 credits)
PHI 208 Ethics & Technology (3 credits)
THR 244 Computer-Assisted Design (3 credits)

SEARCH Liberal Arts Core

As with all of our programs, the engineering program will develop ethical leaders with moral courage, extensively prepared and qualified to handle the rigors of your chosen discipline.

Engineering will seamlessly integrate SEARCH - an arduous, open inquiry into the enduring questions that shape the human experience - into the curriculum.

Our core discipline training provides the foundation to start a successful career, but it is the general education (SEARCH) curriculum that will enable you to sustain and advance in your career and remain life-long learners.

Experiential Learning 

Through internships and co-ops, engineering students have opportunities to apply theories and knowledge learned in the classroom in a variety of professional settings.

In addition to providing exposure to the activities and expectations of a real-world workplace, internship experiences help students develop a network of professional contacts.

Engineering majors will have the opportunity to participate in advanced industry-applied research complimented by professional mentoring. Students will intern in advanced industry or faculty research labs, be exposed to cutting edge technologies, and work side by side with industry professionals.

Tuition

To determine the cost of this program, please visit our Tuition page.  For a personalized estimate, please contact an admissions counselor at 610-790-8269 or at admissions@alvernia.edu.

Financial Aid

100% of Alvernia students receive some form of scholarship and/or aid. Our admissions counselors can help you identify the aid that is available to you and for your program. For more information, visit our Financial Aid page.

Accreditation

All programs offered by Alvernia University are approved by the Department of Education of the Commonwealth of Pennsylvania and accredited by the Middle States Association of Colleges and Secondary Schools.
---
Learn More
For more information about Alvernia's Mechanical Engineering Program, please contact the Admissions Office at 1-888-ALVERNIA or 610-796-8269 or admissions@alvernia.edu.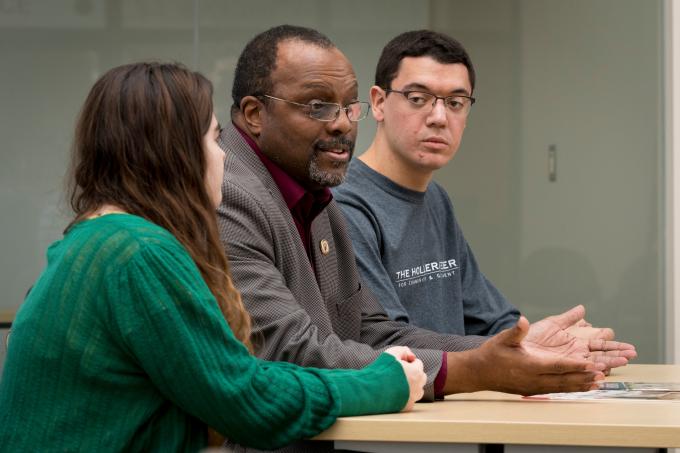 Mechanical Engineering at Alvernia
"Our students will receive real word learning while they are in the program and they get to apply their skills in some of the most advanced facilities."

-Dr. Rodney Ridley, Associate Provost and Vice President / COO for the O'Pake Institute