B.A. in Criminal Justice Administration
Now more than ever, society needs highly skilled, ethical criminal justice professionals who are deeply committed to helping others, safeguarding the public and upholding the law.

In a nation that faces many new and complex challenges, from human trafficking to cybercrime to gang violence and the drug epidemic, criminal justice practitioners need to be equipped with specialized intelligence and skills to fight 21st century crime and ensure that justice is served.

The Criminal Justice Program at Alvernia University prepares students with the education required to enter careers in enforcement, investigation, social services, law, victim services and other related professions. Experiential learning enriches the curriculum and students have many opportunities to work in the field. Students can gain experience and knowledge of various careers through a required internship at a criminal justice related agency of their choice including police departments, probation and parole offices, the courts, law offices, private security and victims' rights organizations among many others. Those pursuing careers in law enforcement have the opportunity to attend the Reading Police Academy to obtain Municipal Police Officer Certification as part of the four-year degree.
 
Careers in Criminal Justice
The demand for professionals with specialized skills in this field is expected to rise over the next decade, increasing employment opportunities for graduates of the Criminal Justice Program.
 
In addition to earning advanced degrees in law and related fields, Criminal Justice majors choose careers in local, state and national law enforcement agencies, including U.S. Customs, the Federal Bureau of Investigation, Homeland Security and the U.S. Department of Defense.

These are among the many career paths students can pursue with a Bachelor of Arts in Criminal Justice:
 
Computer Forensic Specialist
Conservation Officer
Correctional Officer
Crime Analyst
Crime Scene Technician
Criminal Justice Policy Advisor
Criminal Law Paralegal
Criminal Profiler
Customs Inspector
Drug Enforcement Administration Agent
FBI Agent
Federal Air Marshal
Fraud Investigator
Forensic Accountant
Graduate School
Homicide Detective
IRS Security Inspector
Juvenile and Adult Probation Officer
Lawyer
Parole Officer
Police Officer
Private Investigator
Researcher
Secret Service Agent
State Trooper
Victim Services Provider
---
Curriculum

Alvernia students must successfully complete a minimum of 123 semester credits to receive a Bachelor of Arts; Criminal Justice majors must complete 48 credits in the major.

Required courses for criminal justice majors are:

CJ 101 Introduction to Criminal Justice
CJ 102 Criminology
CJ 201 Criminal Law
CJ 217 Gender, Race and Crime
CJ 220 Writing for the Criminal Justice Professional
CJ 221 Research Methods I for Criminal Justice
CJ 273 Corrections, Probation and Parole
CJ 302 Judicial Process and Procedures
CJ 350 Professional Seminar/Criminal Justice
CJ 377 Juvenile Justice System
CJ 379 Ethics in Criminal Justice
CJ 403 Senior Seminar
CJ 408 Agency Practicum
CJ 422 Crisis Management
Plus 1 criminal justice elective course (3 credits)

Eighteen credits are required for a minor in criminal justice. Required courses are:

CJ 101 Introduction to Criminal Justice
CJ 102 Criminology
CJ 217 Gender, Race and Crime
CJ 379 Ethics in Criminal Justice
Plus 2 criminal justice elective courses (6 credits)

Experiential Learning 

Through internships, students have opportunities to apply theories and knowledge learned in the classroom in a variety of professional settings. In addition to providing exposure to the activities and expectations of a real-world workplace, internship experiences help students develop their network of professional contacts. Students also have the opportunity to participate in field trips to crime labs, police academies and other related agencies.

Research Opportunities

Students have the opportunity to conduct research with a criminal justice professor who will act as a mentor. Students have presented their research at national and international conferences.

Tuition

To determine the cost of this program, please visit our Tuition page.  For a personalized estimate, please contact an admissions counselor at 610-790-8269 or at admissions@alvernia.edu.

Financial Aid

Alvernia offers loan, grants, scholarships, and payment plans. Our admissions counselors can help you identify the aid that is available to you and for your program. For more information, visit our Financial Aid page.

Accreditation

All programs offered by Alvernia University are approved by the Department of Education of the Commonwealth of Pennsylvania and accredited by the Middle States Association of Colleges and Secondary Schools.
---
Learn More
For more information about Alvernia's Criminal Justice Program contact the Admissions Office at 1-888-ALVERNIA or 610-796-8269 or admissions@alvernia.edu.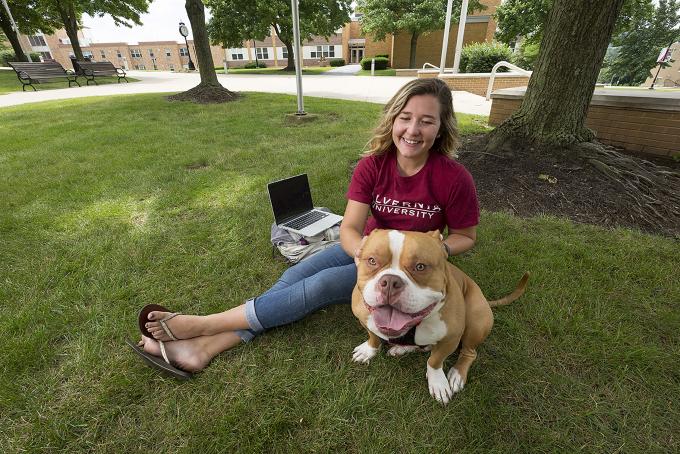 Impact of Experiential Learning
2019 Graduate Elizabeth Goida values the first hand knowledge she received through her internship with the Reading Police Department and her research through Alvernia's Student Undergraduate Research Fellowship (S.U.R.F.) where she explored the impact of K-9 units.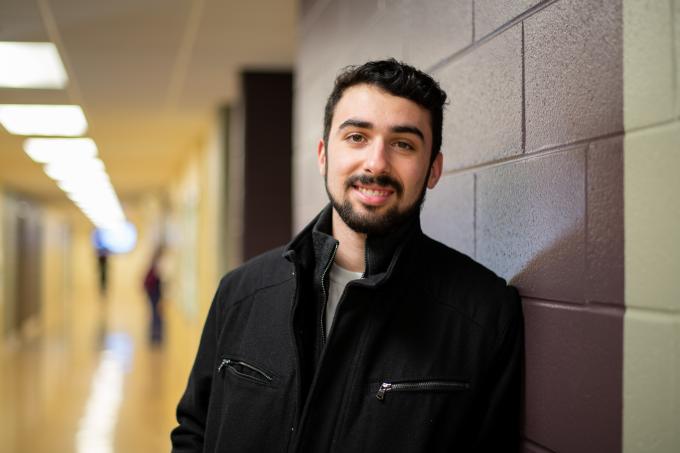 Connecting with the Community
As president of Alvernia's Criminal Justice Association, Lanza '22 arranged for club members to cook and serve dinner to residents of Safe Berks, an organization that supports victims of domestic violence.