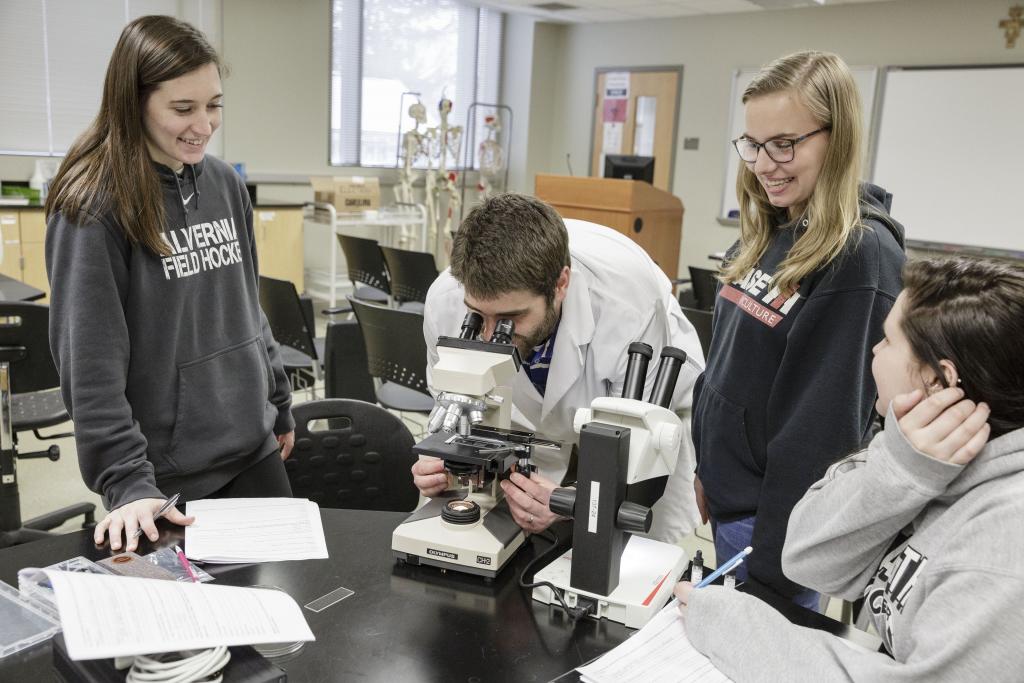 Alvernia is a Franciscan university dedicated to academic achievement, community service and the professional and personal fulfillment of our students. Biology classes are taught by dedicated faculty, committed to the ideal that scientific study is a human endeavor that actively works to improve our lives and to advance the world for a better and more sustainable future.

The biology program and its enthusiastic faculty are dedicated to providing students with a framework to excel in any biological field.  Students work closely with faculty to develop their critical thinking skills and analytical techniques to be successful in their future careers as scientists.  The biology program takes a multidisciplinary approach to provide students with a comprehensive knowledge of fundamental scientific principles in mathematics, chemistry and physics. The laboratory spaces expose students to equipment and instrumentation for examining cells and tissues, isolating and manipulating DNA and protein, growing and analyzing microbes, and analyzing metabolites in plants and other organisms. 


The Biology program provides students with a solid base of knowledge of fundamental biological concepts and principles, as well as the skills to put that knowledge to use in a variety of academic or professional pursuits.  Every student within the program has an opportunity to experience real-world research by completing an internship at a company directly in-line with their career goals, or by completing an independent research project with a faculty mentor.  The faculty within the department have a wide research background and encourage research students to create innovative research projects.  

The Biology program also offers coursework that can give qualifying students an opportunity to enter the Reading Hospital Medical Laboratory Science program after completion of their third year at Alvernia. Students accepted into this program acquire their BS in Biology from Alvernia after successful completion of a year of clinical study. Alvernia University, in partnership with Lake Erie College of Osteopathic Medicine (LECOM), offers an early acceptance program that allows qualified students to enter into LECOM's School of Dental Medicine, School of Pharmacy or Medical College upon completion of their degree at Alvernia. Specific guidelines and requirements are available from Dr. Ondra Kielbasa at ondra.kielbasa@alvernia.edu.

Biology majors can also enter into the 3+2 Physician Associate Program and have the opportunity to complete both a bachelor's and master's degree in 5 years. This format is appealing to and desired by high school students wishing to pursue a career as a physician associate. 
 
Careers in Biology
Biology students have the opportunity to develop scientific skills and techniques within a challenging academic program that prepares them for opportunities in environmental science, biomedical research and the biotechnology industry, as well as graduate study in biology and a variety of health-related professions.  

Biology graduates from Alvernia have pursued further study in podiatry, immunology, dentistry, optometry, medicine and education. They are employed by such reputable companies and research facilities as Pfizer Inc., Drug Scan, Johnson & Johnson, Church & Dwight, GlaxoSmithKline, Carpenter Technology Corporation, Thomas Jefferson University and The Graduate Hospital of Philadelphia, as well as by virtually every hospital in Berks County and many in Lebanon, Lancaster, York, Pottsville and Philadelphia. They serve society as physicians, dentists, teachers, pharmacists, research associates and technologists.


A sampling of employers of Biology Program graduates:
Pfizer Inc.
Drug Scan
Johnson & Johnson
Church & Dwight
GlaxoSmithKline
Carpenter Technology Corporation
Thomas Jefferson University
The Graduate Hospital of Philadelphia
Reading Health System
For more information about careers in Biology check the American Institute of Biological Sciences' website at
www.aibs.org/careers
.
Some biology students return to school after graduating from Alvernia to earn graduate degrees. Alvernia, in partnership with
Lake Erie College of Osteopathic Medicine (LECOM)
, offers an early acceptance program that allows qualified students to enter into LECOM's School of Dental Medicine, School of Pharmacy or Medical College upon completion of their degree at Alvernia. Specific guidelines and requirements are available from the Chair of Science and Mathematics.
---
Curriculum

All Alvernia students must successfully complete a minimum of 123 semester credits to receive a Bachelor of Arts or a Bachelor of Science degree.

Biology Major (79-88 credits)

Biology Core Requirements (32 credits) 

BIO 103 Principles of Biology I w/Lab 
BIO 104 Principles of Biology II w/Lab
BIO 221 General Microbiology w/Lab
BIO 303/309   Genetics w/Lab
BIO 304/311 Cell Biology w/Lab
BIO 320 Ecology w/Lab
BIO 402 Senior Seminar
SCI 480 Internship -OR- SCI 406 Research I -AND- SCI 407 Research II

Related Requirements (33-36 credits)

CHE 104/110    General Chemistry I w/Lab
CHE 105/111    General Chemistry II w/Lab
CHE 107 Laboratory Safety
CHE 201/210    Organic Chemistry I w/Lab
CHE 202/211    Organic Chemistry II w/Lab
MAT 131    Pre-calculus (recommended)
MAT 209    Probability & Statistics
MAT 220    Math/Stats Computer Lab
MAT 230    Calculus I
PHY 200    Physics I w/Lab
PHY 201    Physics II w/Lab

Biology Electives (14-20 credits)

BIO 107/117   Anatomy & Physiology I w/Lab -OR- 
BIO 115/116   Human Form & Function w/Lab
BIO 108/118   Anatomy & Physiology II w/Lab 
BIO 200     Medical Terminology
BIO 203     Biosphere
BIO 205    Botany w/Lab
BIO 208    Neuroscience for Rehab
BIO 211    Kinesiology w/Lab
BIO 216    Nutrition
BIO 315    Forensic Medicine
BIO 401    Vertebrate Physiology w/Lab
BIO 405    Pharmacology
BIO 409    Immunology
BIO 410    Pathophysiology
BIO 430    Forensic Biology w/Lab
CHE 401/410        Biochemistry w/Lab

Faculty

Research interests of Alvernia Biology faculty members include:

Isolation and genome sequencing of wild microbes to search for novel antibiotics & antifungals
Using environmental DNA (eDNA) to explore biodiversity & ecosystem health - from Alvernia's backyard to the Amazon rainforest
Elucidating the neural basis of visually guided behaviors in frogs
Examining the effects of various external factors on the differentiation of cells in culture
The environmental impacts on plant growth and development
The use of bioenergy crops as riparian and agricultural buffers
The effects of nitrogen availability and carbon allocation to the cell wall
Vitamin D intake and sources
Pharmacognosy (the science of plants as medicine)
The Effects of Macronutrients on Lipid Profiles and Cardiovascular Inflammation
Environmental sustainability

You can visit the Biology faculty pages to learn more about research that might match your interests.

Experiential Learning 

Through internships, students have opportunities to apply theories and knowledge learned in the classroom in a variety of professional settings. In addition to providing exposure to the activities and expectations of a real-world workplace, internship experiences help students develop their network of professional contacts.

As a biology major, you have the option to participate in at least 252 hours of biology-related activities at an off-campus location under the supervision of an internship sponsor. Internships normally are completed during the junior year. You need to have a 2.5 GPA to qualify for an internship.

Opportunities include:

Alliance for a Clean Environment
American Association for the Advancement of Science
Atlanta Semester
Berks County Conservancy 
Berks Nature
Bristol-Myers Squib Capital Internship Program
Chicago Botanic Garden
Conservancy of Southwest Florida
Echo Hill Outdoor School
Environmental Protection Agency
Hawk Mountain Sanctuary
Institute for Experiential Learning
Institute of Paper Science & Technology
Lehigh Valley Hospital
National Science Foundation
Newfound Harbor Marine Institute
Philadelphia Zoo
Rainforest Action Network
Reading Public Museum 
Red Creek Wildlife Center
Rodale Press
Roving Nature Center, Inc. Schuylkill Riverkeepers
Virginia Marine Science Museum
PA Dept. of Conservation and Natural Resources 

Research Opportunities

In addition to real-world learning, biology majors can also benefit from research opportunities. Two research courses will introduce you to the fundamentals of research, prepare you to participate in an ongoing research project under the direction of a research mentor, and teach you how to interpret and disseminate data collected during the project.

Research I (SCI 406) is the first of two courses in the student research sequence. Students will develop a research project with a faculty member of their choice. This course will focus on a literature review, developing a research plan, conducting experiments and interpreting results.


Research II (SCI 407) is the second of two courses in the student research sequence. Students will continue to work the research project with the faculty member of their choice from the previous semester; this will include completing any final experiments and wrapping-up their research project. Students will work to formulate conclusions and output their data in a presentable research format.

Tuition

To determine the cost of this program, please visit our Tuition page.  For a personalized estimate, please contact an admissions counselor at 610-790-8269 or at admissions@alvernia.edu.

Financial Aid

Alvernia offers loan, grants, scholarships, and payment plans. Our admissions counselors can help you identify the aid that is available to you and for your program. For more information, visit our Financial Aid page.

Accreditation

All programs offered by Alvernia University are approved by the Department of Education of the Commonwealth of Pennsylvania and accredited by the Middle States Association of Colleges and Secondary Schools.
---
Learn More
For more information about Alvernia's Biology Program, please contact the Admissions Office at 1-888-ALVERNIA or 610-796-8269 or admissions@alvernia.edu, or reach out directly to:
Dr. Eric Recktenwald
Interim Science Department Chair
Bernardine Hall 120
610.796.8247