Master of Science in Athletic Training Overview
According to the National Athletic Trainers' Association (NATA) a Certified Athletic Trainer (ATC) is a highly educated and skilled professional specializing in athletic healthcare for the physically active. In cooperation with physicians and other allied health personnel, the athletic trainer functions as an integral member of the health care delivery team in a variety of clinical settings. Traditional practice settings include: secondary schools, colleges and universities, sports medicine clinics, professional sports programs. New and emerging practice settings include: industry, the military, law enforcement, and physician practices.
Throughout the program, students will gain a breadth and depth of knowledge in the field of athletic training, as well as in the liberal arts. Students will also develop critical thinking skills, as well as gain an appreciation for the profession, and the role of the Certified Athletic Trainer as a licensed healthcare professional. Specifically, the mission of the Athletic Training Program is as follows:
The Athletic Training Program at Alvernia University has a primary purpose of providing students with the intellectual and clinical foundation that will enable them to play an important role in the healthcare of athletes and others involved in physical activity. The program seeks to merge the Franciscan Values of Service, Humility, Peace-making Contemplation and Collegiality with the foundations of evidence-based practice in theory and clinical experiences. Our practitioners develop the knowledge, skills and attitudes needed to become highly-qualified allied health professionals in the field of Athletic Training capable of "knowledge joined with love". 
Student Goals & Outcomes of the Master's of Athletic Training Program at Alvernia University: 
Students will demonstrate comprehension of foundational knowledge and clinical skills within the athletic training program.
Students will demonstrate problem-solving skills that will allow them to reason clearly and analytically. They will be able to identify and evaluate problems, utilize critical thinking skills to find solutions, implement solutions, and evaluate the outcomes of their decisions.
Students will communicate effectively and respectfully with individuals/groups, professionals and society.
Students will use knowledge of the natural and applied sciences as well as research methodology to interpret evidence-based research related to athletic training to answer clinical questions, guide critical inquiry, and to guide clinical practice.
Students will demonstrate an integration of Franciscan values as the point of athletic training care.
Students will demonstrate clinical competence in clinical practice settings.
Students will demonstrate post-graduation preparedness as an Athletic Trainer for a career in health care.
The Program will demonstrate excellence in education
Goal 1 Indicator:
1.1 Describe basic biological systems and processes
1.2 Describe the relationship between anatomical structure and function (systems approach) as it relates to physical activity, injury/disease and prevention.
1.3 Analyze and describe human movement.
1.4 Define and relate principles of healthy lifestyle behaviors.​​​​​​​
1.5 Describe body's physiological responses and adaptation to injury.
Goal 2 Indicator:
2.1 Evaluate and diagnose injuries and illnesses related to physical activity.
2.2 Assess and prescribe exercise and rehabilitation therapies for multiple populations.
2.3 Select and evaluate preventative measures to influence individual health and function.
Goal 3 Indicator:
3.1 Demonstrate oral, written, and visual communication that is organized, coherent, accurate, and professionally prepared and delivered.
3.2 Develop a specialized vocabulary which will allow them to engage in intelligent discourse in the field of athletic training.
3.3 Employ technology to communicate effectively and respectfully to a wide variety of groups and individuals
Goal 4 Indicator:
4.1 Successfully access and accurately interpret a variety of evidence-based research data to generate a focused clinical question.
4.2 Apply scientific evidence to implement safe and effective clinical practices.
4.3 Demonstrate critical scholarship that creates new knowledge.
Goal 5 Indicator:
5.1 Articulate an understanding of moral, ethical, and compassionate care for a diverse population.
5.2 Recognize the impact of contextual factors (political, social, regulatory, prayer source, physical, cultural, and technological) around the tenants of Franciscan values on the delivery of care and Athletic Training services.
Goal 6 Indicator:
6.1 Students will demonstrate an integration of didactic knowledge and skills in a supervised clinical practice setting. 
6.2 Students will demonstrate entry level proficiency through the completion of established clinical proficiencies.
Goal 7 Indicator:
7.1 Students will demonstrate their ability to integrate themselves into a post-graduation professional setting
Goal 8 Indicator:
8.1 Athletic Training Faculty will demonstrate quality instruction.
8.2 Preceptors will demonstrate quality clinical instruction / clinical site contributes to quality clinical instruction.
8.3 Clinical instructors will demonstrate quality clinical instruction / clinical site contributes to quality clinical instruction.
Contact Us
For more information about Alvernia's Master of Science in Athletic Training, please contact Graduate and Adult Admissions at 610-796-5187 or gradandadult@alvernia.edu.

Or please reach out directly to:

Thomas Franek, Ph.D, LAT, ATC
Chair, Department of Athletic Training
Associate Professor
610-796-3012
thomas.franek@alvernia.edu
or
Stephanie Christmann
Admissions Advisor, Graduate and Adult Education
610-796-8496
stephanie.christmann@alvernia.edu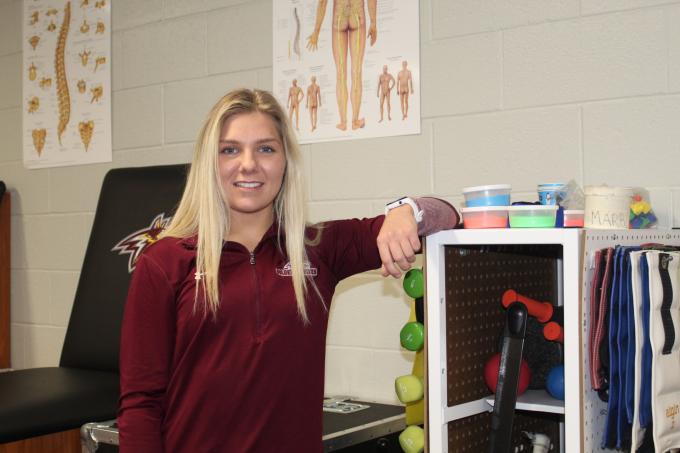 MSAT student logs over 250 clinical hours
Kelly Ryan '21 strengthened skills learned in the classroom through her clinical rotation in university athletics.
Student athlete acquires new perspective of athletics
Track and field Athlete Susanna Pirollo '22 values the real-world experience she received working with the university's athletic training staff.