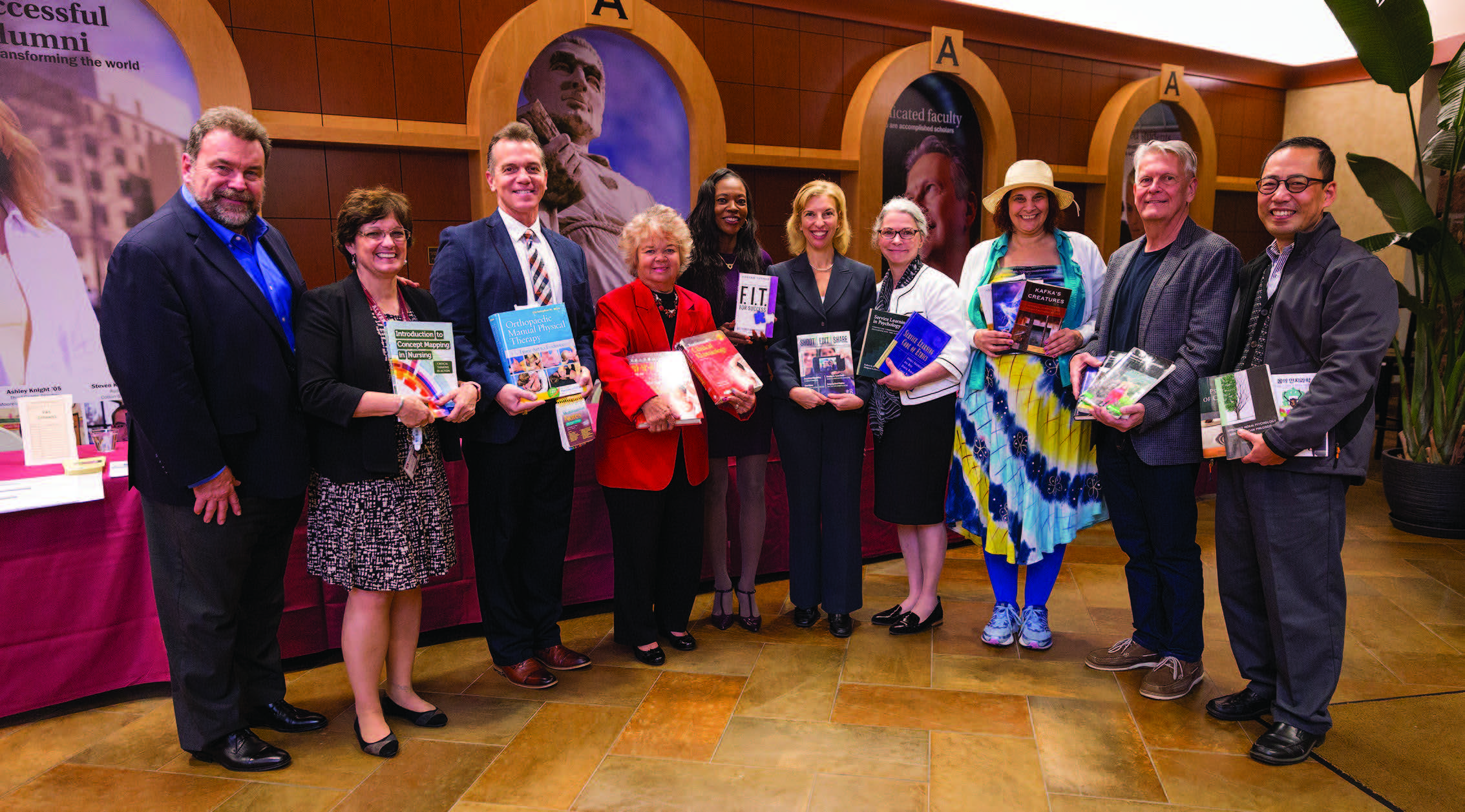 Faculty showcases published works during a reception that featured 18 authors.
---
The following is an excerpt from the Winter 2019 issue of the Alvernia Magazine and is part of the #FlynnFriday series that celebrates President Tom Flynn for his 14 years of transformational leadership. 
After a faculty council meeting in May 2012, Tom Flynn joined a group of professors for a drink at Trooper Thorns Irish pub, a common meeting place in Reading for the Alvernia community. Soon the talk turned to how the university might better showcase and share the wide range of faculty research and scholarship that often remains under the radar. Flynn quickly picked up on the idea, and in collaboration with several professors there that evening, including Kevin Donnelly and Janae Sholtz, he introduced regular get-togethers called the Salon Series where faculty members used the opportunity to talk about their work. 
Over the years, the Salon Series became a welcoming and open environment for discussion and dialogue, especially among younger professors. It also became an enduring example of Flynn's "clear commitment to faculty excellence and scholarship," Donnelly, an associate professor of history, said. 
---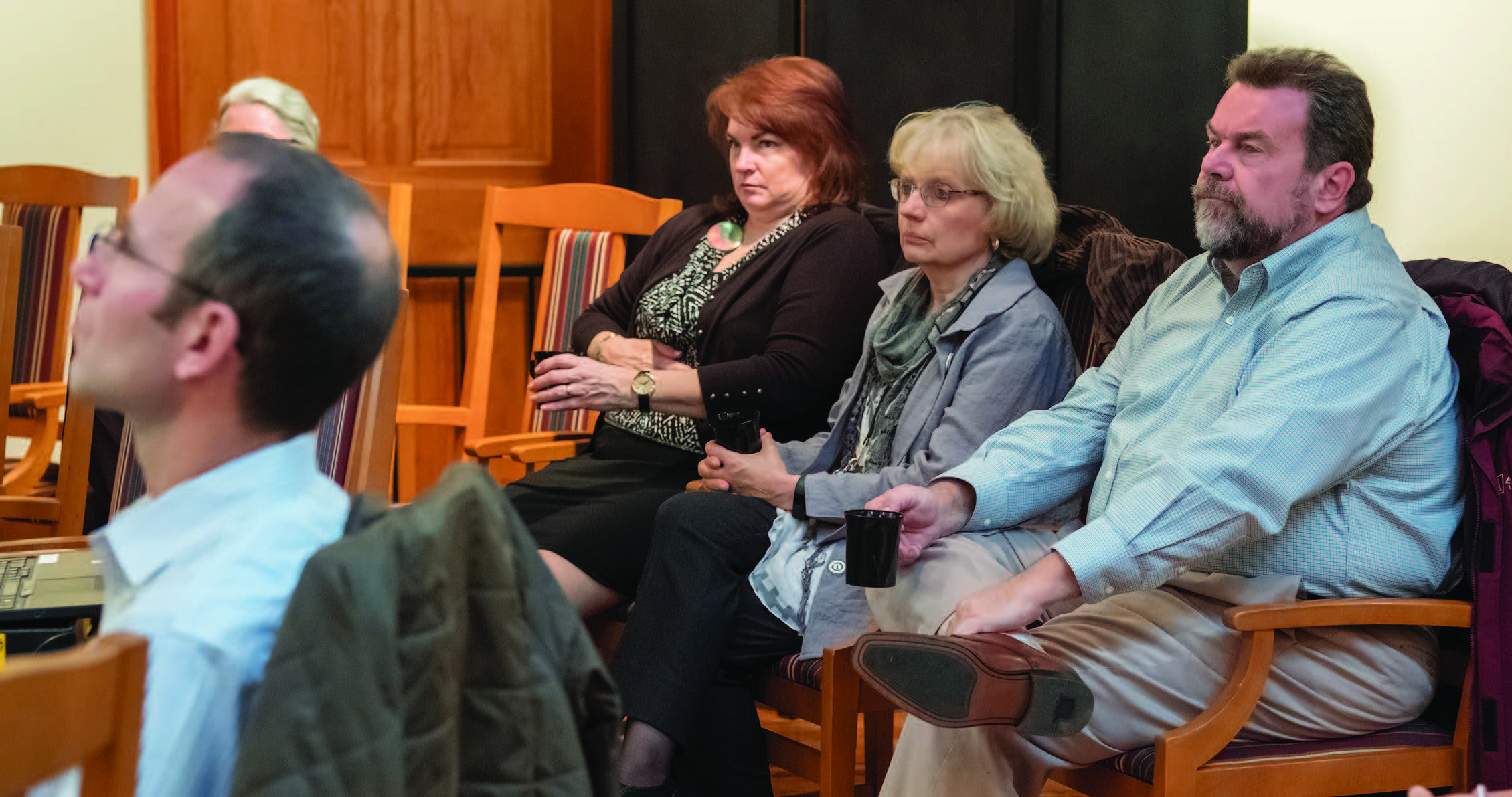 Flynn and faculty listen to presentation during the Salon Series at Cedar Hill. 
---
In interviews with faculty about Flynn's tenure, an image emerges of an accessible, engaged and hands-on leader dedicated to enhancing faculty excellence and intellectual growth as a way to drive the university's upward trajectory from a little-known college to a comprehensive, regional university. Besides the Salon Series, which took place several times each semester at the president's residence, Flynn also would host receptions for faculty who had recently published books. By honoring and celebrating faculty achievements, Donnelly said, the president showed that he "really cared about faculty being leaders in their fields." 
For Sholtz, an associate professor of philosophy and coordinator of Women's Gender Studies, another example of Flynn's commitment to faculty excellence is his unstinting support for and expansion of Neag Professorships to both junior and senior faculty. Sponsored by Alvernia benefactors Carole and Ray Neag, these two-year honorary designations provide funding and course-release time for professors to pursue special projects and interests that they would not otherwise be able to do. 
Sholtz, who was a junior Neag professor from 2014 to 2016, said the scholarship afforded her the time to publish a book that advanced her career. "Those two years of extra funding helped catapult my work to a different professional level," Sholtz recalled. "Flynn recognized an opportunity for the university to improve its stature and prestige by investing in its faculty and supporting their scholarship, and that has changed our profile as a university." 
Flynn also strived to engage both faculty and students in critical campus initiatives. In spring 2018, for example, when many universities around the country were embroiled in contentious debates over free speech, the president created a task force on civil dialogue with faculty and student representatives. The goal was to stimulate discussion on how to balance freedom of speech and thought while upholding moral standards. 
---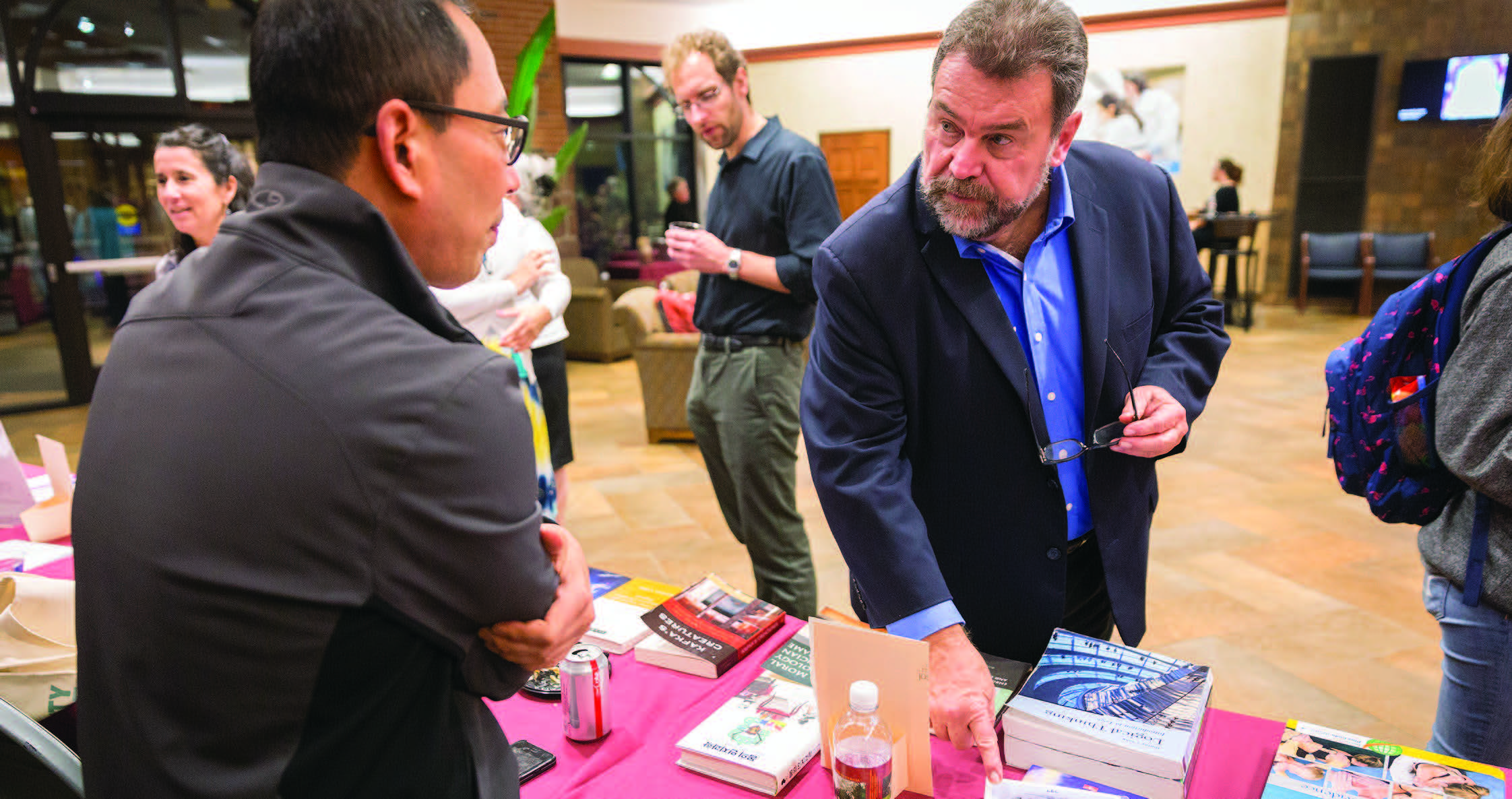 Associate Professor of Philosophy Bongrae Seok shares his work with Flynn during the Faculty Book Authors reception in Francis Hall. 
---
"As president of a Franciscan university, he took a stand and showed moral courage, leading by example to promote this discussion among faculty and students," said Sholtz, who came to Alvernia almost a decade ago. 
That led to the publication in August 2018 of the university's "Statement of Commitment on Civil Dialogue and Freedom of Expression," a set of guiding principles on respecting diverse points of view and promoting an open exchange of ideas while rejecting speech that espouses hate, harm or bigotry. 
Mary Ellen Symanski, an associate professor of nursing, said this type of collaboration was a hallmark of Flynn's presidency. "He would call people in and seek input on any matter of controversy and share what was happening," Symanski said. "He listened, sought common ground and came up with common principles and values." 
Dolores Bertoti, a professor of physical therapy, biology and healthcare science, credits Flynn with significantly growing the range and diversification of accredited academic programs and elevating them to include more masters and doctoral programs. For physical therapy students, another benefit will be Alvernia's initiative to build the Recreation, Wellness and Health Sciences Complex—known as the Flynn PLEX, an ambitious 100,000 square foot facility expected to open in summer 2019. Under Flynn, "the environment on campus was dynamic," Bertoti pointed out. "It always felt like the art of the possible was achievable." 
Attaining university status was one of those accomplishments. Spencer S. Stober, a professor of biology who was on the search committee that selected Flynn, said this was only possible with the full and active participation of the faculty. As a university, Alvernia's faculty teach at both undergraduate and graduate levels and students learn in close proximity to one another, creating what Stober calls "a climate of academic rigor." 
Another milestone was the establishment of the O'Pake Institute for Ethics, Leadership and Public Service, which focuses on promoting ethical leadership and public service. The institute became a bridge to local organizations, along with broader student engagement and a commitment to community service. "These are the kinds of seeds Tom has planted so the university becomes not only regionally and nationally known, but also more involved in the broader community," Stober said. "He has taken Alvernia to the next level." 
Looking back on the entirety of Flynn's tenure, Richard Law, a professor of English at Alvernia since 1992, sees the president's handprint just about everywhere on campus – in new degree programs and learning centers, infrastructure and buildings, and in the idealism he instilled in faculty and students to always aim higher in their academic pursuits. "Flynn's grand vision and leadership and personality have been able to move this school forward more than ever before."